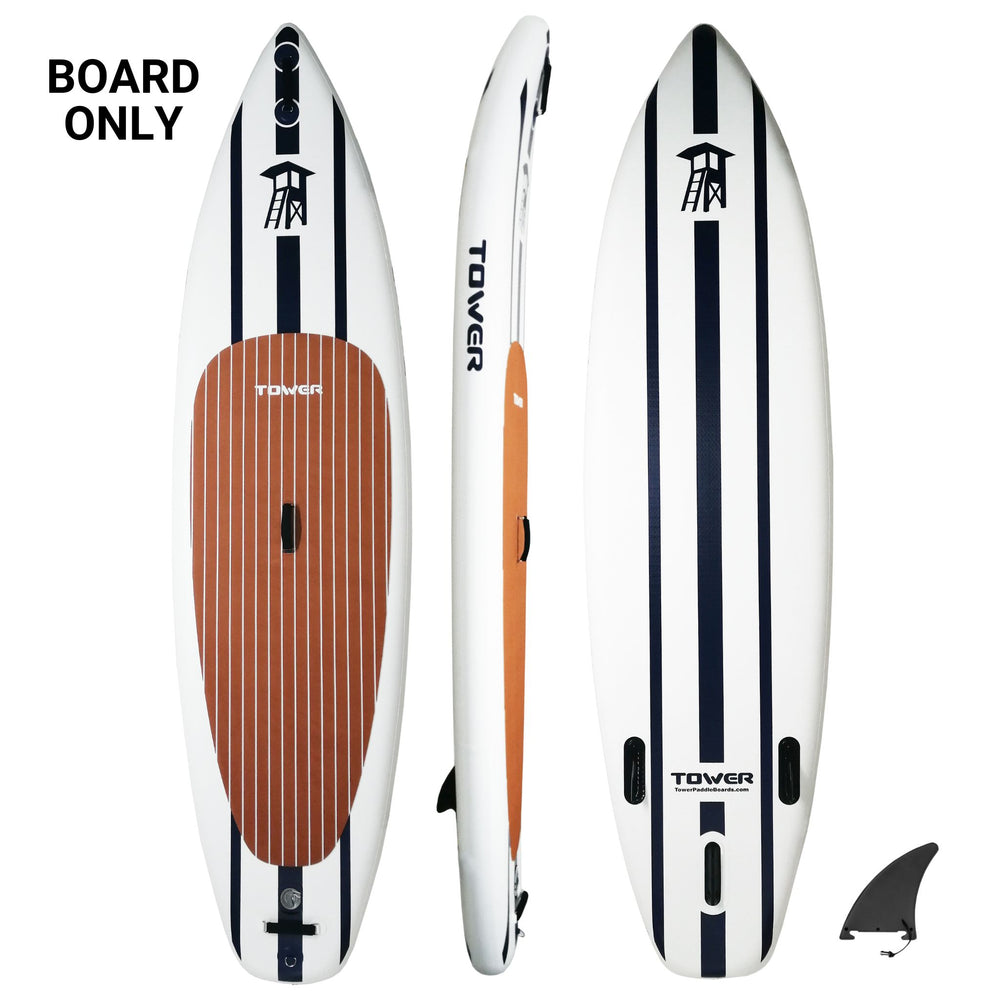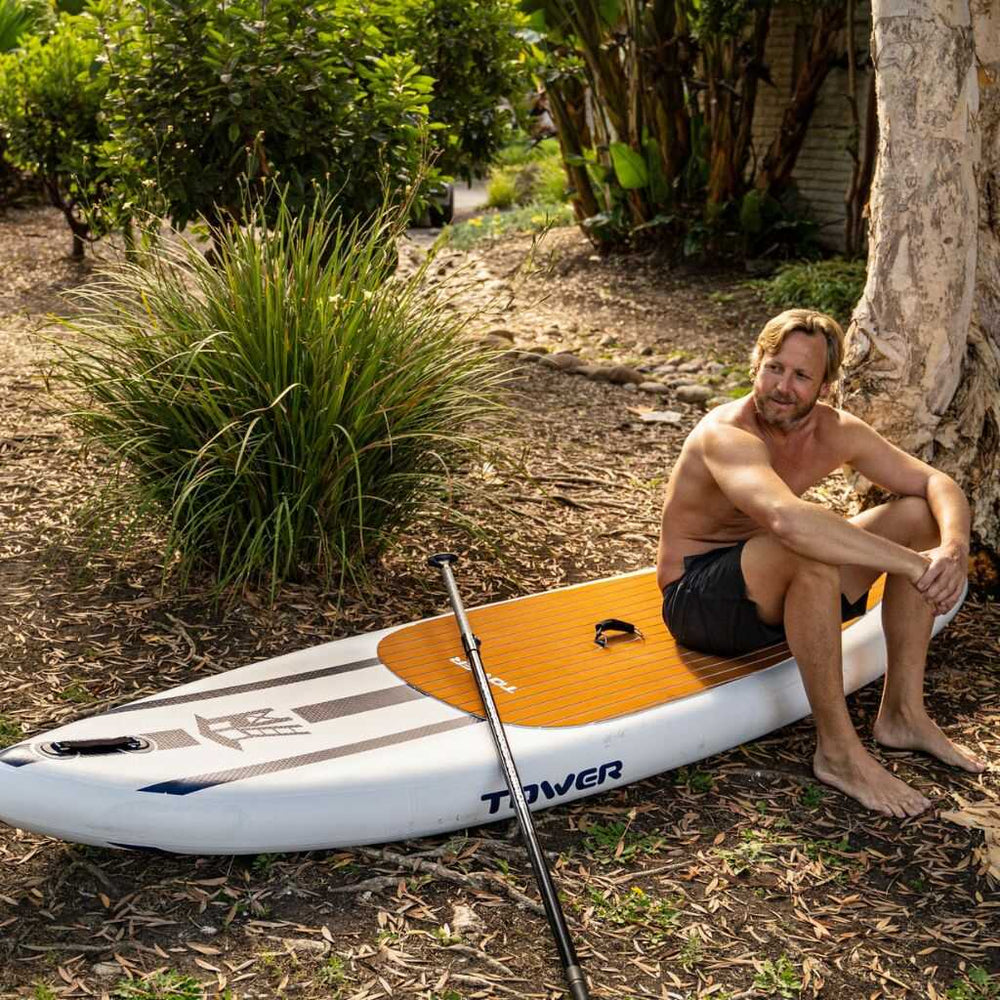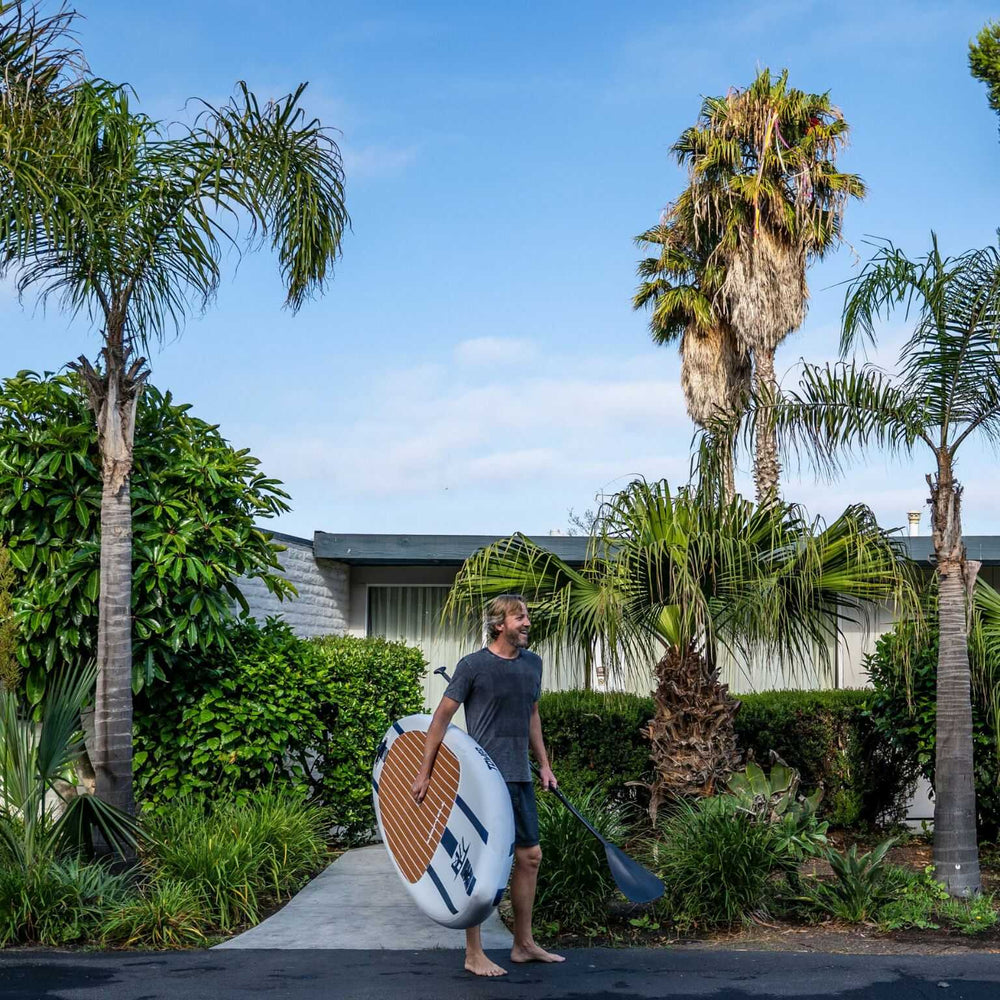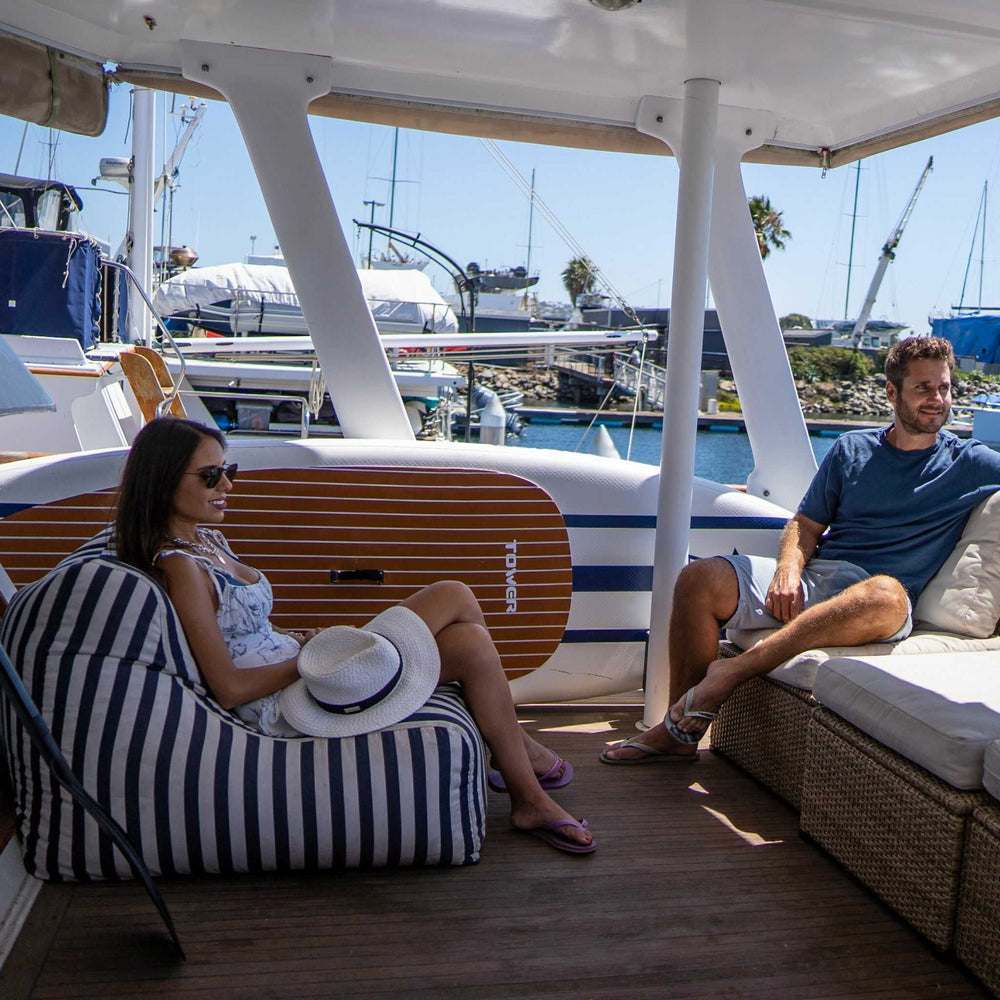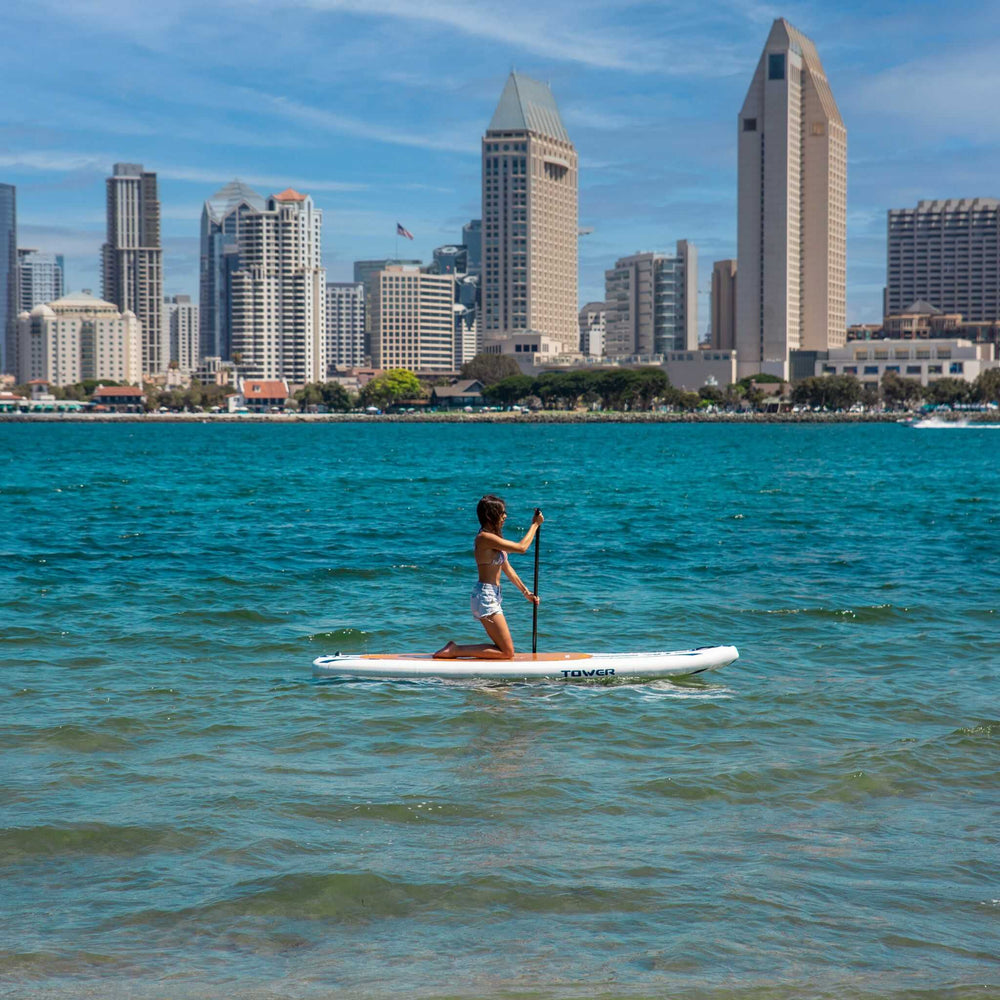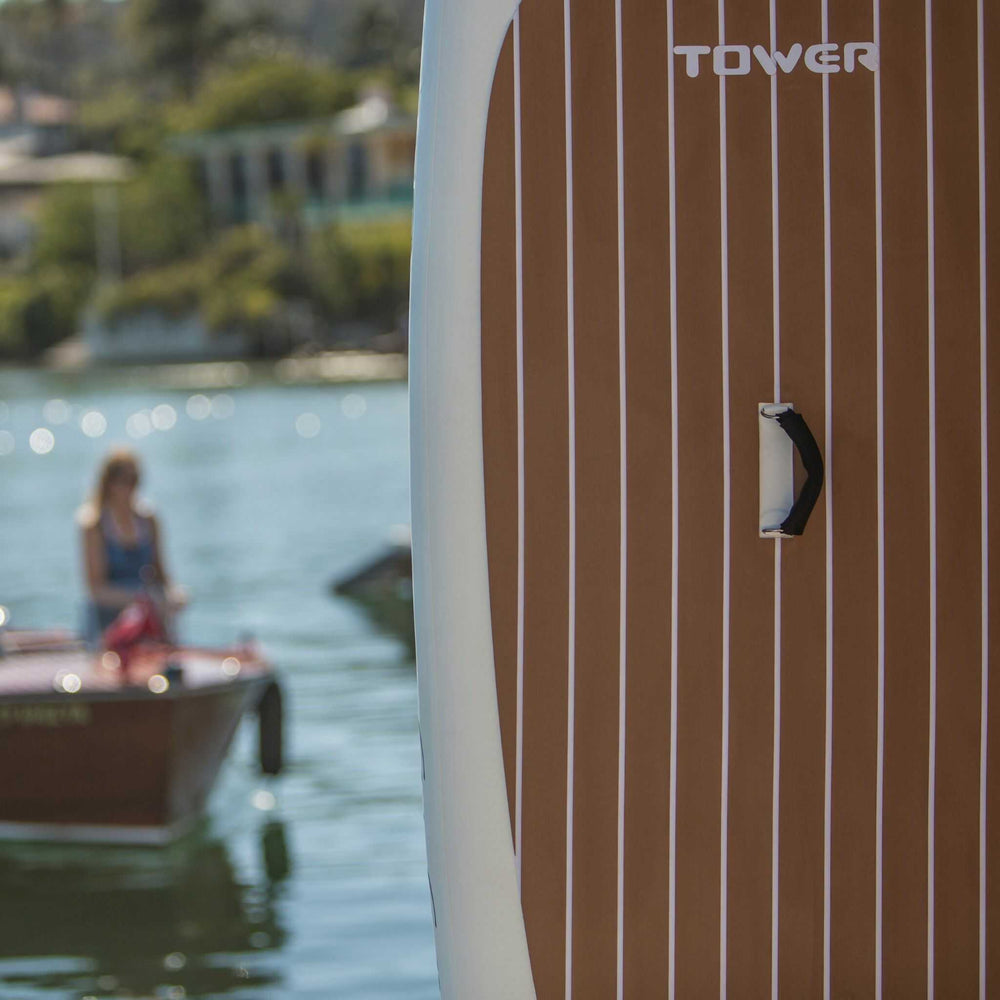 Used Yachtsman | 10'4" Board Only
DESCRIPTION
NOTE: Available only once or twice a year via our grab bag sales and they go quickly. Get on our email list to be notified of the periodic 'grab bag' sales of these used boards.
These are used Yachtsman iSUPs. Paddle board in style with the Yachtsman iSUP Package from Tower, the brand with the #1 rated SUP by Robb Report!
Designed to compliment even the finest boats, the Yachtsman is one of the world's finest inflatable paddle boards. The grooved wood deck inspired deck pad matched with the traditional blue and white colors popular among boating enthusiasts, means this iSUP will look right at home tied up to even the finest yachts in the world.
'Holds Air' Option Description
These paddle boards that have been tested and proven to hold air and function. They are almost new with only minor blemishes. They have likely only ridden 1-5 times. All boards have been thoroughly inspected and will have NO structural damage or defects that will affect board performance, only cosmetic flaws. In general, these are: demo boards, returned boards (both new and used), factory blemishes, or boards with other cosmetic flaws.
'Needs Repair" Option Description
These paddle boards are either damaged, dirtier, and/or severely blemished and will likely require at-home repair. With a proper repair, they should be able to hold air. All boards will come with a repair kit. If you are not comfortable repairing a board, this probably isn't a good option for you.
WHAT'S INCLUDED
One (1) Used Yachtsman 10'4" Inflatable Paddle Board
One (1) Used 9" Hook & Pin Center Fin
One (1) iSUP Repair Kit
TECHNICAL SPECS
Weight: 26 lbs
Dimensions: 10'4" length by 32 width by 6 thickness
Volume: Unknown exactly, but probably 300 Liters plus
Weight Capacity: Up to 400 lbs
Nose Rocker: 4 inches
Tail Rocker: No tail rocker
Fin Configuration: 2+1 plastic fins, with large detachable center fin.
Onboard Accessories: Carrying handle, front towing d-ring, rear surf leash d-ring
Included External Accessories: Includes a Fiberglass 3-pc paddle, a detachable SUP center fin, a high-pressure hand pump, and a branded deck pad with the look of a high-end boat's signature teak wood strips. The repair kit comes with patches and valve wrench (glue is to be sourced locally).
Construction: Double layer, hand-glued 6" thick construction. High-pressure inflatable (Tested safe to 20 PSI, but only 10-12 PSI is necessary for optimal performance)
Placeholder
SUPERIOR CUSTOMER SERVICE
Placeholder
Placeholder
The Reviews Are In!
Got it used.
It has a wrap all the way around the board that reinforced any damage from previous use. New stickers were put on and a new fins. The pad was new and the paddle and pump seemed new. All in all perfect price for my first SUP…and I get to represent Pacific Beach on the bay.
Adventure 2 looks great, yet now cargo net ??
Team Tower, I just returned from the road and pulled out one of the many tower products that we have purchased. As per usual, great looking product with 1 exception. The adventure 2 came without a cargo net installed. Can we request an install kit with rings and net? In addition, I will be sending product info for the Tower 5' dock we received last season. The whole top is delaying from rubber. We keep our gear stored and clean. This foam top appears to have taken on an accelerated wear and dismantling horribly. The primary use has been used as a table bottom up to display the Tower logo under umbrella and then stored inside through the rainy season. Please advise. Best, Shawn Root [****]
Love my Yachtsman!
I ordered a used, tested Yachtsman and so far I am very pleased. I've inflated it and put it in the water - I love the design. I have used other Tower inflatable paddle boards before and am very impressed with the quality and the ride. I ordered D-rings so I can add a bungee like the Adventurer II and Mermaid on the Yachtsman design.
The best
Awesome customer service great product wife and I are out on the water every weekend thank you so much this sup is fantastic easy to set up , easy to use , very sturdy
Inflatable board
Wait can you really inflate a board? Well Toto now you can! Good value for the price. Bought this as a cheaper carry everywhere inflatable and now use it all the time. My electric pump from another brand works perfectly with the fill valve so inflation is a breeze. Great starter board or use it everywhere like me. The fun box could be stronger so only 4 stars.
It's not just a paddleboard!
We pulled this bad boy in the snow on the back of our ebike and we were not disappointed! It handled the snow as well as we anticipate it will handle the water!
Adventurer 2 Chris Craft
I only gave it 4 stars since I have not been able to get it into the water yet. Winter in Connecticut!!!
Delivery, looks & ease of airing up are great.
Unbelievable Excellence
This is my second Tower board. My first gets an insane amount of attention every year in Tahoe for its ease of inflation and ability to fit in any car. This recent experience was off the chart. My order was hung up for unknown reasons after ordering a grab bag board. I did not inquire to complain, I simply was checking status as I had not heard anything. Tower staff was very apologetic and without any solicitation said "Sorry for the inconvenience, we will send a new board, not a grab bag board." I was honestly flabbergasted. I can not think of one company with customer service like that. My second Tower Board is for the rest of the family to share and keep their hands off of mine. I could not be a happier customer. Product is fantastic, no complaints. Customer service is simply unmatched and I really mean, unmatched.