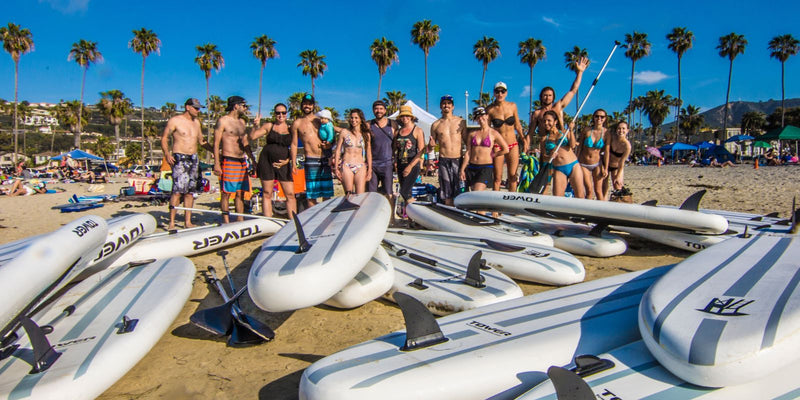 Used Paddle Boards
Get the deal of a lifetime on open-box iSUPs! Twice a year, we sell off returns, exchanges, demos, and used boards. Join our email list for notifications. 
More Info on Our Used Paddle Boards
Why Are There No Products Listed In This Category?
If there are no products listed above, that means we do not currently have any used paddle boards available to sell. We we are selling off our used paddles boards, they will be listed above.
How Our Grab Bag / Open Box / Used Paddle Board Sales Work
In addition to our local San Diego demo boards, we occasionally will get returns or exchanged paddle boards sent back to us. We hand test and inflate every one to ensure we label and diagnose each return correctly. Once we have a decent batch of these boards we will have our "Grab Bag sale" and upload them online.
The used boards we sell have been tested and proven to hold air and function. These boards are almost new, with only minor blemishes. They have likely only been ridden a handful of times, if at all. These include new returns/once ridden boards and others.
Used boards tend to sell quickly, as they're still perfectly usable SUPs and come at rock-bottom prices.
Where Do You Get These Used Inflatable Paddle Boards?
At Tower Paddle Boards, we have a generous return policy: If our customers are unhappy with their purchase for any reason, we typically accept the boards back. Sometimes, a paddle board will be sent back after it was used extensively, but sometimes, you can't even tell it was a used stand-up paddle board. In some cases, the customer just changed their mind, so the board is returned still wrapped in its original packaging. Regardless, if a paddle board has previously been sold, we mark it as part of our stock of used stand-up paddle boards for sale. We also add in demo boards from our San Diego store. All of these boards are tested before they are resold. These iSUPs are in perfectly fine condition.
Please note that all sales are final for used boards. We do not accept returns on used SUPs, and these boards do not come with a warranty. They have been tested rigorously.
How Can I Find Used Paddle Boards for Sale?
If you're looking for a used SUP for sale near you, you can find one in two different ways.
Every six months or so, we put together a list of all of the used boards we have lying around the warehouse and hold a grab bag sale. We send out the list as an email blast to our mailing list, and they typically sell out within a few hours; in fact, we've sold 60 used paddle boards in less than an hour before! You can sign up for our mailing list at the bottom of every page of our website.
Between these larger sales, we may periodically list used paddle boards for sale here. Our stock varies, so check back often. (Please do not call asking if we have any: If we do, they'll be listed here or you'll hear about it by email.)