5 Fun Ways to Get Fit with a Paddle Board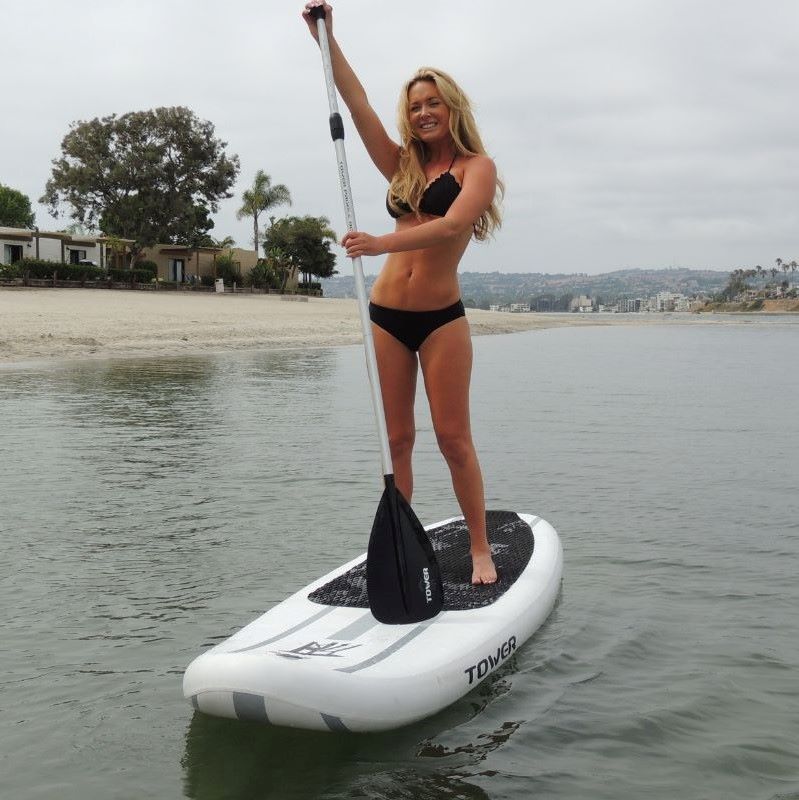 Paddle board fitness is a way to use your paddle board to get exercise as an alternative to traditional exercising methods. There are a multitude of ways to get exercise on your SUP besides just paddling. Because of its versatility, many people are using their paddle boards as one of their main exercising methods. SUP fitness has become a great change to a boring workout routine. For those that are tired of going to the same old gym every week and are looking for alternative ways to get exercise, SUP provides that. Another great aspect of SUP fitness is that it gets you outside and in nature rather than in a stuffy and sweaty gym. Below we have outlined 5 fun ways to get in shape with a paddle board.
1.) SUP Yoga
SUP Yoga has absolutely exploded in popularity in recent years. While yoga is one of the best ways you can get exercise, doing yoga on a paddle board adds a whole other layer to this exercise routine. Paddle board yoga is a little tougher than traditional studio yoga because of the added element of balancing on a paddle board. However, if you have the right board it is not too hard at all. We recommend our touring paddle board for SUP yoga. At 14 feet tall, 32 inches wide, and 8 inches thick this board provides the most room and stability to do all your poses. People love SUP yoga because it allows them to be in nature while doing yoga. This provides an element of peace and serenity that you don't normally get in the studio. Check out our article on the 10 paddle board yoga poses you have to try. Overall, paddle board yoga is great for those yoga enthusiasts who need a change of routine from their yoga studio.
2.) Long Distance Touring
Paddle boarding long distances is a great way to get an extensive workout. If you are looking for an alternative to your usual upper body workout at the gym, paddle boarding is a great option. A full paddle board workout will activate your back, shoulders, arms, and ab muscles providing an extensive upper body workout. For paddling long distances we recommend our touring paddle board or racing stand up paddle board. Both of these boards glide through the water at higher speeds and are meant for going long distances. To get an exhaustive workout we recommend paddling for at least 40 minutes. This amount of time will give you enough paddle strokes on both sides of the board to workout both arms. If you are looking to add to the workout, doing pushups on your board is a great way to work out your chest muscles.
3.) SUP Cardio
Paddle boarding naturally provides a great cardio workout. The constant paddling will get your heart pumping so that you get the cardio workout you are looking for. To enhance the cardio aspect of a SUP workout there are a few things you can do. First, burpees are an age old way to get a great cardio workout in a small space. With only a paddle board you can do burpees to enhance your respiratory fitness in no time. Burpees are where you launch from push up position to a standing jump and then repeat over and over. Another great way to get more cardio is to do squat jumps on your SUP. For either of these exercises your balance will be key. By balancing you will be engaging your core muscles which leads us to the nest SUP fitness routine.
4.) SUP Core Workout
Everyone is always looking to get a shredded 6 pack to show off their summer body. A grueling core workout on an iSUP will do just that for you. You can easily do a variety of core exercises on your SUP. Whether it is sit ups, plank, side plank, or leg lifts, there are so many ways you can workout your core on a paddle board. Because it is your core that helps you balance, you will be getting twice the workout while on a paddle board that you would normally on hard ground. This makes a SUP core workout the best possible core workout. Next time you're ready for a SUP workout be sure to introduce some core exercises to maximize your fitness.
5.) SUP Surfing
SUP surfing is yet another great way to get paddle board fitness. Surfing on your paddle board has become much more popular recently as some people realize it's a great way to get exercise. Paddle surfing is actually easier than traditional surfing also because you are already standing up on the board so you don't have to stand up as you catch the wave. Paddle surfing is a great workout because of all the paddling you will do to catch waves. After a long paddle surf sesh your upper body will be properly worked out. Paddle surfing is also the most fun way to get exercise on your paddle board. For those that are not familiar with surfing on your paddle board check out our SUP surfing page for extensive details about it.