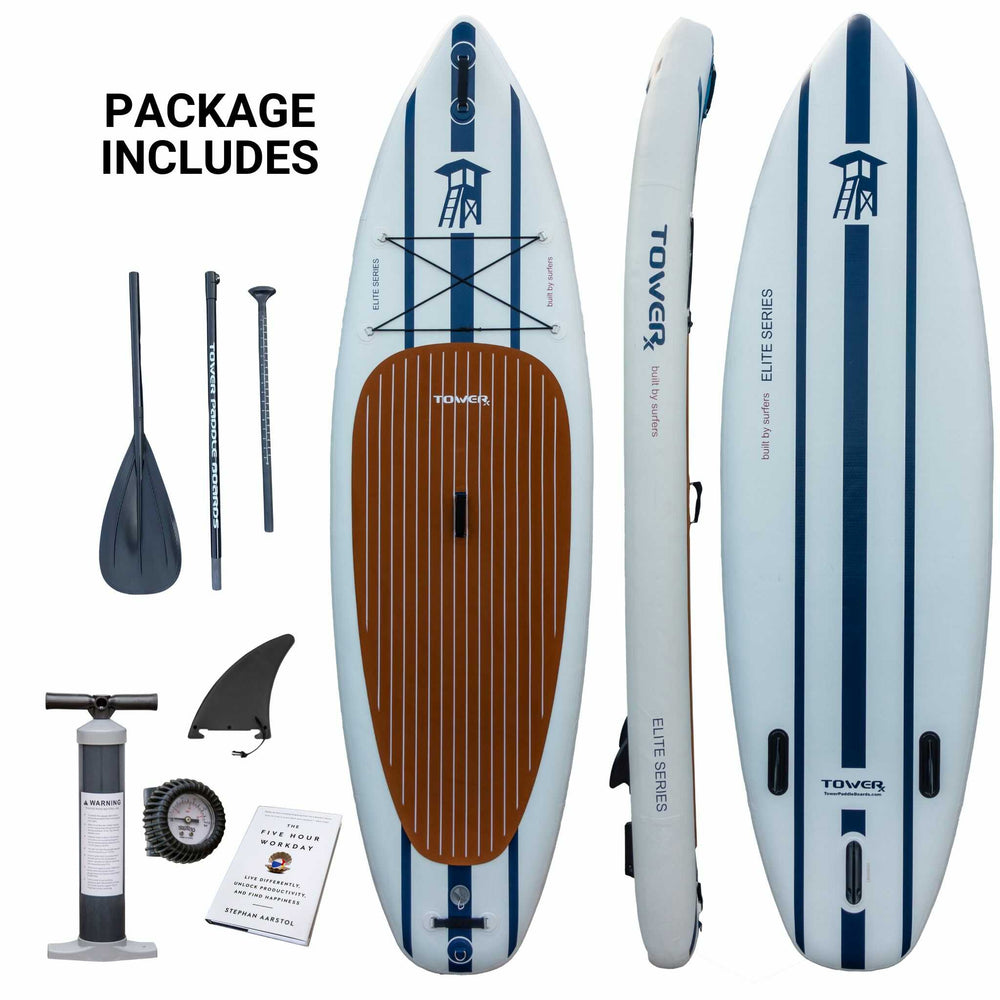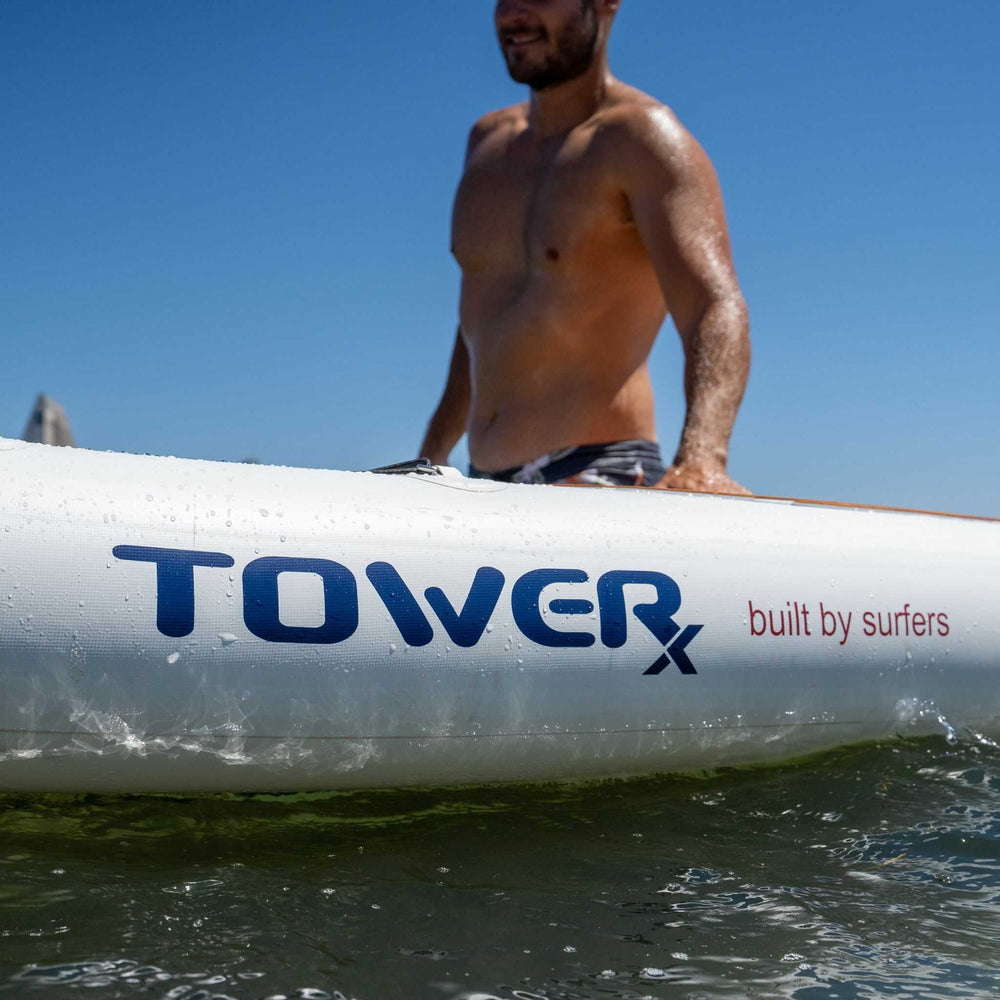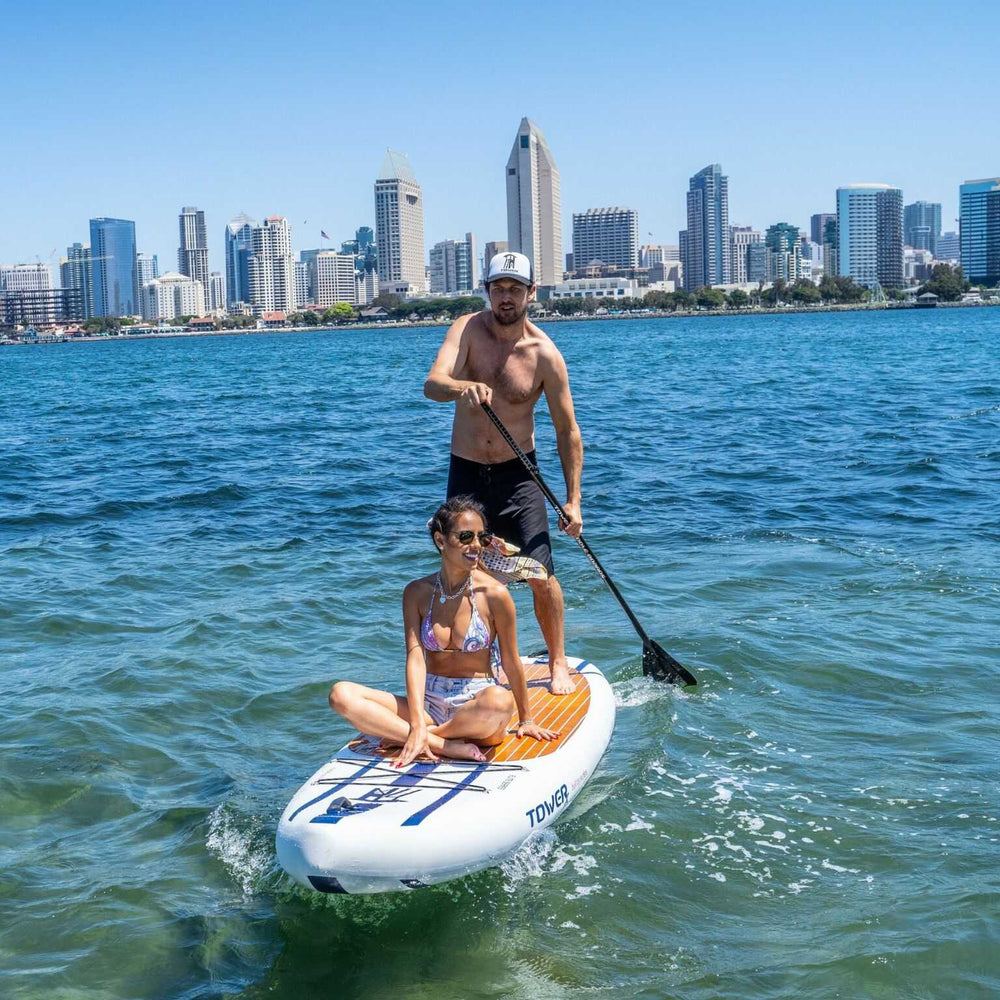 Xtreme 8" Thick Inflatable Paddle Board Package
DESCRIPTION
Massive volume - perfect for larger riders!
For the SUP enthusiast who has to have the absolute best, the Tower team brings you industry leading rigidity with an 8" thick iSUP in double layer, hand glued construction, the gold standard in quality for over a decade. At 10'4" in length by 35" in width, the Xtreme X-Class is stable, has more floatation, and is extremely rigid (240% more rigid than all 6" iSUPs on the market). High performance riders love the hard board like rigidity. Heavier riders like the extra floatation and extra rigidity.
WHAT'S INCLUDED
Full Package Includes
One (1) Xtreme 10'4" Inflatable Paddle Board
One (1) 9" Hook & Pin Center Fin
One (1) iSUP Repair Kit
One (1) Five Hour Workday Book
One (1) Hand Pump with PSI Pressure Gauge
One (1) 3-Piece Adjustable Fiberglass SUP Paddle
NOTE: You can save $50 by buying the Xtreme board by itself without a pump and paddle. Buy the board only.
The Most Trusted Brand in SUP, Tower

3-Year 'Hassle-Free' Warranty
Premium Customer Service - Call, email, or walk in
Founder Owned & Operated Small Business Since 2010
TECHNICAL SPECS
Weight: 29 lbs
Dimensions: 10'4" length by 35" width by 8" thickness
Volume: 450+ liters
Weight Capacity: Up to 550 lbs
Nose Rocker: 4 inches
Tail Rocker: No tail rocker
Fin Configuration: 2+1 plastic fins, with large detachable center fin
Onboard Accessories: Carrying handle, rear surf leash d-ring
Included External Accessories: A detachable SUP center fin, a Tower branded deck pad, a handpump, and a 3-piece fiberglass paddle. Repair kit comes with patches and valve wrench (glue is to be sourced locally)
Construction: Double layer, hand-glued 8" thick construction. High-pressure inflatable (Tested safe to 20 PSI, but only 10-12 PSI is necessary for optimal performance)
Against defects in workmanship & materials
SUPERIOR CUSTOMER SERVICE
We stand behind our products
On orders over $100
TOWER X-Class
ELITE Series Paddle Boards
A massive increase in iSUP rigidity equals a massive increase in performance, significantly more speed, and more hardboard like paddling characteristics all around. At 8" thick, our X-Class boards represent a huge leap over all other iSUPs on the market, even today, and we've been selling 8" thick iSUPs since 2012. Our Elite Series iSUPs enjoy the convenience and portability of an inflatable with the stability and speed of a hard board. This performance leap is how Tower disrupted the entire SUP industry back in 2011 when we invented the world's first 6" iSUPs. The SUP industry went from less than 1% inflatables to over 90% today as every brand copied our innovation.
Want to know a secret? Tower's 8" thick iSUPs are even better. The performance is unmatched, and with the added volume, it also means the Elite Series is ideally suited for XL size riders or tandem paddle boarding. As with everything Tower these are built to last. They've been proven in the market for over a decade and come with an industry leading 3 year warranty from a brand you can trust.

UNRIVALED RIGIDITY
By going to 8" thick this board has 240% better rigidity than most iSUPs on the market (which are 6"), and an 800% advantage over 4" thick iSUPs.
IDEAL FOR XL RIDERS & TANDEM
For bigger riders looking for more floatation & stability, you're going to love this board. Just check out our reviews and hear from the customers on this one.
DOUBLE LAYERED CONSTRUCTION
The Elite Series uses a double layered, hand glued construction that competitors are unwilling to do since it requires more time and expense to produce. No corners cut here. 3 year warranty.
PRESTIGIOUS AWARDS
Tower iSUPs have received accolades all over the internet for well over a decade. The luxury magazine Robb Report titled one of our iSUPs as the #1 SUP worldwide.
Double Layer, Hand Glued Quality
Industry leading 8" thickness | 800% more rigid
The most rigid inflatable paddle boards on the market, and it's not even close. Double layer, hand glued is the gold standard technique in SUP production and a proven technology with over 10 years of market presence. These boards last the longest in the industry, by far. Labor intensive and not inexpensive, if you want the best, this is what you get. These have a deck thickness of 2.2mm, versus 1.4mm in fusion construction, and 0.7mm in single layer. A few pounds heavier, but that gets you loads of added rigidity and durability.

Inflatable Paddle Board FAQ
How do I inflate an inflatable SUP board?
iSUP packages come with a high-pressure hand pump with a special H3 valve and a PSI gauge. It takes about 5-7 minutes to fully inflate your iSUP to the 10-12 PSI we recommend. They are safe to inflate up to about 20 PSI as a safety precaution so you don't overinflate, but 10-12 PSI is all that's necessary. Optionally, you can buy an electric pump where you set the desired inflation PSI level, hit start and it does the rest.
What PSI do I inflate my inflatable SUP to?
We recommend 10-12 PSI for optimal performance. Our iSUPs are safe to inflate up to about 20 PSI as a safety precaution so you don't overinflate, but 10-12 PSI is all that's necessary on Tower boards as they are by design made with quality construction that is very rigid even at lower PSI inflation levels.
How do I install the center fin on my iSUP?
It's very easy and secure. All current Tower iSUPs use what's called a hook & pin center fin, where you hook the front base of the fin over a catch in the fin box, slide it back as far as you can by tapping the fin with your hand which will align the rear fin base catch over the hole in the fin box which you simply insert the tethered pin fin thru. Just reverse the steps for fin removal.
Can I use an electric pump with my iSUP?
Yes, you can use a special high-pressure electric pump suitable for inflatable paddle boards. It will have the required H3 valve. You simply set the desired PSI, hit start, and it will auto-inflate the board. Note, most "inflatable" product pumps won't cut it as they are not specialized high-pressure pumps, so you will need to buy a pump specifically for high-pressure inflatable SUPs. Additionally, while many people will try to use an air compressor jimmy rigged with an H3 valve, it is extremely easy to overinflate your iSUP this way and blow apart the seams. You board will be ruined. Obviously, use of any compressors voids your warranty.
How do I deflate an inflatable SUP?
When you open the valve cap on the rear deck of your iSUP, you will see a yellow valve stem button. You deflate your iSUP by depressing that valve stem button and twisting it clockwise to lock it in the down position. This valve stem acts as a toggle between a one-way valve when it's in the up position and a two-way valve when it's in the down position. Use the valve stem up position when inflating your board so you can inflate and then remove the pump without the air rushing out. Use the valve stem down position when deflating your board. Air will rush out vigorously, and you roll the board from the other end to push air out as you roll it up for storage.
How durable is my inflatable SUP?
Inflatable paddle boards are made of military grade PVC similar to what you find on commercial river rafts. You can run them up on the rocks just fine without damaging them. In fact, one of the key benefits of inflatable SUPs over hardboards is that iSUPs are nearly indestructible. We don't recommend you do this, but we've run over Tower iSUPS with a car while they are inflated and they don't miss a beat. They are also extremely durable when deflated and rolled up so you don't really need a protective bag at all.
How long does my inflatable SUP hold air?
We keep our fleet of inflatable SUP boards for our demos inflated for months at a time and they never really seem to lose air. Even though most people think of inflating and deflating their inflatable SUP every time they go out, what a lot of people end up doing is just keeping it inflated. The beauty of these boards is really that they are nearly indestructible (when compared to an EPS/Epoxy boards that are prone to getting nicked up). The ability to deflate them, roll them up, and transport them in a tight space is often times only an occasional thing and sometimes an afterthought on these inflatable boards.
What accessories do you recommend?
Our most popular accessory is an electric pump as not everyone enjoys the pre-workout that inflating your paddle board represents. Once people get into the paddle boarding regularly, a carbon fiber paddle is a nice upgrade over the 3-piece fiberglass travel paddles that are included in our iSUP packages. iSUP backpacks are always a handy accessory if you travel a lot. And lastly, if you paddle in shallow water like rivers frequently, a 6" deep river fin is a nice alternative to have over the standard 9" SUP fin.
Extended Product Information
Massive volume - perfect for larger riders!
Stiffness is the key to a good paddle boarding experience. This is precisely why inflatable paddle boards went from less than 1% of the SUP market to over 70% in about five years when Tower introduced its first 6" iSUP to the market in early 2012. Prior 4" thick models had been on the market for 5 years and never caught on. Tower's introduction to the market increased rigidity by 325% and suddenly inflatable paddle boards were not only on par with hard boards, but better in most all respects. Today, the inflatable paddle boards make up over 90% of the market. From less than 1% just a decade ago.
Now Tower has introduced the X-Class Elite Series iSUPs that are 8" thick, which makes them 800% more rigid than the original 4" inflatable paddle boards.
What is the Tower Xtreme X-Class iSUP?
Our X-Class Elite Series construction use the same foundational double layer, hand glued construction that has made Tower Paddle Boards a household brand name known for quality iSUPs over the past decade, but produces in in an 8" thick drop stitch material. Just like when we took the industry from a 4" thick iSUP to a 6" thick iSUP, producing an 8" thick all round iSUP at 10'4" long and 35" wide represents a major jump in inflatable paddle board rigidity. It's 240% more rigid than our 6" thick iSUP, which are already some of the most rigid iSUPs on the market. The 8" thick iSUP is 800% more rigid than the original 4" iSUPs on the market. It's a jump in production costs to achieve, but well worth it in our mind as it serves two audiences. The first audience is performance riders that won't settle for anything less than the most rigid iSUP out there. The 2nd audience is larger riders that just want massive floatation for themselves or tandem riding. The Tower Xtreme iSUP paddle board has unrivaled rigidity.
Because a rider on an 8" thick iSUP sits slightly higher above the water, the center of balance is slightly higher. For example a 6' rider's center of balance might be 40" on a 6" thick iSUP, where it would be 42" on an 8" thick iSUP. To account for that, we slightly widened the proven outline and rocker profile of our 10'4" x 32"Adventurer 2 iSUP, from our Premium iSUP Series, and made it 3 inches wider. Stability on a paddle board is all about the width of the paddle board. From the exterior look, the profile outline is a subtle difference.
With the added volume of this 8" thick, double layer, handle glued construction, this inflatable paddle board can support up to 550 lbs. It comes in our popular white with blue stripes deck design with a faux teak boat decking look to the deck pad, which was first introduced to the market with the Chris Craft x Tower collaboration that was named the #1 SUP worldwide by the prestigious Robb Report.
While nearly the entire inflatable stand up paddle board market seems to be a race to the bottom in terms of quality and service, Tower Paddle Boards is raising the stakes on quality and service. Our 3 year warranty on our X-Class Elite Series iSUPs is one of the best warranties in the industry, and more importantly it's from a brand that been a trusted name in the industry for well over a decade so if you ever need to use your warranty you won't get the run around which is all too common in the industry. Many of our original inflatable SUPs, always made with our Premium Series double layer, hand glued construction are still running strong with over a decade of use on them. And we've quietly been making 8" thick iSUPs since 2014 with our unique 14' Xplorer model, the fastest iSUP in our lineup... due to it's rigidity.
Tower's History of Quality & Service
Founded in 2010, for over a decade Tower produced only inflatable paddle boards using double layer, hand glued construction, which is the gold standard and most expensive construction in the inflatable stand up paddle board industry. The truth is our cost efficient direct to consumer only distribution strategy allowed us to do this and still have some of the best prices in the industry for close to a decade. We specialize in affordable luxury.
Over time, however, all sorts of fly-by-night SUP brands popped up trying to mimic Tower's high profile success in the inflatable paddle board market. But they did this by selling far lower quality paddle boards and trying to spin them off as equivalent quality, often employing excessive amounts of advertising, affiliate marketing, or fake reviews on Amazon. It confused consumers in the market to the point that today, something like 90% of consumers are duped into purchasing a single layer inflatable paddle board, the lowest quality and lowest cost construction on the market. Even most of the better known and respected brands in the industry sell fusion boards, like our new S-Class Starter Series "Economy line", as the most premium construction they offer. They're decent, but they are not on par with double layer, hand glued construction.
No brands are going where we're going with our Tower X-Class Elite Edition, where we're intentionally increasing our production costs with an 8" thick inflatable paddle board to serve stand up paddle enthusiasts that will accept nothing less than the best.
Understanding SUP Industry Pricing
When we started Tower in 2010 with our (somewhat pioneering at the time) direct to consumer strategy, we were selling paddle boards at $499 while the competition sold them for $1200 to $1600. Pretty much all the paddle board brands sold into the retail distribution channel at the time where boards were sold face to face, so low quality boards weren't an option. Everything was decent quality or better. With the competition touting "you get what you pay for", it took 2 years of slow growth for consumers to come to understand that our Tower inflatable SUPs were not only the same or better quality, but you could reach us on the phone while you couldn't with the other brands. Our low prices were so threatening to the status quo and so disruptive that some of the established SUP brands and some SUP factories were essentially price fixing and attempting to block our production capabilities. Our service was better. Our prices were half. And our quality was as good or better. With time, we became the biggest brand name in SUP and still hold that title today in quality inflatable paddle boards. Soon, we became one of the fastest growing companies in the nation. Then we were one of the first paddle boards to sell on Amazon - Jeff Bezo's even name dropped us in one of his annual letters to stockholders. Our success was very public, and there have been dozens and dozens of imitation attempts since over the past decade.
As we launch the X-Class Elite Series 8" thick inflatable paddle boards in 2022, the market has changed dramatically. The market today is dominated by two factions. Today, the market is infested with the lowest quality boards possible from an unending number of here today, gone tomorrow brands. And good luck with customer service! I've seen FaceBook groups dedicated to customer service complaints on one or another SUP brand that have hundreds of members. It's that bad.
Faction #1: On the low end is disposable-quality, single layer inflatable paddle boards sold by the hundreds of thousands a month by a dizzying array of fly-by-night brands and Chinese non-brands, mostly on Amazon, driving the quality of iSUPs and the quality of customer service lower and lower as they fight with each other for pole position on Amazon and give Amazon half the revenue when revenue share and advertising fees are factored in. Consumers have largely adapted to just accepting buying disposable everything to save a few bucks. This isn't great news for landfills.
Faction #2: The other faction is the heavy advertising brands that typically sell fusion construction boards (and many also sell single layer boards), and try to pass them both off as the highest quality construction and price them even above Tower's double layer, hand glued construction boards. Many of them are finding success in growing revenue because spending millions upon millions on advertising is pretty effective at hoodwinking consumers. Nonetheless at the end of the day, the advertising platforms are efficient monopolies so their cut of what consumer's pay grows and grows by the year to near half the price. This is why Google, Amazon, and FaceBook have become some of the first trillion dollar companies in mankind's history. Most of these heavy advertising SUP brands spend quite a bit more today on advertising and commissions to the channel to sell a single board then they do on producing that board. To us, that's sad. It's a sad reality that the biggest ticket item you are paying for today in the SUP world is to be advertised to. Not the product. As such, the paddle board industry has ironically come full circle back to retail with 50% margins being absorbed by the channel, Amazon, monopolistic ad platforms, or all three. Consumers once again are getting screwed, and completely left out of the biggest benefit of globalization, the fact that things cost way less to make.
Thus in today's market, Tower's challenge is not just to prove that our prices are so low on the highest quality boards because of our direct to consumer only strategy, but also to illuminate the reality that most boards being hawked as quality today are anything but quality, even from brands that claim to be the "best selling sup brand worldwide" or the "#1 SUP brand" or "Premium boards at non-premium prices" or whatever nonsense claims they can conjure up. Our challenge is to illuminate the fact that ad heavy brands are charging you more for lesser boards than Tower sells because they have to spend millions in advertising. The world is back to retail. Tower is one of the few paddle board brands out there that sells direct to consumer ONLY, and critically doesn't sell wholesale, or thru excessively heavy ad spending (we've spent less than 3% of revenues on ads over the past decade, where many brands spend more than 30%!), or by giving retail margins to Amazon and driving quality to the basement in order to make all these schemes work. We do sell on Amazon, but at prices 20% higher than our site and we don't advertise there or even focus there. We just offer our boards on Amazon as a convenience to customers that are willing to pay Amazon's extra toll.
The introduction of the Tower X-Class Elite Series is Tower once again showing SUP consumers that the best value is (and always has been) buying from Tower, with our direct to consumer ONLY business model. And more importantly that this value can be at any level of quality – it can be on starter boards like our newly released Tower S-Class iSUPs, on our Premium Series iSUPs
Diagram of Double Layer Hand Glued iSUP Construction
The Reviews Are In!
Excellent
At 165 lbs. I didn't necessarily need the extra floatation but the added width provides stability I need as I'm new to paddle boarding. Definitely user friendly, no issues with the board or associated accessories. With the added height it is pushed around by wind and doesn't necessarily track well but some of that could be more operator error than a fault of the equipment. Deck panel is easier on my knees than another brand I used but it's so stable I'm spending most of my time standing paddling anyway.
New customer
I bought the Adventurer II and the Xtreme 8" inflatable board packages. I've only used the Adventurer II and the set up was easy, mainly because the instructional videos on the TB web site were so good. All of a novice's questions can be answered on the web site. I called with a question and Galen was very helpful. I highly recommend this company and their products.
8" makes all the difference
This is hands down the best inflatable paddle board I've ever used. The 8" thickness makes a huge difference!
Beautiful Board
I love the looks of this board. Super clean. And the ride is as stable as I've been on an inflatable paddle board and this thing doesn't flex at all like other inflatables I've been on. There is basically no flex so it just feels much more like a hard board. Highly recommended.
Wow!!!
My wife and I love this board! It is the most stable inflatable board I have ever been on. It is also a lot faster than many of our friends boards. I just smile as I cruise by with little effort. This really is the best paddle board I have ever been on.
So Much Fun to Ride
I've had a blast riding this paddle board! I feel super stable on it. It's literally hard to tip it over. The only downside is that it's a bit heavy compared to the inflatables my friends have, but overall a great board.
Great for Long Distance Paddling
Excellent construction!
The construction of this board is top-notch. I've had other iSUPs in the past that didn't hold up so I decided to go with Tower because I've heard a lot about them. This board was at the high-end of the SUPs I was pricing out, but you can just tell it's quality. Highly recommend for anyone looking for a high-quality board.
Best Board for Larger Paddlers
I've been searching for an inflatable paddle board that can handle my weight, and the Tower Xtreme is definitely the best one out there. Highly recommend for any larger paddlers!
Great for yoga!
I love using this board for yoga. It's super stable even when doing more challenging poses. Highly recommend for anyone looking for a yoga platform.