Kids Paddle Board Adventures: 5 Reasons They'll Love it!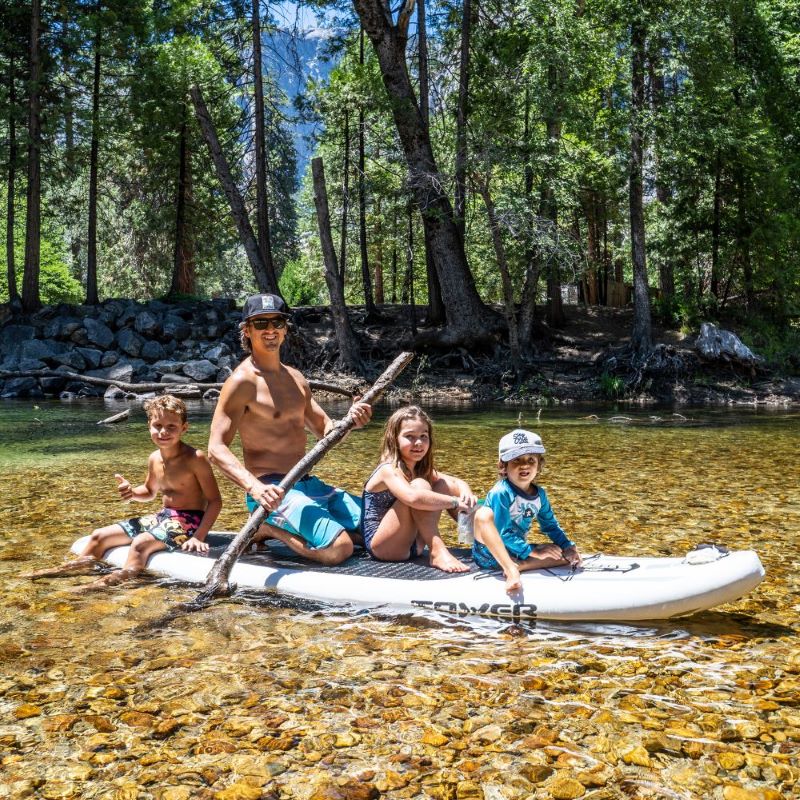 Inflatable paddle boards are fun for the whole family. The best part about inflatable paddle boards is that anybody can use them, no matter a user's weight, height, or skill level. A lot of iSUP owners share their boards with their kids and their children absolutely love them. We receive photos all the time of kids playing on their inflatable paddle boards, and they look like they're having a blast.
There's numerous reasons why a kids paddle board is the perfect gift and toy for kids, but we've compiled a list of our top 5.
#1: Safety
As a parent, your number one priority is obviously your child's safety. We know how quickly a seemingly safe moment out in the water can turn into a visit to the doctor.
Fortunately, inflatable paddle boards are made out of a soft PVC outer layer that cushion any potential contact or fall. Our boards still remain soft despite their extreme rigidity and performance! Children will be able to roughhouse and push each other while on these boards, and not worry about hitting any sharp corners. No longer will you have to worry about your child potentially hurting themselves by falling or hitting their head. The durability of kids paddle boards is also outstanding. Kids know how to wear down their toys, but kids paddle boards will stay intact and unpunctured despite being heavily used.
#2: Beginner Friendly
Inflatable paddle boards are the ultimate Kid's paddle board. What makes them so universal is they have practically no weight or height limit.
Any sized user can use an inflatable paddle board, making them a long term investment for your kids! You won't need to continually buy different sized boards with the growth of your kid, they'll be able to grow up and still operate on the same board.
Tower inflatable paddle boards are extremely beginner friendly due to their increased 6 inch width off the water. Tower was the first to introduce a 6 inch wide paddle board to the market, and other companies followed suit after seeing our board's success. This added 6 inches increases the boards buoyancy, and also decreases the likelihood of the board tipping over, as it has a stronger, wider center of gravity while planning on water. When learning to paddle board you may accidentally run into or bump your board into a hard surface, but kids inflatable paddle boards will still remain intact and unharmed even after scraping against a sharp rock, making them perfect for kids and beginners.
#3: Tandem SUP riding... even quadruple SUP riding
Kids will love to play on their kids paddle board with their friends, and inflatable paddle boards can withstand up to 4-5 kids on a board at once! Kids can play "King of the Hill" and other fun pool/lake games on their iSUP. It's a toy that can be shared by all!
On your next paddle board adventure, take your kid(s) with you! Inflatable paddle boards are generally 10+ft in length and have ample surface area to fit multiple riders if still under 350lbs. Tandem riding with your kids is a perfect way to bond, and spend time together in the outdoors. Teach your kid(s) about water safety, or even take them out on a fishing trip. Kids will love to join you out on the water.
#4: Fun
Inflatable paddle boards are super easy to bring in and out of the water. With multiple handles and the ability to inflate and deflate, kids iSUP's make for easy fun.
iSUP's can be used anywhere/anyhow. Kids can place them in the summer pool or out on a lake as a platform for tanning and relaxing. Tow the kids on the board behind a boat. They can even be used as a dock to jump off of out in the ocean. Kids will love the versatility of their board and will put it to great use.
#5: Perfect summer activity
Having a kids paddle board in your summer beach kit is a must. It's the perfect toy for your kids to spend countless hours out in the water, all while learning about the ocean and their environment. Kids paddle boards are great at introducing your children to an active lifestyle and instilling an early appreciation for their surroundings. It's important for kids to get out and exercise each day. A kids paddle board will certainly help motivate the kids to get off their phones and live in the moment.
Kids paddle boards will leave your children preoccupied for hours while you finally have some alone time and can cherish the beach in its peace and quiet. Once rested, you can even join them for a quick swim, or play games on the board. Storing your board after use is easier than ever with inflatable paddle boards. Simply deflate the board at the push of your finger, roll the board up and stow away. You can even keep kids paddle boards inflated year round for quick beach access. Remember, any sized inflatable board is well suited for kids to grow into! Any Tower inflatable paddle board can double as the perfect Kids paddle board. It's best to have them start paddling at an early age, and have them grow into the sport and all the adventures that will come with it.