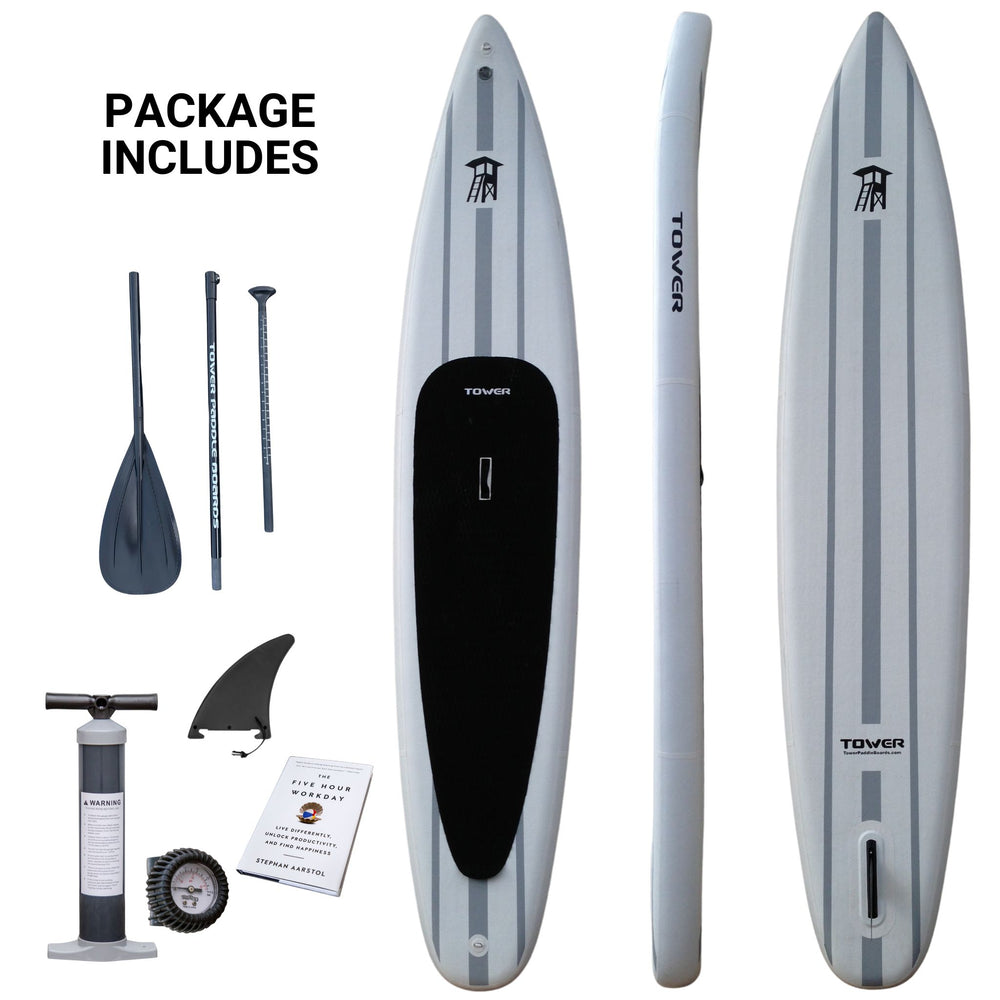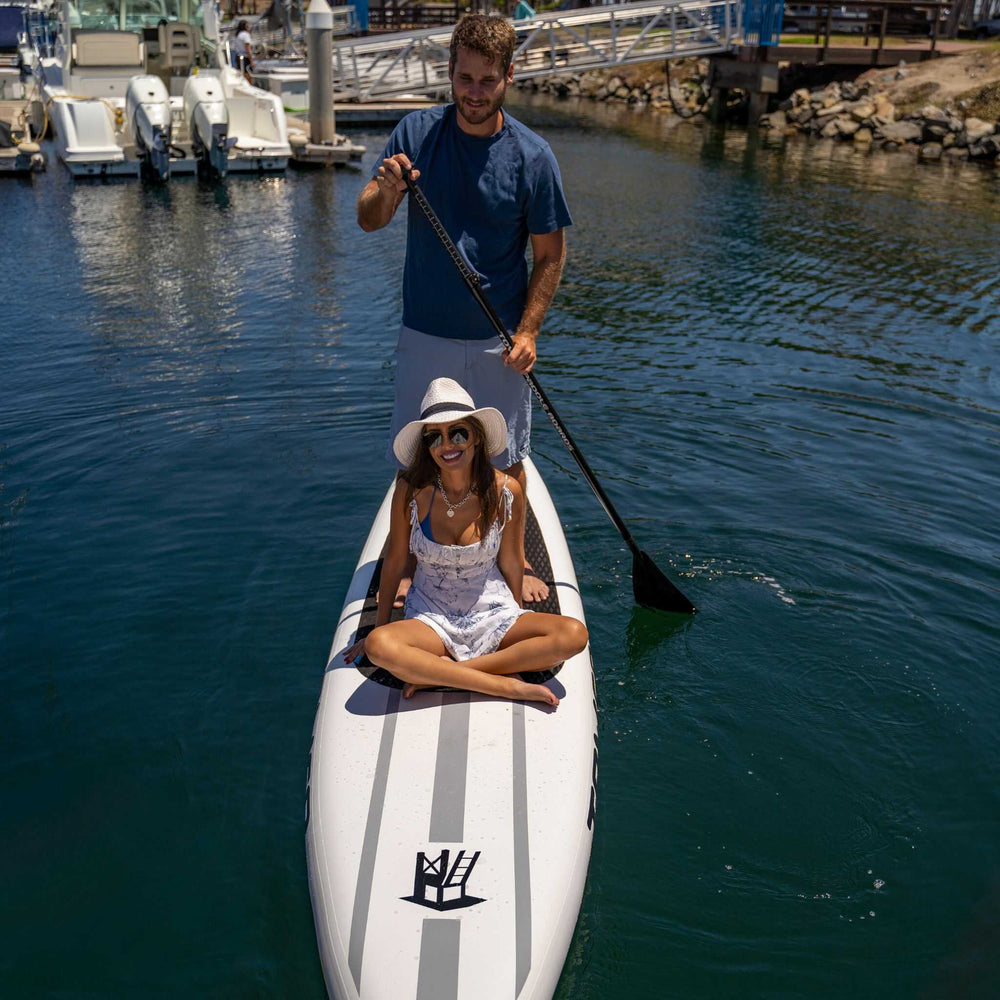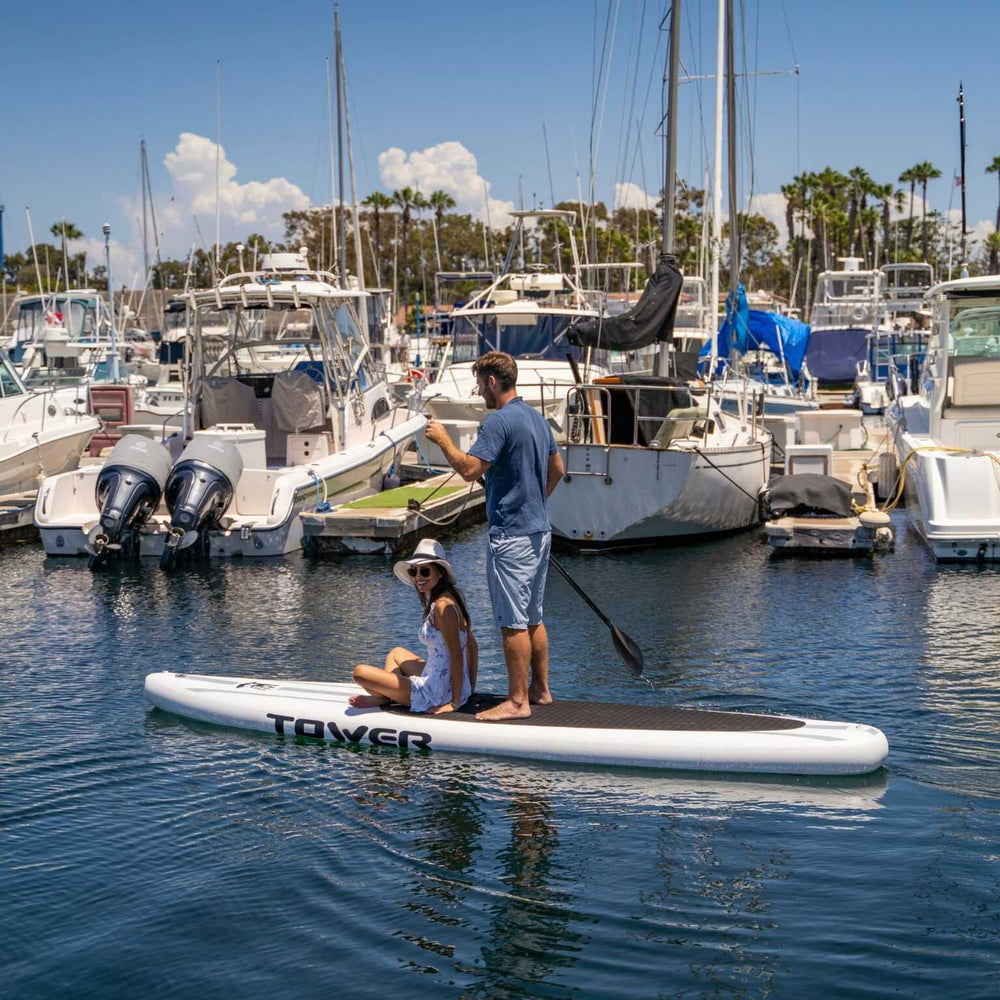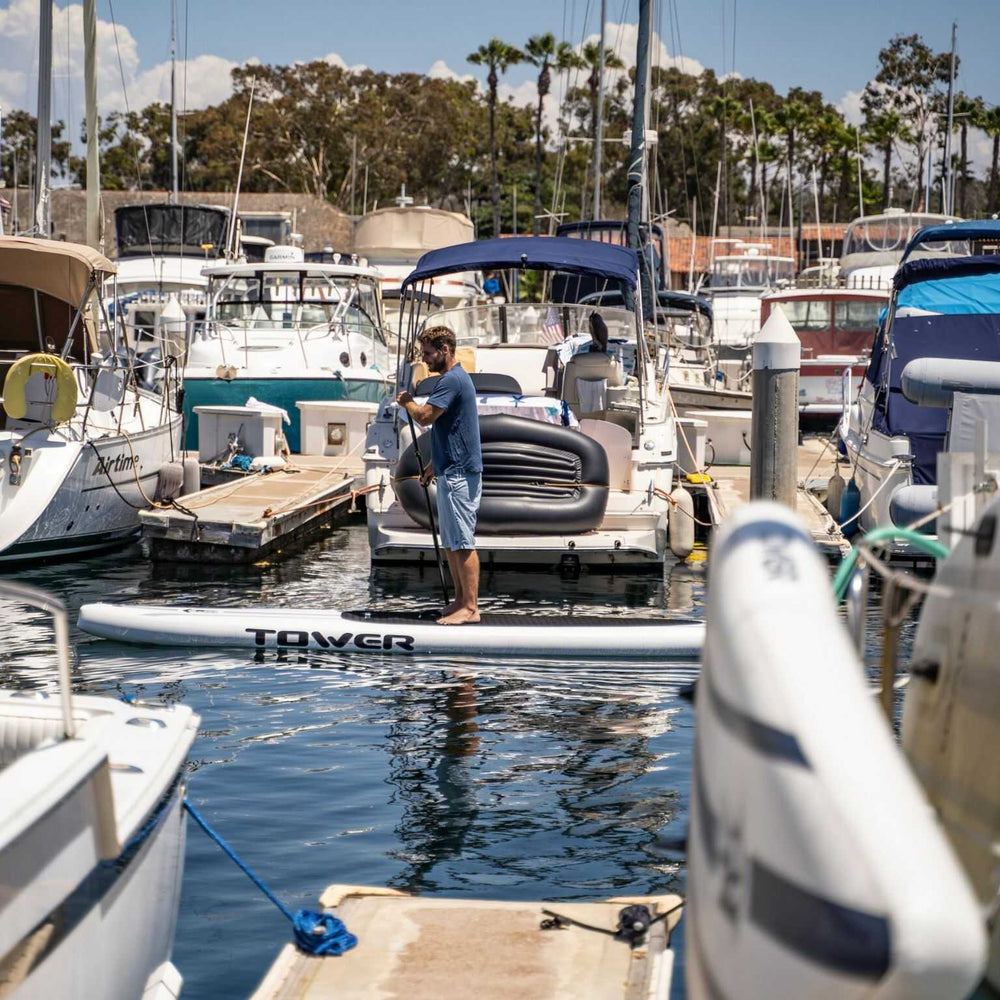 Xplorer 14' Inflatable Paddle Board Package
DESCRIPTION
A touring board that's perfect for tandem riding, steady gliding or onboard activities. At 14' long and 8" thick, the Xplorer was designed with extra length and volume in mind. Perfect for fishing, cruising, or yoga, this board provides ideal length and carrying capacity for any onboard iSUP activity. This board can easily withstand weight of 500+lbs.
WHAT'S INCLUDED
Full Package Includes
One (1) Xplorer 14' Inflatable Paddle Board
One (1) 9" Hook & Pin Center Fin
One (1) iSUP Repair Kit
One (1) Five Hour Workday Book
One (1) Hand Pump with PSI Pressure Gauge
One (1) 3-Piece Adjustable Fiberglass SUP Paddle
If you want to save $50, we also offer the Xplorer as a board only (so no pump or paddle). Buy the board only.
The Most Trusted Brand in SUP, Tower

3-Year 'Hassle-Free' Warranty
Premium Customer Service - Call, email, or walk in
Founder Owned & Operated Small Business Since 2010
TECHNICAL SPECS
Weight: 33 lbs
Dimensions: 14 length by 32 width by 8 thickness
Volume: Unknown exactly, but probably 600 Liters plus
Weight Capacity: Up to 800 lbs
Nose Rocker: 4 inches
Tail Rocker: No tail rocker
Fin Configuration: Standard longboard fix box, with large detachable center fin
Onboard Accessories: Carrying handle, front towing d-ring, rear surf leash d-ring
Included External Accessories: A 3-PC SUP Paddle, a high-pressure pump, a detachable SUP center fin, a Tower branded deck pad. Repair kit comes with patches and valve wrench (glue is to be sourced locally).
Construction: Double layer, hand-glued 8" thick construction. High-pressure inflatable (Tested safe to 20 PSI, but only 10-12 PSI is necessary for optimal performance)
Against defects in workmanship & materials
SUPERIOR CUSTOMER SERVICE
We stand behind our products
On orders over $100
TOWER X-Class
ELITE Series Paddle Boards
A massive increase in iSUP rigidity equals a massive increase in performance, significantly more speed, and more hardboard like paddling characteristics all around. At 8" thick, our X-Class boards represent a huge leap over all other iSUPs on the market, even today, and we've been selling 8" thick iSUPs since 2012. Our Elite Series iSUPs enjoy the convenience and portability of an inflatable with the stability and speed of a hard board. This performance leap is how Tower disrupted the entire SUP industry back in 2011 when we invented the world's first 6" iSUPs. The SUP industry went from less than 1% inflatables to over 90% today as every brand copied our innovation.
Want to know a secret? Tower's 8" thick iSUPs are even better. The performance is unmatched, and with the added volume, it also means the Elite Series is ideally suited for XL size riders or tandem paddle boarding. As with everything Tower these are built to last. They've been proven in the market for over a decade and come with an industry leading 3 year warranty from a brand you can trust.

UNRIVALED RIGIDITY
By going to 8" thick this board has 240% better rigidity than most iSUPs on the market (which are 6"), and an 800% advantage over 4" thick iSUPs.
IDEAL FOR XL RIDERS & TANDEM
For bigger riders looking for more floatation & stability, you're going to love this board. Just check out our reviews and hear from the customers on this one.
DOUBLE LAYERED CONSTRUCTION
The Elite Series uses a double layered, hand glued construction that competitors are unwilling to do since it requires more time and expense to produce. No corners cut here. 3 year warranty.
PRESTIGIOUS AWARDS
Tower iSUPs have received accolades all over the internet for well over a decade. The luxury magazine Robb Report titled one of our iSUPs as the #1 SUP worldwide.
Double Layer, Hand Glued Quality
Industry leading 8" thickness | 800% more rigid
The most rigid inflatable paddle boards on the market, and it's not even close. Double layer, hand glued is the gold standard technique in SUP production and a proven technology with over 10 years of market presence. These boards last the longest in the industry, by far. Labor intensive and not inexpensive, if you want the best, this is what you get. These have a deck thickness of 2.2mm, versus 1.4mm in fusion construction, and 0.7mm in single layer. A few pounds heavier, but that gets you loads of added rigidity and durability.

Inflatable Paddle Board FAQ
How do I inflate an inflatable SUP board?
iSUP packages come with a high-pressure hand pump with a special H3 valve and a PSI gauge. It takes about 5-7 minutes to fully inflate your iSUP to the 10-12 PSI we recommend. They are safe to inflate up to about 20 PSI as a safety precaution so you don't overinflate, but 10-12 PSI is all that's necessary. Optionally, you can buy an electric pump where you set the desired inflation PSI level, hit start and it does the rest.
What PSI do I inflate my inflatable SUP to?
We recommend 10-12 PSI for optimal performance. Our iSUPs are safe to inflate up to about 20 PSI as a safety precaution so you don't overinflate, but 10-12 PSI is all that's necessary on Tower boards as they are by design made with quality construction that is very rigid even at lower PSI inflation levels.
How do I install the center fin on my iSUP?
It's very easy and secure. All current Tower iSUPs use what's called a hook & pin center fin, where you hook the front base of the fin over a catch in the fin box, slide it back as far as you can by tapping the fin with your hand which will align the rear fin base catch over the hole in the fin box which you simply insert the tethered pin fin thru. Just reverse the steps for fin removal.
Can I use an electric pump with my iSUP?
Yes, you can use a special high-pressure electric pump suitable for inflatable paddle boards. It will have the required H3 valve. You simply set the desired PSI, hit start, and it will auto-inflate the board. Note, most "inflatable" product pumps won't cut it as they are not specialized high-pressure pumps, so you will need to buy a pump specifically for high-pressure inflatable SUPs. Additionally, while many people will try to use an air compressor jimmy rigged with an H3 valve, it is extremely easy to overinflate your iSUP this way and blow apart the seams. You board will be ruined. Obviously, use of any compressors voids your warranty.
How do I deflate an inflatable SUP?
When you open the valve cap on the rear deck of your iSUP, you will see a yellow valve stem button. You deflate your iSUP by depressing that valve stem button and twisting it clockwise to lock it in the down position. This valve stem acts as a toggle between a one-way valve when it's in the up position and a two-way valve when it's in the down position. Use the valve stem up position when inflating your board so you can inflate and then remove the pump without the air rushing out. Use the valve stem down position when deflating your board. Air will rush out vigorously, and you roll the board from the other end to push air out as you roll it up for storage.
How durable is my inflatable SUP?
Inflatable paddle boards are made of military grade PVC similar to what you find on commercial river rafts. You can run them up on the rocks just fine without damaging them. In fact, one of the key benefits of inflatable SUPs over hardboards is that iSUPs are nearly indestructible. We don't recommend you do this, but we've run over Tower iSUPS with a car while they are inflated and they don't miss a beat. They are also extremely durable when deflated and rolled up so you don't really need a protective bag at all.
How long does my inflatable SUP hold air?
We keep our fleet of inflatable SUP boards for our demos inflated for months at a time and they never really seem to lose air. Even though most people think of inflating and deflating their inflatable SUP every time they go out, what a lot of people end up doing is just keeping it inflated. The beauty of these boards is really that they are nearly indestructible (when compared to an EPS/Epoxy boards that are prone to getting nicked up). The ability to deflate them, roll them up, and transport them in a tight space is often times only an occasional thing and sometimes an afterthought on these inflatable boards.
What accessories do you recommend?
Our most popular accessory is an electric pump as not everyone enjoys the pre-workout that inflating your paddle board represents. Once people get into the paddle boarding regularly, a carbon fiber paddle is a nice upgrade over the 3-piece fiberglass travel paddles that are included in our iSUP packages. iSUP backpacks are always a handy accessory if you travel a lot. And lastly, if you paddle in shallow water like rivers frequently, a 6" deep river fin is a nice alternative to have over the standard 9" SUP fin.
Extended Product Information
Touring Paddle Boards - A New Frontier in Inflatable SUPs
Touring paddle boards are built to go fast and long distances. Touring paddle boards are meant for those SUPers who want to go long distances, travel fast, and cut through the water with ease. It will shock you how fast the touring 14' Tower Xplorer inflatable paddle board is. At 8" thick, it will also shock you how rigid it is. At the time of introduction, not only is there no other 14' iSUP on the market. Nor is there any other 8" thick iSUPs on the market. The Xplorer represents and entirely new class of paddle board, and everyone who tries it falls in love.
Traditional hard board unlimited racing class SUPs are the fastest boards on the market. At 14' or longer, and with many over 7.5 inches thick, they also present a massive storage and transportation problem. For speed and glide, the longer the better, but it's a bitter tradeoff. You need an oversized room or garage to store them, and you've got to crate them for shipping (at a cost of $1000s per shipment). This is largely why more manageable 12'6" length hard boards have become the standard racing class size, but really they're still monsters to transport.
However, when you go with an inflatable, the length is largely irrelevant for storage and transportation as you just roll them up and go. We figured the longer the better, and we were right on the money. Once we tested the boards, we were blown away at the speed. It's the fastest board in our entire line-up... and it fits in a duffel bag when rolled up. A touring paddle board with this performance would typically be upwards of $1500 at retail. As we are a direct to consumer company, we provide you with incredible value for a high quality board.
Amazing Rigidity
Be weary of newer boards made with the fused process. While they may be lighter, they lose rigidity and durability in this newer construction process and are much lower quality boards overall.

The Tower Xplorer Inflatable SUP is made from extremely rugged materials like those you'd find on the highly regarded Zodiac boats and extreme river rafts. The amazing rigidity in the Xplorer is created by thousands of vertically oriented strands of identical length that connect the top deck to the bottom. When inflated, they form a structure that has the rigidity of a piece of plywood, and the thicker you go the exponentially more rigid it gets. The Tower Xplorer is an unparalleled 8" thick. You'll be amazed. We can literally put the front tip of the 14' Tower Xplorer on one chair and the rear tip on another chair and a 200 lb person can stand in the middle and you can barely see the thing flex. A touring paddle board of this quality will ensure that your paddle boarding adventures last for years to come.
A Viable EPS/Epoxy Board Alternative - We're not kidding!
Traditionally, inflatable SUPs were only a consideration for traveling - store one in the cuddy cabin on your yacht, take it with you on the plane, or haul it into that secret mountain lake or river and you can stand up paddle board in the farthest corners of the earth. With the combination of speed and rigidity of the Tower Xplorer, an inflatable SUP is hard to beat on flatwater with anything less than a full-fledged racing hard board... and don't be surprised if it outperforms a few of those.
Although most high performance touring paddle boards are hardboards, our inflatable touring paddle board has proved to match up with traditional touring hardboards. With its 14 foot length you have the ability to bring cargo such as bags, coolers, fishing gear, snorkeling gear and many other items that you will need on a long touring journey.
Diagram of Xplorer Inflatable Paddle Board Construction
Inflatable Paddle Board Performance Expectations
The Reviews Are In!
Its ok
Fast and good quality. Can handle a ton of weight, I can't imagine nothing better for touring. Difficult in choppy water, to get back if you fell and to carry on long distances. You may want to buy additional D rings, a pair of handles and an electric pump.
Explorer 14ft
I absolutely love this paddle board I'm a 275lb man and this board doesn't even know I'm on it. I have other paddle boards the carry me but not like this one. This board is very fast for an inflatable. Tower definitely has nailed it with this board.
Great large board to share with dog
I already had an iRace inflatable paddle board and was going to get another but chose the larger Explorer to give my wife and I a more stable board to take our 55-pound dog out on. This was the perfect board for that. Well made, far more maneuverable than other larger inflatables I've seen and far more stable than other inflatables.
The 14' board is the Tower of Power
This board is rock solid, paddles easy and is really fantastic. We have both lake and beach use. I also have their electric pump. It is much better than cheap ebay pumps and works flawlessly.
Old man paddling
Put our board to the test this weekend. Having never been on a board, it was a lot of fun.
We spent the first week in our pool practicing getting on it in deeper water. It would have been a bit embarrassing to have to dog paddle it back to the shallows.
Really stable, both my Wife and I were able to stand up on it (not together!).
The one thing i would advise, is to get a second paddle.
We ride it tandem sitting down, and she wants her own paddle!
Lots of fun, easy to use
Magnificent board by a quality brand!
I'm 43yo 6'4 270lbs and discovered this board by Google searching for boards for big dudes. If you're a big dude and ever used a whimpy board from the likes of Costco, you know you need a bigger, more efficient board.
Make no mistake, this is a premium quality SUP made by a great group of guys who know what they are doing and brought their well engineered vision into fruition. The result? A brilliant, no frills board with understated classic design. With it, you can do as you please, adding optional D rings to accessorize.
When I placed my order added a note in the comments expressing my concern that the paddle which comes with the package deal might be too short for my height. Upon delivery I found a hand written note from "somebody" at the shop who reassured me the fiberglass paddle included would be well suited for my use. That was cool. And the paddle is perfect. It's 2 piece, lightweight, and sturdy fiberglass design even had the capacity to expand further than needed. Perfect.
The hand pump that comes with it is well made and made of premium materials (although I don't use it).
I bought the 12v DC compressor and let me tell you, it worked perfect. It makes inflation and deflation so easy. It's worth every penny. You can pull up to the lake and plug your board in and by the time you're done farting around with all your gear and figuring out where to secure your valuables and stow your keys (dry bag secured to a D ring works well), your board is ready to go! No more sore tricepts from hand pumping before you even begin your paddle! And when you're done, simply move the air hose to the deflation valve and it will suck all the air out. Folding and compact storage is simple.
Included in my package was a book too! As a senior business manager, I was immediately intrigued. I thought it was a mistake until I read the back. Low and behold I see a quote from Dan Price on the back. Small world. I was in emails with him not to long ago.
Look, I'm tellin ya.. if you want a quality board made by a group of great people, look no further. These are really fantastic premium quality SUPs at unbeatable values.
I'm proud to own a Tower board.
A+
Well done Tower!
LOVE IT
This paddle board was such a great purchase! Amazing price for such a durable product. I am absolutely in love with it. It takes maybe 10-15 mins for me to pump it up and thats with a few small breaks. Even though it's huge it is pretty easy to travel with and carry when inflated. 10/10 would recommend!!!
Xplorer 14'
Smooth ride on smooth water. My first time out was windy and a smaller board does better with wind. But second ride was calm and the board was very comfortable and responsive. In a very protected flat water spot, I can do yoga on this board.
takes a pounding
I work my stuff hard and this board handels all the waves the ski boats put out it is fun to use and does go very fast can keep up with the solid boards even over take them and the size it great so we can get three people standing up paddling at the same time the one thing I dod not do is I never deflate it I keep my board full even through winter here in new England upton mass its a short season here but use till we got the last snow storm
Paddling Paradise
I have been searching for the right SUP for a while and curious to jump into this lifestyle. Tower did not disappoint! First, the shipping was quick. The board itself is incredibly sturdy and has performed great on pond and open ocean. It takes a little work to pump manually, but that's expected. The deflation is a breeze and fits perfectly in the back of my car. Other boards I was looking at had so many extra accessories which are completely unnecessary. I appreciate the simplicity and no nonsense design that Tower offers.