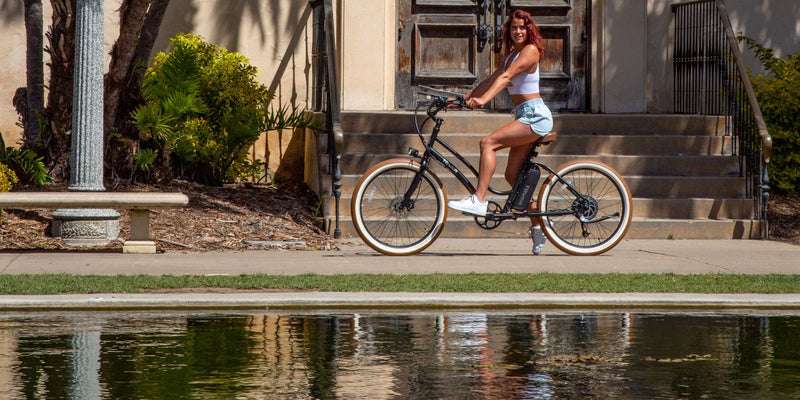 Tower Electric Beach Cruisers
Say goodbye to bland commutes, an e-bike is life's flavor shot. 
More Info On Tower's Electric Beach Cruisers
The Best Quality + Value on Electric Beach Cruiser's On The Market
We noticed a problem with most ebikes out there - they tend to look more like motorcycles than bicycles. That's why we set out to create an electric bike that riders could feel comfortable using on bike trails, boardwalks, or even just the sidewalk. Our bike is sleek and stylish, and fits in seamlessly with any environment. You'll turn heads with our stunning design, and people will be surprised to learn that it's actually an electric bike.
Our flagship models, the Beach Bum and Beach Babe electric beach cruisers, both feature a specially designed high-torque 48 volt, 500 watt geared brushless hub motor. Unlike other ebikes, Tower's eBike motor's are specifically designed to tackle any hill and go wherever you need it to. The 14Ah Samsung lithium-ion battery provides the perfect combination of range and power, allowing you to easily go 30-60 miles before needing a recharge. That puts us right up there with the best of the best in the electric bike world, but at a much more affordable price point.
We don't compromise on quality when it comes to our products. From the lightweight aluminum frame to the Kevlar-reinforced Fat Frank balloon tires, to the leather handlebar grips and premium hydraulic Tektro disc brakes - only top-of-the-line components make the cut for our bikes. Even with the battery installed, our eBikes weighs in at under 50 lbs, making them 15-20 lbs lighter than many other ebikes on the market.
An electric bike of similar quality would set you back around $3700-$4100 in a traditional retail store, but because we sell directly to you, we're able to offer the Beach Bum at a much more affordable price - saving you over $1500!
Check Out This Video on Tower Electric Bikes
Our eBike Mechanic Compares the Beach Bum 2 and the Beach Babe