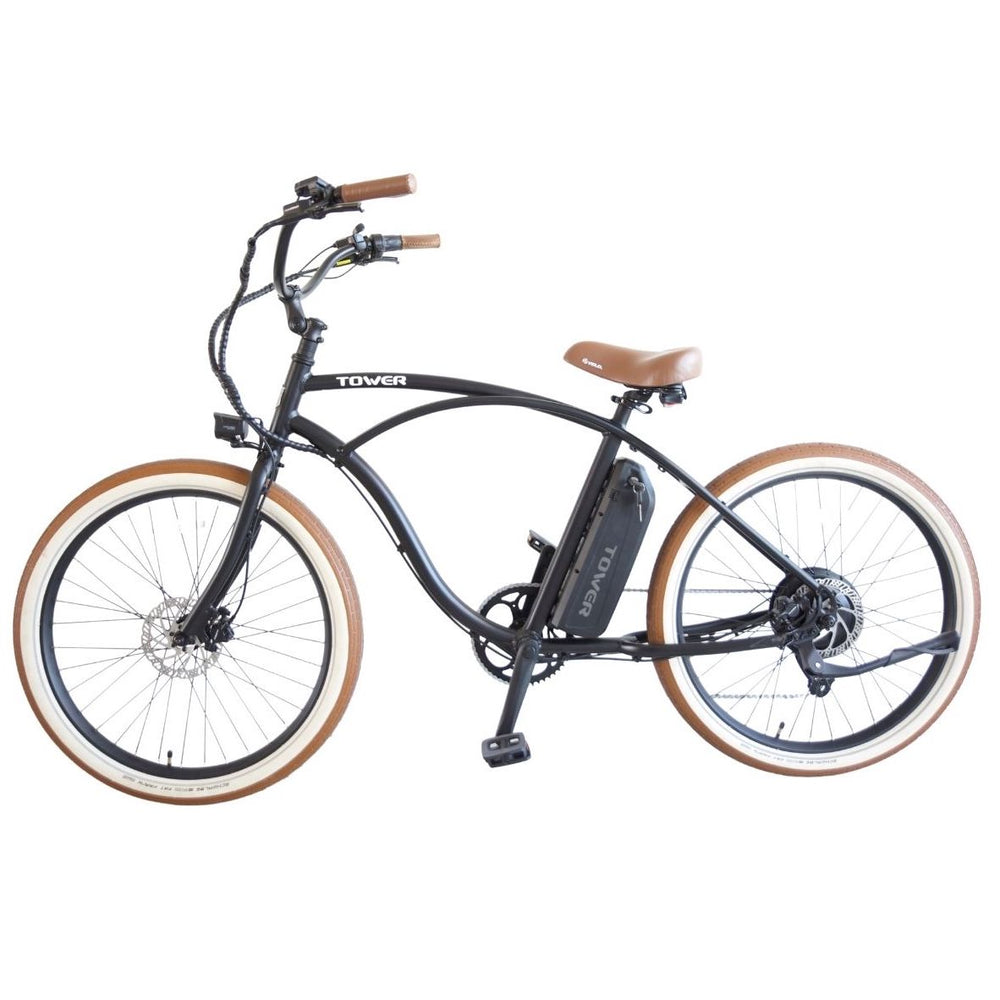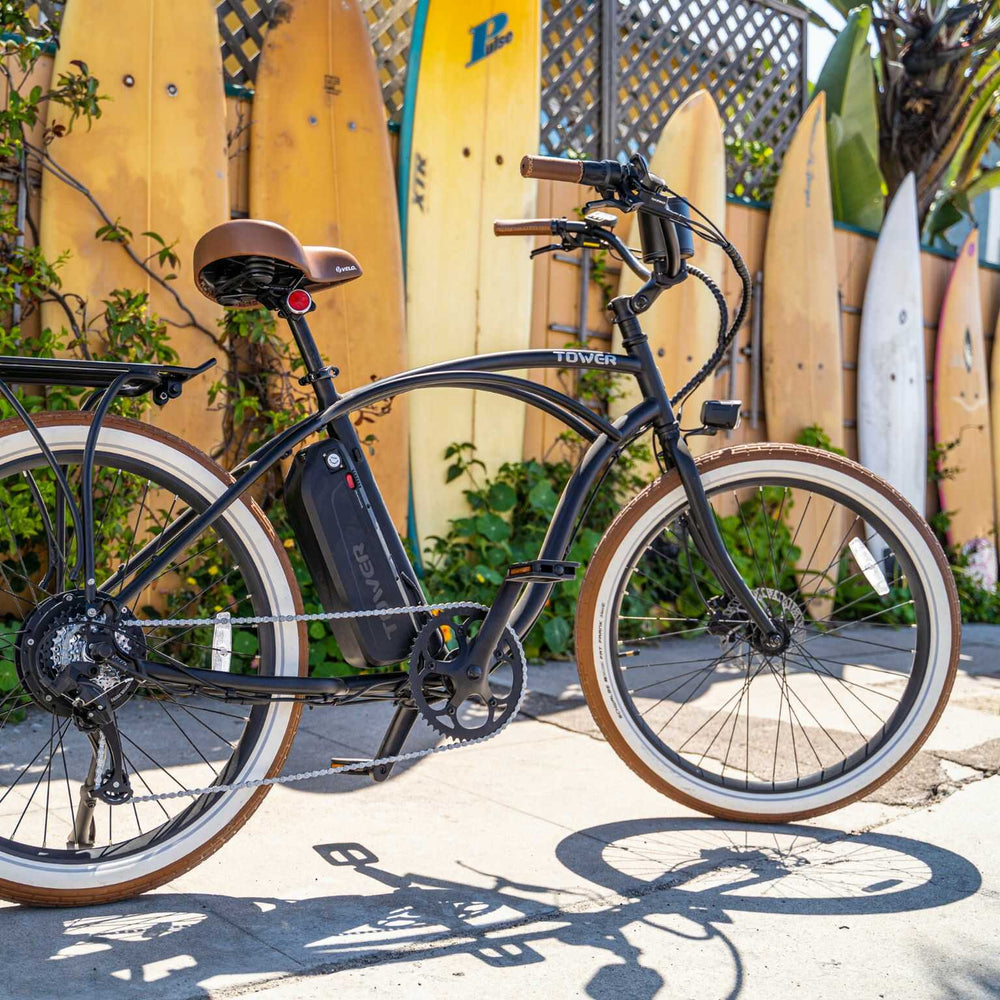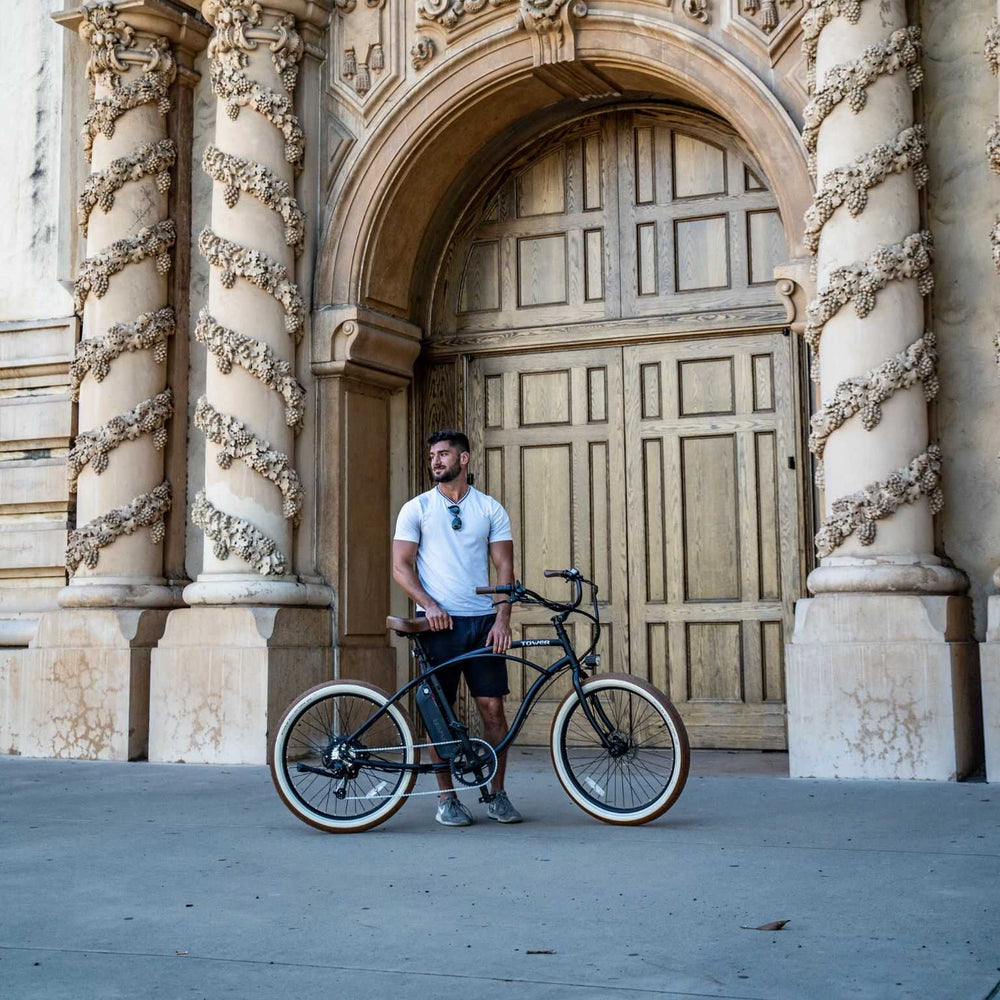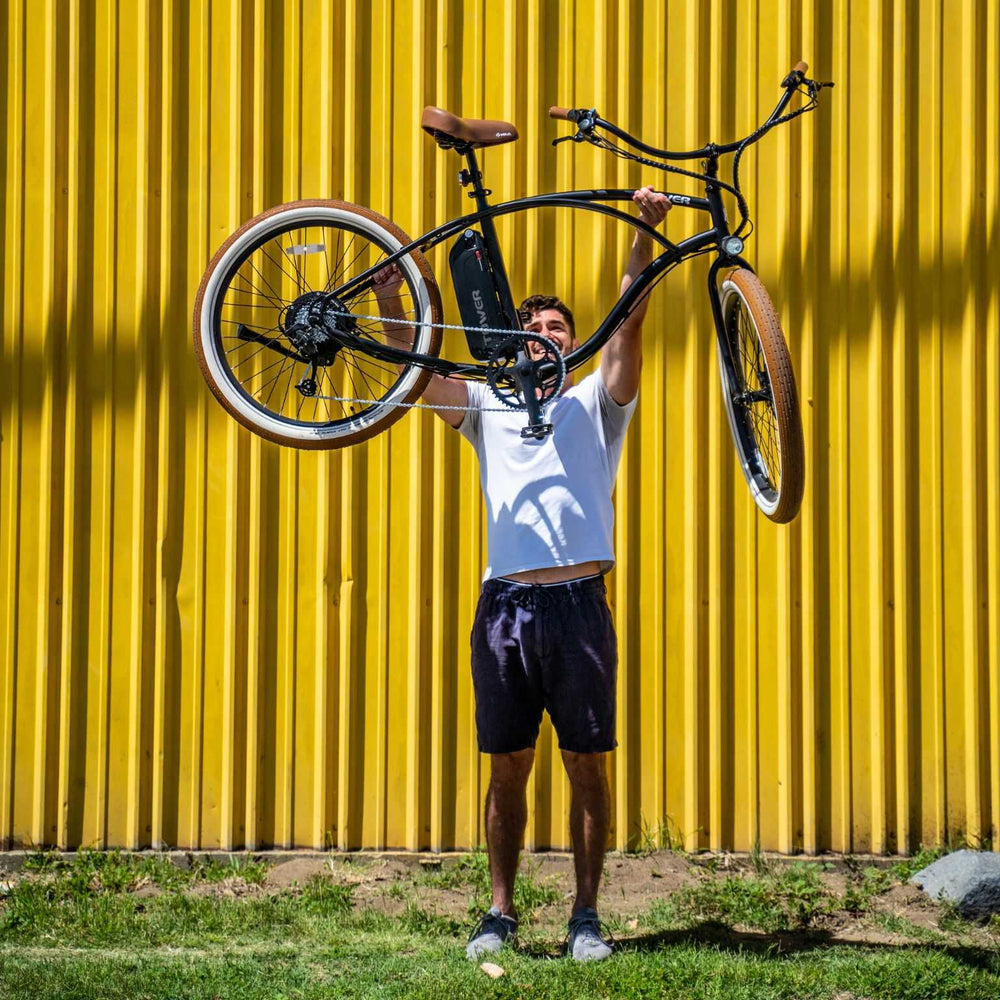 Beach Bum 2 eBike
DESCRIPTION
Our original Beach Bum was awarded the "Best Cruiser Electric Bikes of 2020" in the all-important value metric by Electric Bike Review. For the encore, we made it better! We kept the SoCal beach vibe everyone fell in love with and then made over 20 upgrades to bring you the Beach Bum 2!
WHAT'S INCLUDED
Beach Bum 2 Electric Beach Cruiser
Samsung 48v/14A Lithium-ion Battery Pack
48V Battery Charger
TECHNICAL SPECS
Upgraded Components: Hydraulic brakes, cassette gears, a threadless headset, stainless spokes & much more
Powerful Hill Climbing: 65NM high-torque 48v/500w motor
Lightweight: Only 52 lbs, with rust resistant aluminum frame
30-60 Mile Range: Finest 48v 14Ah Samsung battery
Highly Flat Resistant: Schwalbe + Kevlar + tire slime
We know customer satisfaction
SUPERIOR CUSTOMER SERVICE
We stand behind our products
On orders over $100
The Reviews Are In!
2500 MILES AND GOING STRONG
Have the Tower cruiser for about 2 years and put 2500 miles no issues whatsoever. just replaced rear tire due to tread wear front tire is fine still. Great bike many compliments along the way. Nothing left to do but smile smile smile....... J Garcia
Trust me
I rarely write reviews. I owned the first version of the tower bike and recently bought the exact same bike in version three. You would think after three years I would leave a bad review since I already had to replace my bike. But that's not the case. I rode the heck out of that thing and traveled with it on a trailer a lot. I put it through major abuse, even off-roading quite a bit around lakes and on trails and for the price it held up phenomenally. I've owned 13 ebikes between my two different vacation properties and I thought mini brands. This is the best value guys out there plus it just looks cool rolls smooth and has some unique features that no other bikes under $3000 have.
Mountain Beach Bum
So far so good. Back and forth from work in no time. Once the bike trails are clear of snow is the true test of how well it gets around the county.
Love love love it! And so does the family and my daughters:)
Thank you Tower Bikes for such an incredible product, my wife and I love the bikes and it's such a memory maker when you can cruise around town with ease, everything works incredibly well and we are just super exited!
Awesome beach cruiser
Great pickup and power! Love the full throttle and the comfort of this bike. Better power and quickness than rad bikes and better style than a pedego and much better price.
A Towerfull Experience
In today's world it is the exception rather than the rule to find a company that combines high quality, excellent pricing and outstanding customer service into a wonderful customer experience . I purchased a tower board a number of years ago . Today it looks and performs as well as it did the day I purchased it . Given my positive experience with my SUP purchase , I decided to research Towers Beach Bum and then the Beach Bum 2. What impressed me was the transparency in what was improved on the Beach bum 2 and that Tower invested profit margin for higher quality and customer satisfaction . So I went ahead and purchased the Beach Bum 2. Customer service quickly answered questions I had . I was really impressed that even before my bike arrived , Tower sent emails with links on bike set up , and a user forum to help build and share community knowledge . Setting up the bike was easy . The bike is very easy to ride and the combination of bike gears and electric assist enable me to configure the bike to support by energy level and degree of pressure on my knees which have cartilage loss. In other words , it makes bike riding fun again for me . I would highly recommend Seriously considering Tower when looking at Electric Bikes .
Love! Love! Love!!!!
I absolutely love my tower bike. The power is amazing and is considerably more than the lower end specialized bikes that cost nearly twice as much. Tower has also been fantastic when there has been a problem. They are on it, they send you need with a smile, and quickly you're back on the road again! I couldn't be happier with this bike. I originally thought that I would buy the tower bike as an entry-level and then maybe buy a more expensive bike if I really found I liked the electric biking experience. Now I can't imagine riding anything but my tower bike!
Beach Bum
So far very good, still to new to know for sure
Two Flats
I've had my bike for about two weeks. It's a blast, when it doesn't have a rear flat. Tube popped the first time from some dried sealant or something. I assume the second is for the same reason. I will probably switch the tires this time.
Beach Bum Tower Electric bicycle
Was easy to put together...wasn't sure where to use the grease that came with it? I added a basket and rear cargo holder. 26" frame was just right for a 6'3" man. Very comfortable to ride. Peddle assist is great does about 20 mph when I want it to. The 7 speeds are plenty. The headlight is great at night. I love riding my bike but when I take it camping out of Florida I found that there are these things called hills! Now, I can go anywhere. I'm looking for a diesel horn for it! Very satisfied...and a fair price.