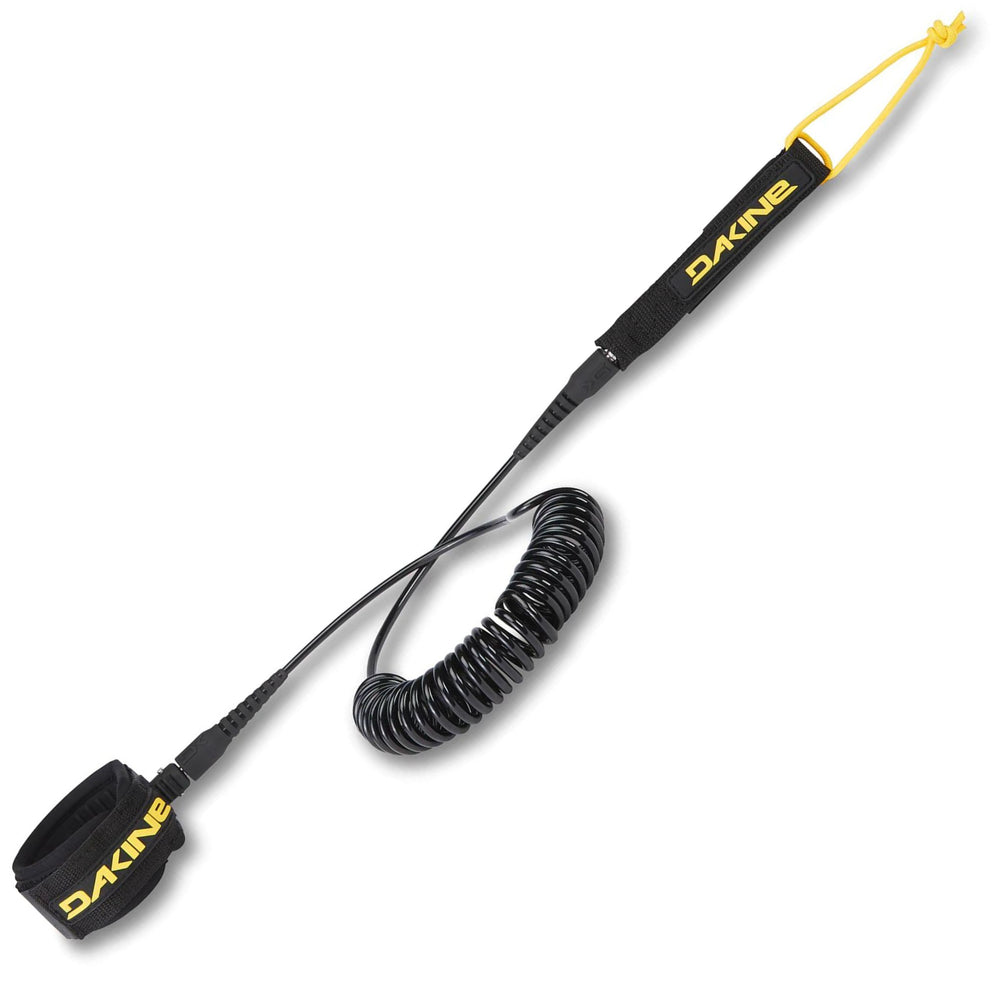 Paddle Board Leash | 10' Coiled | Dakine
DESCRIPTION
A solid coiled paddle board surfing ankle leash made by a proven brand in the surf industry for over three decades. This 10 foot coiled leash will ensure that your paddle board never drifts too far if you happen to fall off. Also, if your are stand up paddle surfing, having a leash is vital so that you don't loose your board after every wipeout.
Paddle Board Leash Features:
10 Feet long
Coiled leash so it will recoil back to you
Triple wrap rail saver
Padded ankle cuff
3/16" urethane cord
We know customer satisfaction
SUPERIOR CUSTOMER SERVICE
We stand behind our products
On orders over $100
Extended Product Information
Why Go With DaKine SUP Leashes
Surf leashes were the original product that Dakine made. The started making leashes in the late 70s that were specially designed to handle the treacherous waves on Maui and the Hawaiian islands. They know leashes as well as any company, so you can be confident their paddle board surfing leashes are designed well.
This 10 coiled SUP surfing leash is constructed of a 3/16th urethane cord with a triple wrap SUP rail saver on one end and a padded ankle cuff on the other end that wraps securely around your ankle with Velcro.
About DaKine
While DaKine started out just making surf leashes, they have expanded their operations over the years and now make a full complement of surf and stand up paddle surfing gear including SUP traction pads, stand up paddle board bags, surf wear, and a growing list of SUP accessories.
Why do you need a paddle board leash?
You may be wondering why someone would need wear a leash while paddle boarding. There are two main reasons that you would need a paddle board leash. First, if you use your classic stand up paddle board to surf, then a leash is useful so when you wipe out your board doesn't go too far from you. For the stand up paddle surfers out there, a paddle board leash is highly recommended. The second reason you would need a paddle board leash is if you are worried about falling off your paddle board. With a paddle board leash when you fall off your board, the SUP will not go far from you so you can easily get back on. This paddle board leash can be attached to either a classic hard paddle board or an inflatable paddleboard.
The Reviews Are In!
Great
Not much to say about these except they are comfortable, and very high quality. Really like them... will use for river & lake SUP.
Customer Service
When I ordered the leash, I used the wrong zip for delivery. The company caught my error and called. I really appreciate that they cared enough to go the extra mile.
14' Xplorer
Bought the 14' Xplorer. Has exceeded my expectations. Am looking to traveling with via flight to Jersey Shore.
Great customer service.
Comfortable
The material is comfortable. I like the coil because it means the cord is not hanging down so low in the water to catch on lake or sea debris.
surf leash
works very well--good product!
Leash
Leash is comfortable, I forget that it's there. Stays nicely on the board and doesn't get caught underfoot. It looks really cool too.
Great leash
Great leash and works as indicated.
Love it!
High mountain lakes and inflatable SUP is the best!!