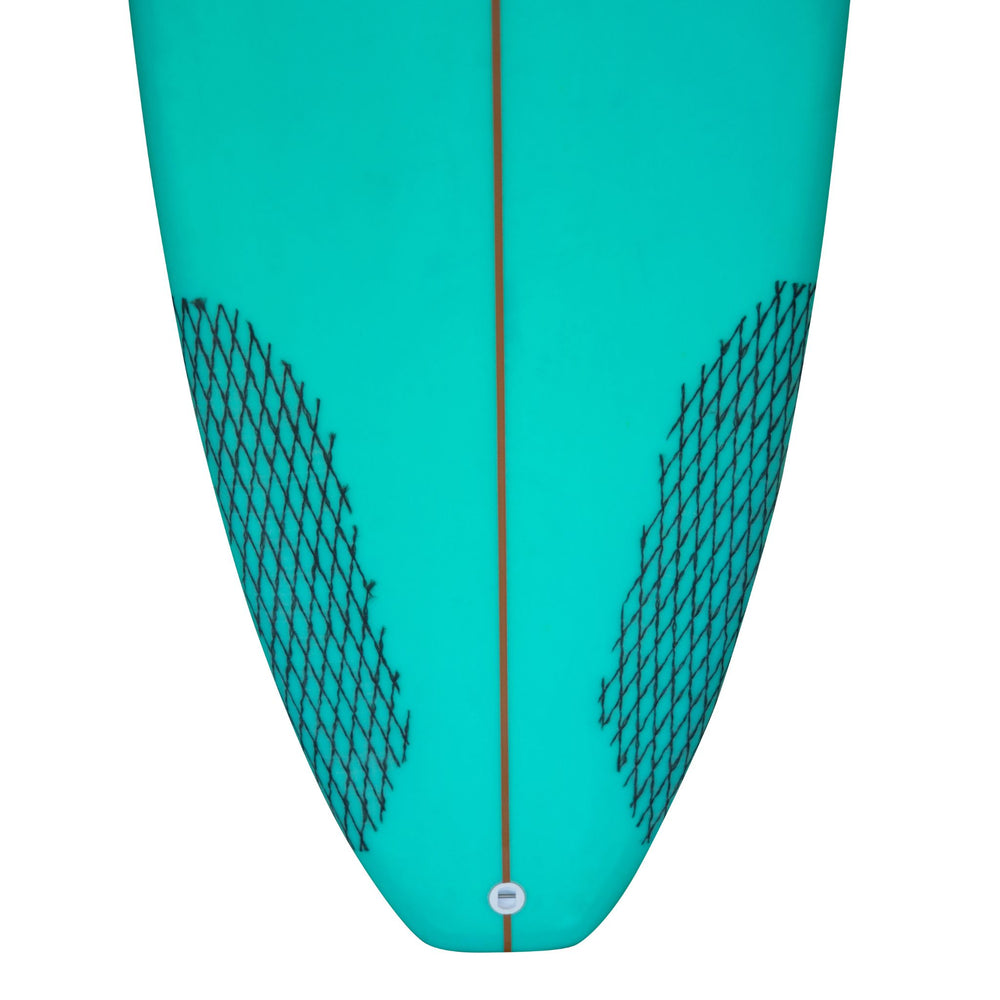 5'8" Turquoise Standard Shortboard
DESCRIPTION
This board is for the advanced rider weighing between 185-200lbs. It was built for a high level of performance all around. It has a slightly widen nose outline which provides a great landing for surfers who shuffle up their stance when they take to flight. On the flip side if you prefer going for the tube, the tail is slightly pulled in which gives you hold in the pocket. This board just has a good balance; balance between hold and release; between speed and control. The nose rocker is enough to keep your nose slightly out of the water but not enough to produce significant resistance. The nose is really designed for speed and boosting whereas the tail is more designed for tube riding; airs and barrels all day.
TECHNICAL SPECS
Dimensions: 5'8" length x 17.7" width x 2.2" thickness
Volume: 24L
Hybrid step up design
Flatter entry rocker with accelerated tail kick
Single to double concave
3-fin set up
Rounded pin tail
We know customer satisfaction
SUPERIOR CUSTOMER SERVICE
We stand behind our products
On orders over $100
Extended Product Information
Why Surfing is Special
More than just a sport, surf is the ultimate from of self-expression. In celebration of the spirit of surfing is this newest collection of surfboards from Tower. Our main product was paddle boards, and now we make surfboard as a new adventure to introduce to our beloved surfers. Equally suited for the waves or simply hung on the wall as a piece of art, the boards are the epitome of the classic aesthetic of surf culture, inspired by the water, sun, and all things surf. Each of the boards features a timeless shape combined with high quality of hybrids, carbon, wood... that perfect for those who love the ocean and surfing as much as Tower.
What This Surfboard Is Good At
This board excels in punchy surf, it doesn't necessarily have to be "huge" as you will find the shortboard come into its zone in anything chest high and above with some power and hollower faces.
What We Love About This Surfboard
The shortboard is smooth as silk in waves with solid push. You just need to surf on the ocean and you will feel it. The board felt right at home on 1-2' overhead barreling surf. This board was cut well, catches waves really easily and can be ridden short in length, with makes it fit nicely into tight places on rounder shaped surf.
Insider Take
This type of board works really well in thick, round waves, rounded pin tail. They don't have to be very big, they just need to be rounded pin in tail, round waves with push. If you try and surf a "normal" shaped up in these waves, it will feel stiff and "long" as the longer board won't fit into the tight, round curves of wave. As you know, bigger board always feels "big" where the shortboard has the same volume, paddle and drive felt really good, never "big or long" and fit the curve of the wave perfectly.