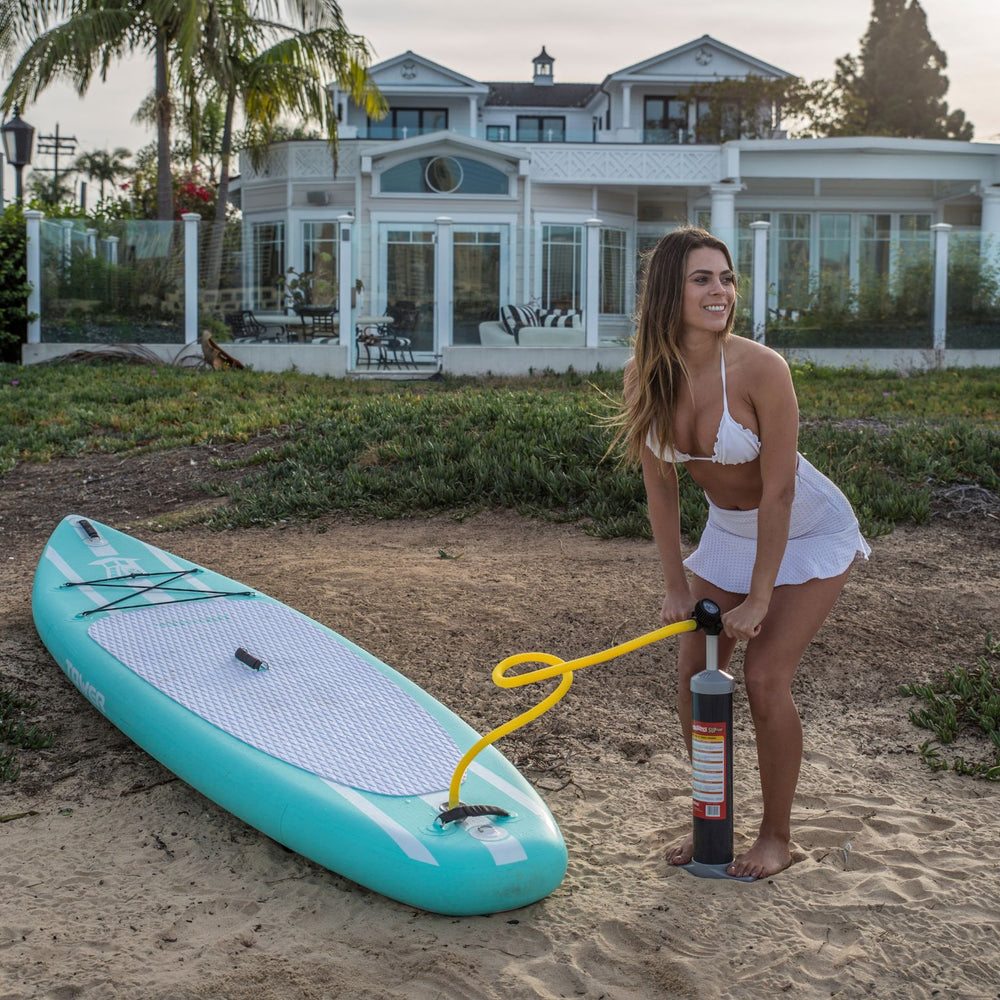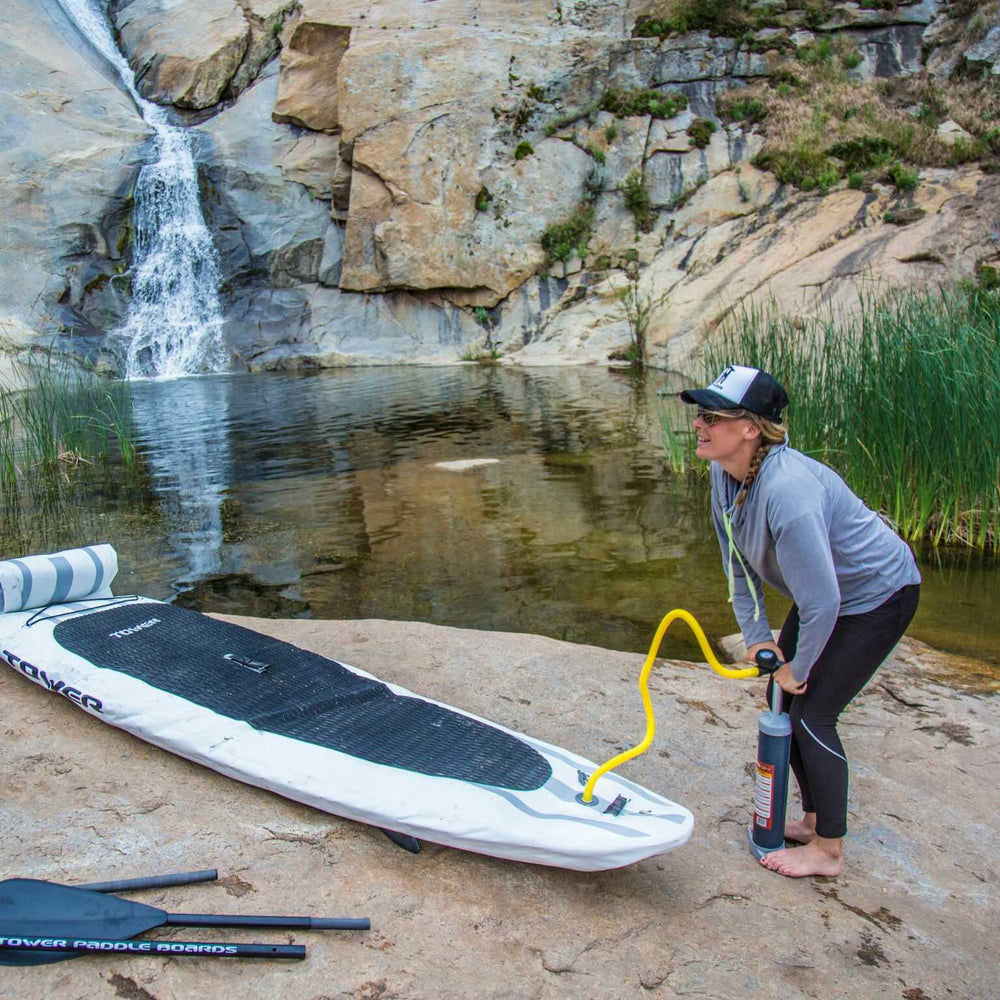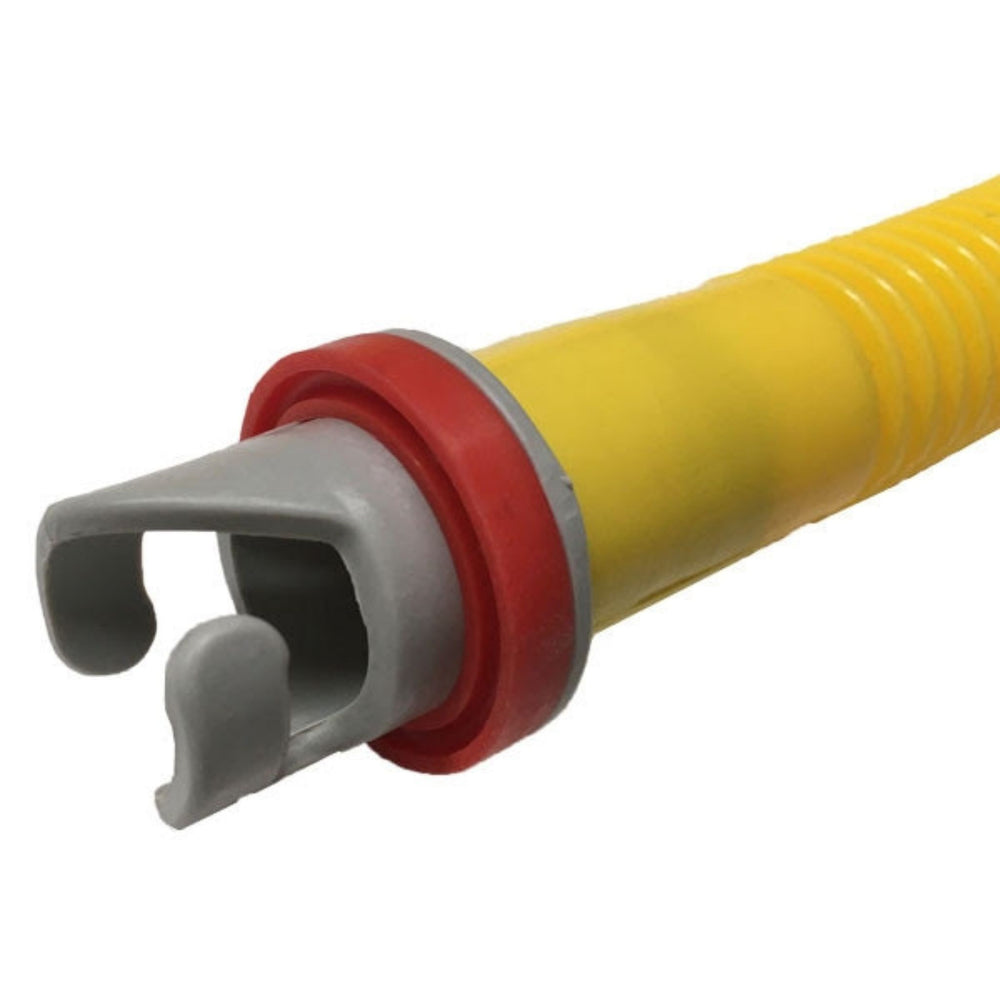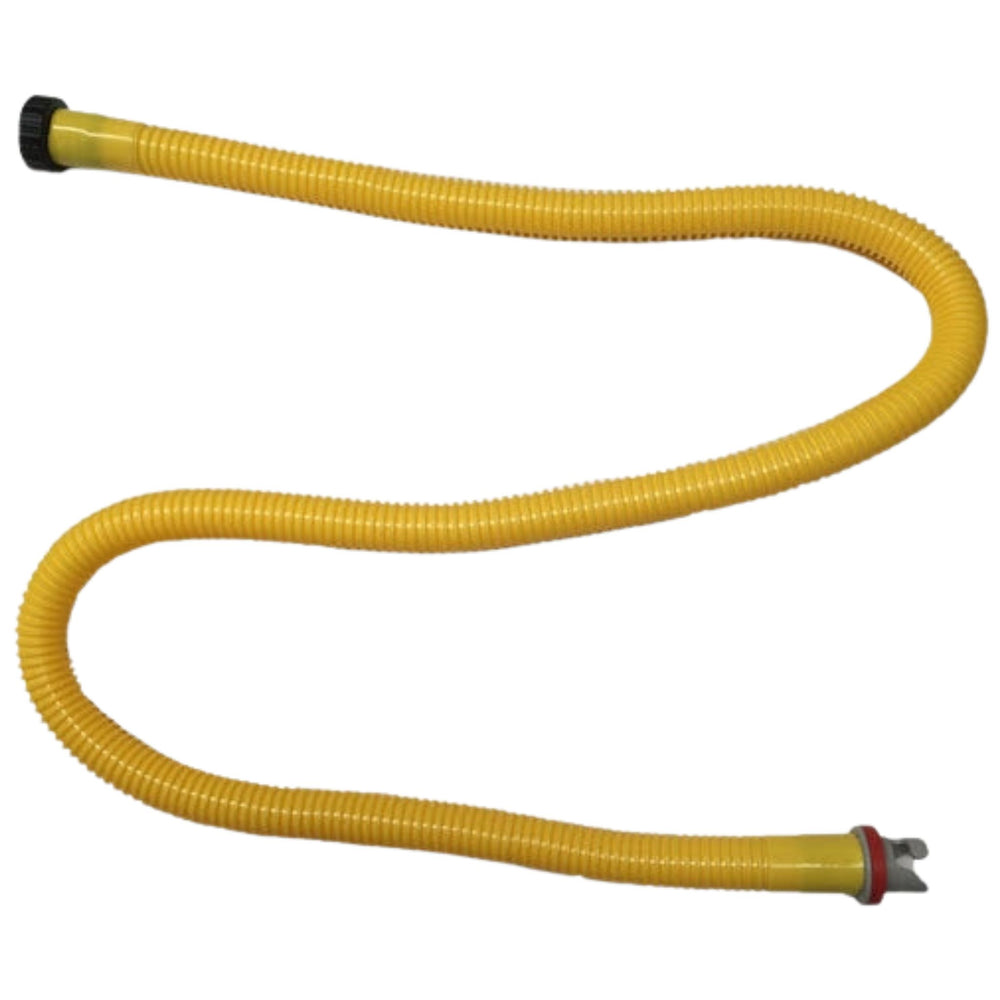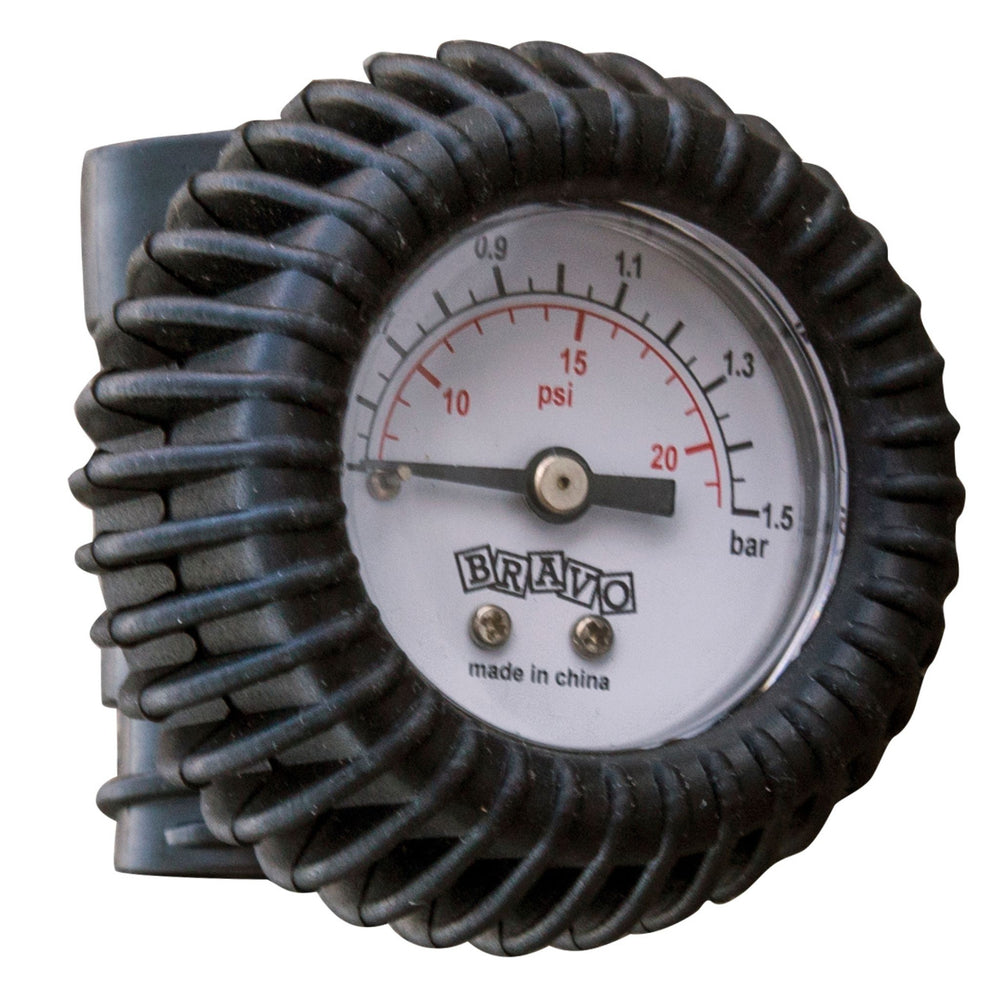 Hand Pump for Inflatable SUPs
DESCRIPTION
A portable, high-pressure hand pump for inflating stand up paddle boards. This inflatable paddle board hand pump comes included with every Tower inflatable paddle board package. It is easy to use and will take about 5-10 minutes to fully inflate the board. We recommend inflating the paddle board to at least 10psi to optimize its performance. It is impossible to over-inflate the paddle board with this pump.
WHAT'S INCLUDED
An inline PSI gauge
A flexible, non-kinking hose with H3 nossle attachment
Base of the Inflatable Air pump
TECHNICAL SPECS
Weight: 2.2 lbs
Pump Dimensions: 18" height by 6" width
Hose Length: 40"
Maximum Inflation Rating: 15 PSI
We know customer satisfaction
SUPERIOR CUSTOMER SERVICE
We stand behind our products
On orders over $100
Extended Product Information
Simple, Powerful & Reliable
This portable, high-pressure air pump for inflatables is specifically designed to inflate stand up paddle boards. It has the ability to inflate up to 15 PSI, but most inflatable SUPs only take about 10-11 PSI. The pressure gauge is integrated into the pump. It is attached right near the handle and then you attach the hose onto the other side of the pressure gauge. As you inflate the board, the gauge will begin to register at 10 PSI. The end of the hose has a turn to lock insertion point that secures the pump to the inflatable stand up paddle board.
At only a little over 2 lbs, it is easy to transport. This air pump for inflatable SUPs can fit in your inflatable backpack or a waterproof dry bag backpack, making it incredibly easy to transport. Many people will just wrap their deflated stand up paddle board around the pump and carry it all in one neat little package.
Because this air pump for inflatables is a hand pump, it can take significant effort to pump up an iSUP. Sometimes, pumping a blow up paddle board to 15psi can take about 500 pumps. This is like a workout before your workout! Because of this we have an electric paddle board pump that takes all the physical effort out of it. Although this iSUP epump takes about the same amount of time to fully inflate an inflatable paddle board, it takes none of the effort. Simply plug it in to the cigarette lighter in your car, put the nozzle into the valve of the iSUP, and push start. Within 5-8 minutes you will have a fully inflated paddle board!
How to Use a Paddle Board Pump
Our paddle board pump is very easy to use. Start by unscrewing the top part of the valve on your inflatable stand up paddle board. Ensure that the pressure point of the valve is raised so that the board does not deflate after you stop pumping it. Then put the end of the hose into the valve and turn it so that it is screwed into the board. Once the nozzle is in place you can start to pump. Be prepared to do about 500 pumps to get the board fully deflated depending on how hard you pump. It is a bit of a workout to get the inflatable board fully blown up. We recommend to blow up the board to at least 12 psi but you should be able to use it at about 10psi.
Are Inflatable SUPs hard to inflate?
Inflatable stand up paddle boards are not that hard to inflate. If you are using a hand pump it can take a little bit of effort but almost anyone is able to do it. Although it can be a small workout before your actual workout, inflating the board is not over exerting. If you are worried about spending too much energy blowing up your iSUP, you can use our electric paddle board pump to make the whole process seamless. The electric iSUP pump allows you to simply plug in the pump to your car and paddle board and push start. Both paddle board pumps take about the same amount of time to fully inflate a paddle board but the electric pump requires no energy at all.
The Reviews Are In!
NEW PUMP GAME Changer
We have a new smart pump for Kitesurfing and stand paddle sports
0-15 psi,one button inflation,hands free,Super mini size
Will launch on kickstarter soon
Let me know if you are interested to try
Thanks
Pre-warming page:https://www.corpump.co
Five stars for the company and customer service!
The pump itself isn't spectacular, but it's still a good value at the price. The two weaknesses that I've experienced with this pump are the hose connection to the board, it can be a bit leaky, and the umbrella valves built into the pump are prone to unseating. Let me explain the valves. There are two, simple one-way rubber valves to prevent blow back as the pressure builds in the inflatable, one is easily accessible under the pressure gauge directly behind where the hose connects, but the other is fairly inaccessible and located inside of the bottom of the pump piston. If they fail, you are likely to find them wedged somewhere inside of the hose. The top valve is fairly easy to reinstall, but due to its location and construction of the pump, the bottom valve would be challenging if not impossible to replace. The pump will work with only the top valve in place, but be aware that if both valves fail, and when the inflatable is reaching pressure, that there will be substantial blow back of the pump handle on the backstroke. All of that being said, the customer service at Tower is top-notch. I recently ordered one of these pumps, had a problem with the hose, and was immediately issued a replacement at no cost. Thanks, Tower, keep up the good work!
Pump works ok unless you lose the gasket...
Lost the red gasket on our pump and now its useless and no replacement parts available... big bummer... customer service simply said we could buy a new pump. Not stoked.
Hose connection vulnerable
This isn't a Tower product, I don't believe, as indicated by my call to their customer service (and by the sticker in the pump)-- that is, they just sell it-- it's a convenient purchase though because it has the right adaptor. Thus, the quality isn't as top notch as Tower's boards and gear made by them. This pump does the trick though. However, at some point in transport or use, the plastic piece on the handle that attaches to the hose cracked, then eventually broke off. The way the hard plastic thread sticks out doesn't seem like the best design because the plastic is somewhat thin/brittle and a bump against the trunk or a drop and it'll crack or snap. That said, we use our gear; that is, we aren't always the most gentle on our equipment, but we also don't abuse it-- we expect it take wear and tear. We're river people, using Tower boards on Appalachian rivers, even some whitewater. This pump does the trick and it's affordable, but pay attention to how you load it (disconnect everything always) and take caution with the threaded connection on the handle. It's a critical piece but os molded into the handle, so if it breaks, you're out of luck. We only had this pump for this season (summer), so, it's not like it saw a ton of use. At the price, we will buy another and we will have spare parts. Hoped to just buy the handle, but that's not an option. If that connection could be removable/insertable at the handle (screw into the handle as opposed to always sticking out) it might help.
Great pump! I pump my Adventurer 2 SUP up in 3 minutes flat
Pump works great, pumps up my SUP. Takes me 3 minutes.
Great
The pump is easy to use and works great
Quick
Great, fast pump. Connections leak a touch, but nothing that causes a problem
Five Minute Workout
It really does not take long to pump the board all the way. The only issue I have is with the plastic hose it is so ridged its hard from either spinning one connection or the other. Even so it does the job quick. I should mention it does gets harder to pump as you get close to the last few lbs of psi.
QUICK, EASY, ON TIME
I needed a new pump for my Tower SUP and i found the website easy to work through to find it. Shipping to my residence in Canada within a week was very timely I thought.
Excellent Customer Service
Between ordering the new board, pump and leash, Tower has been outstanding.