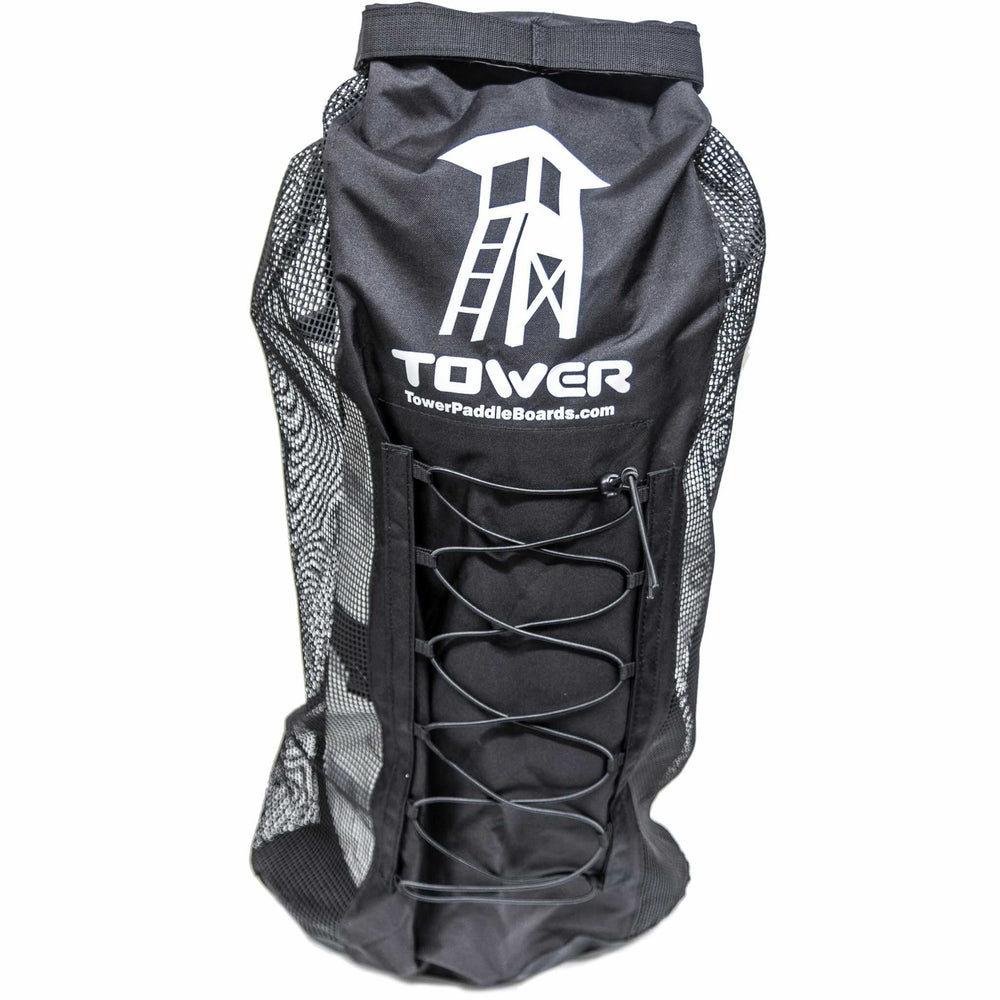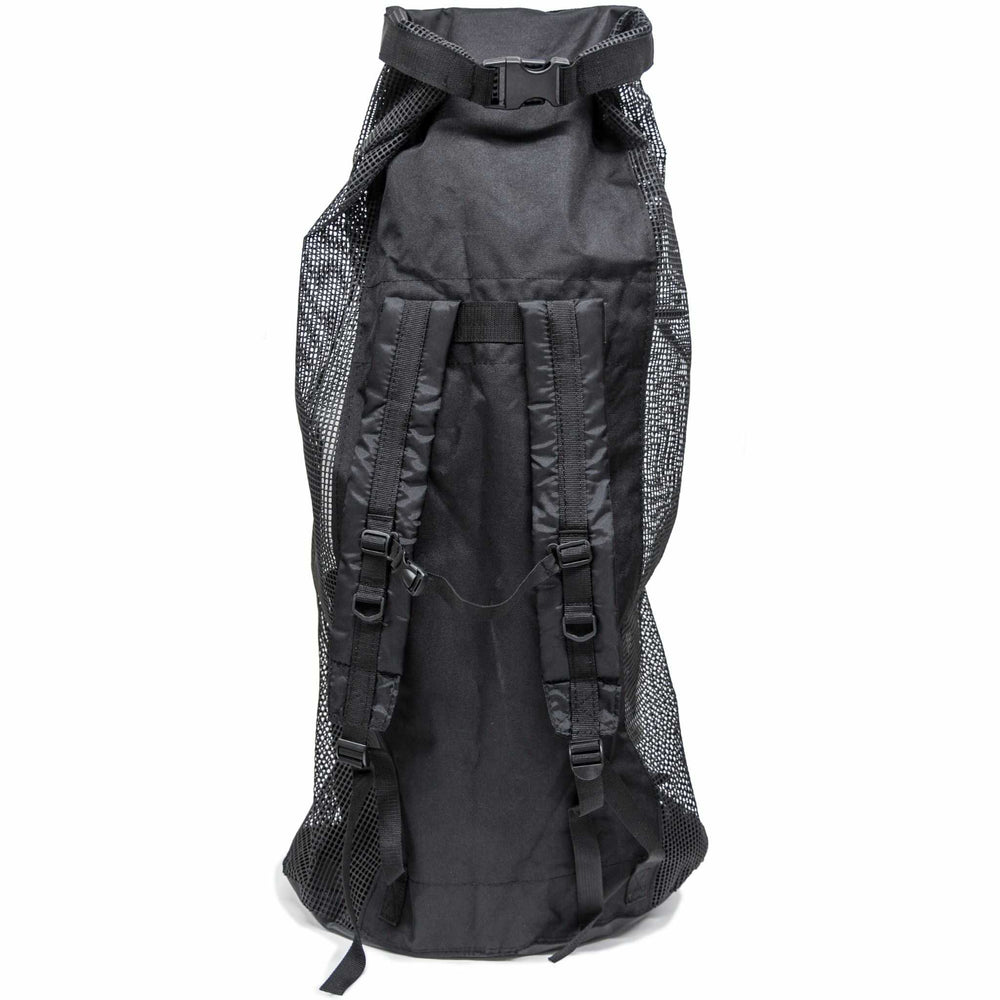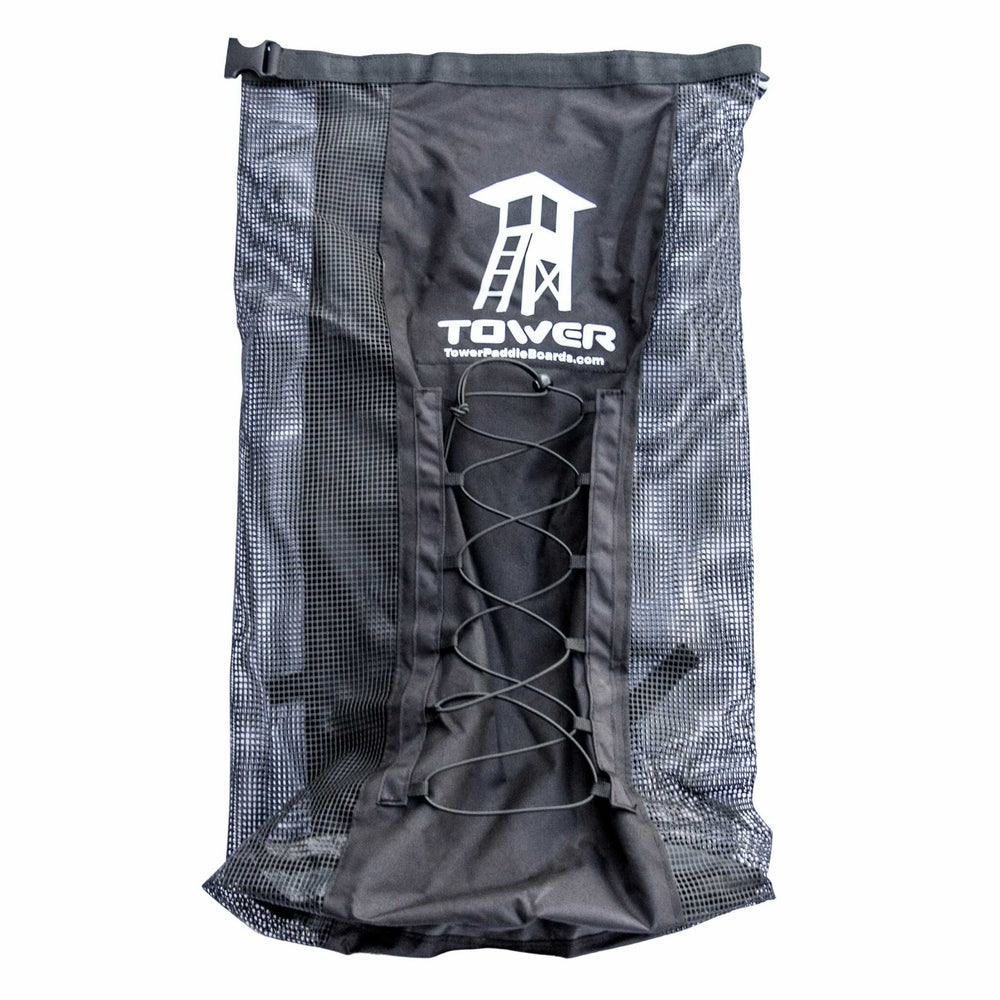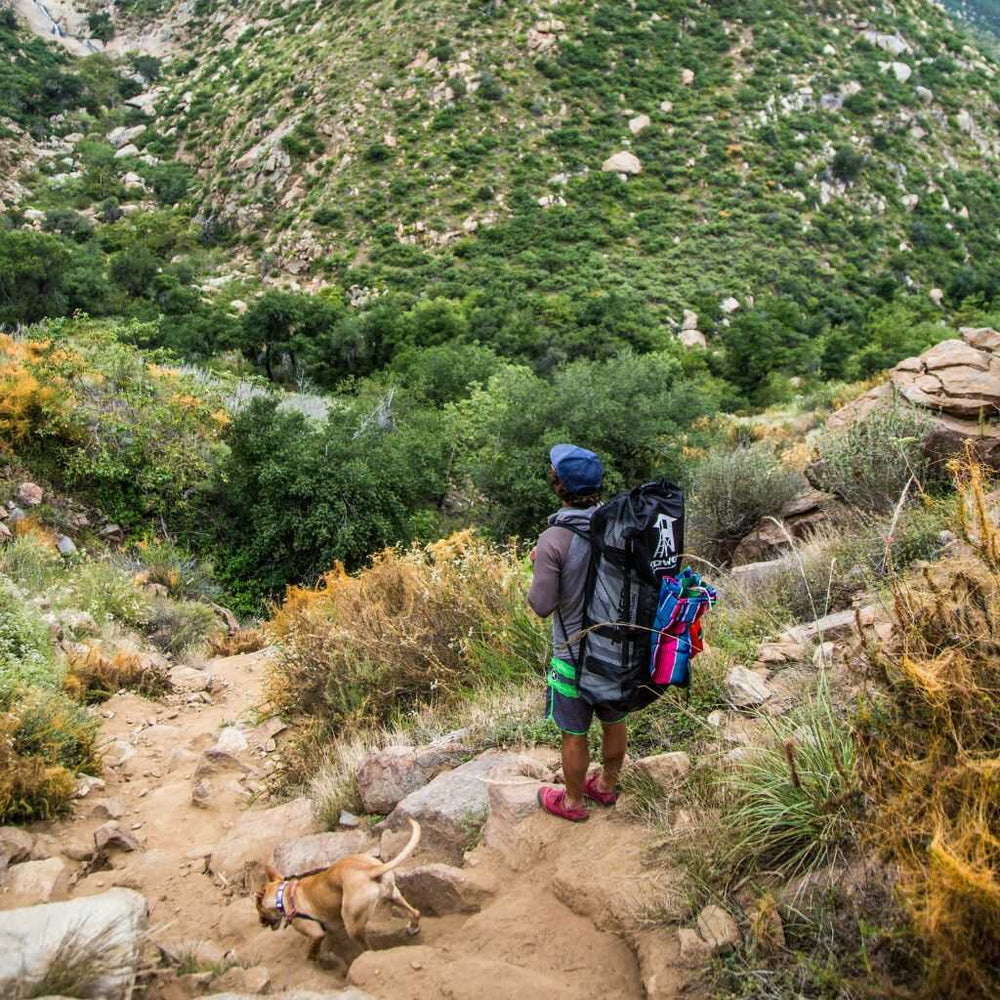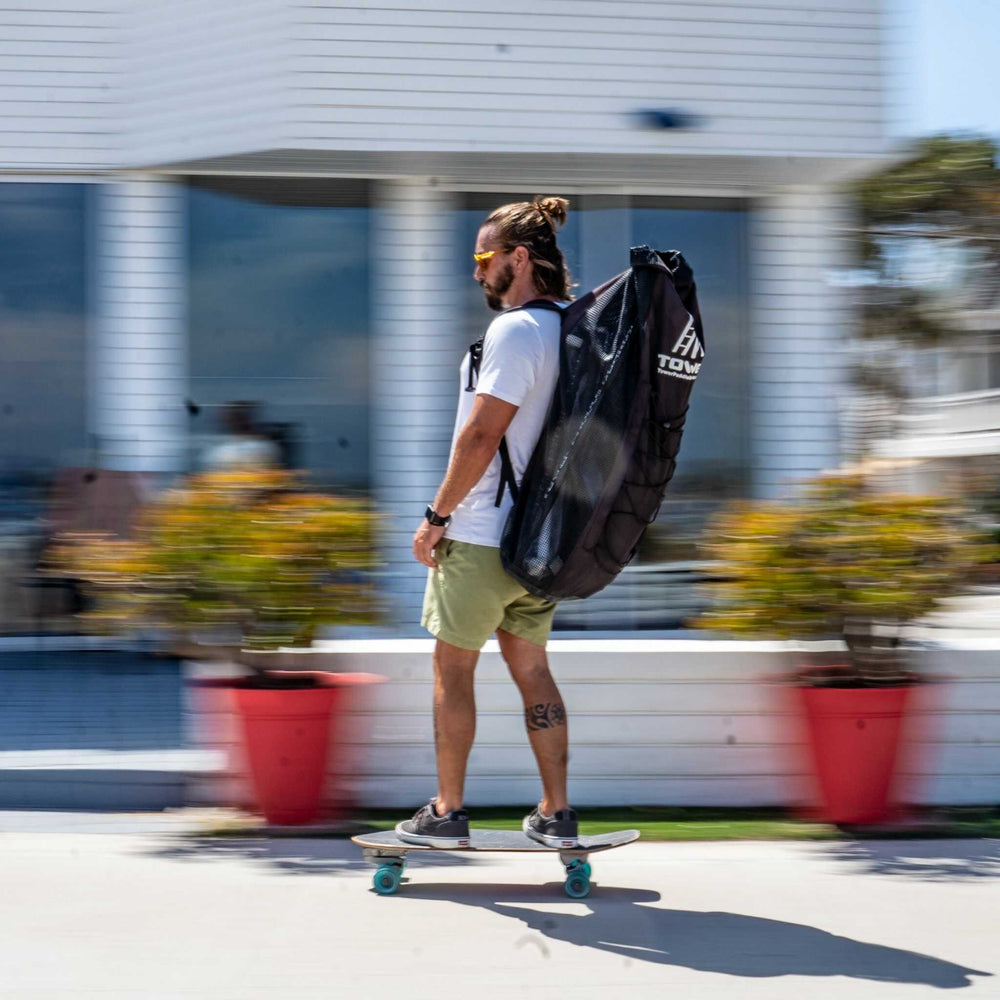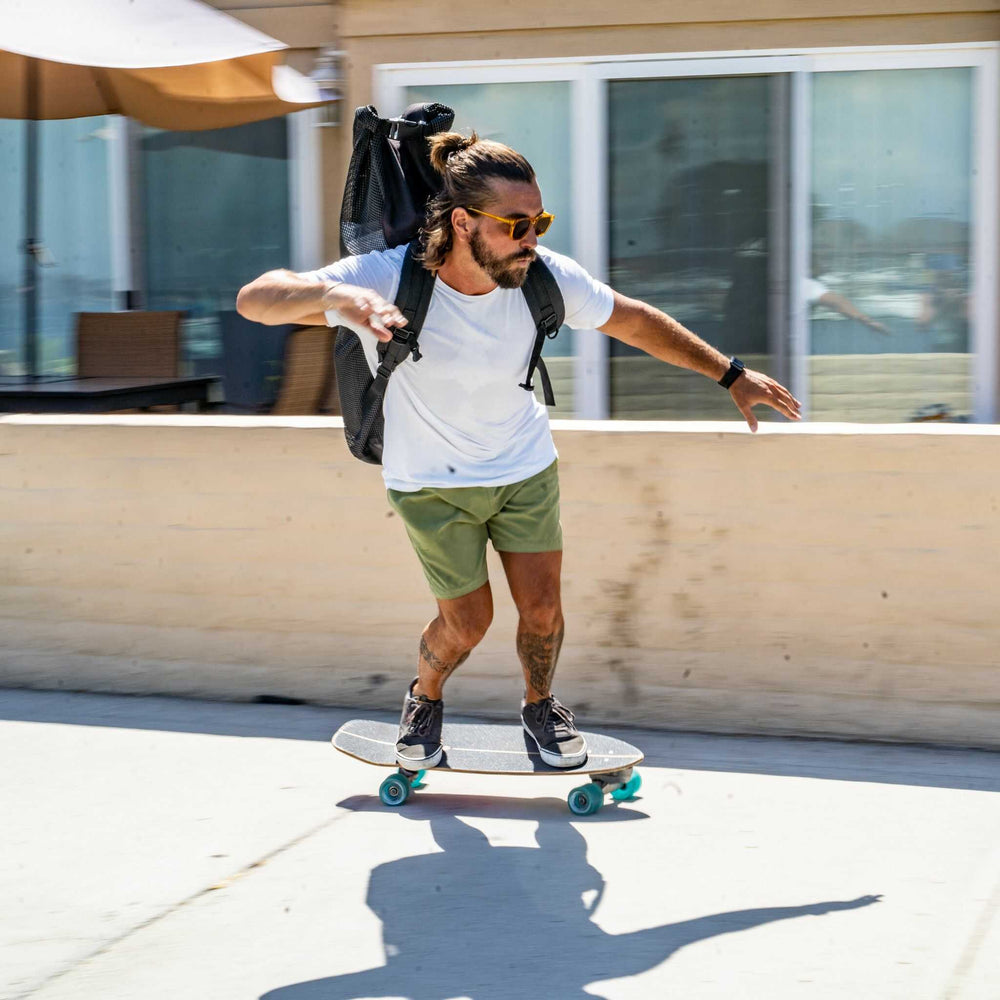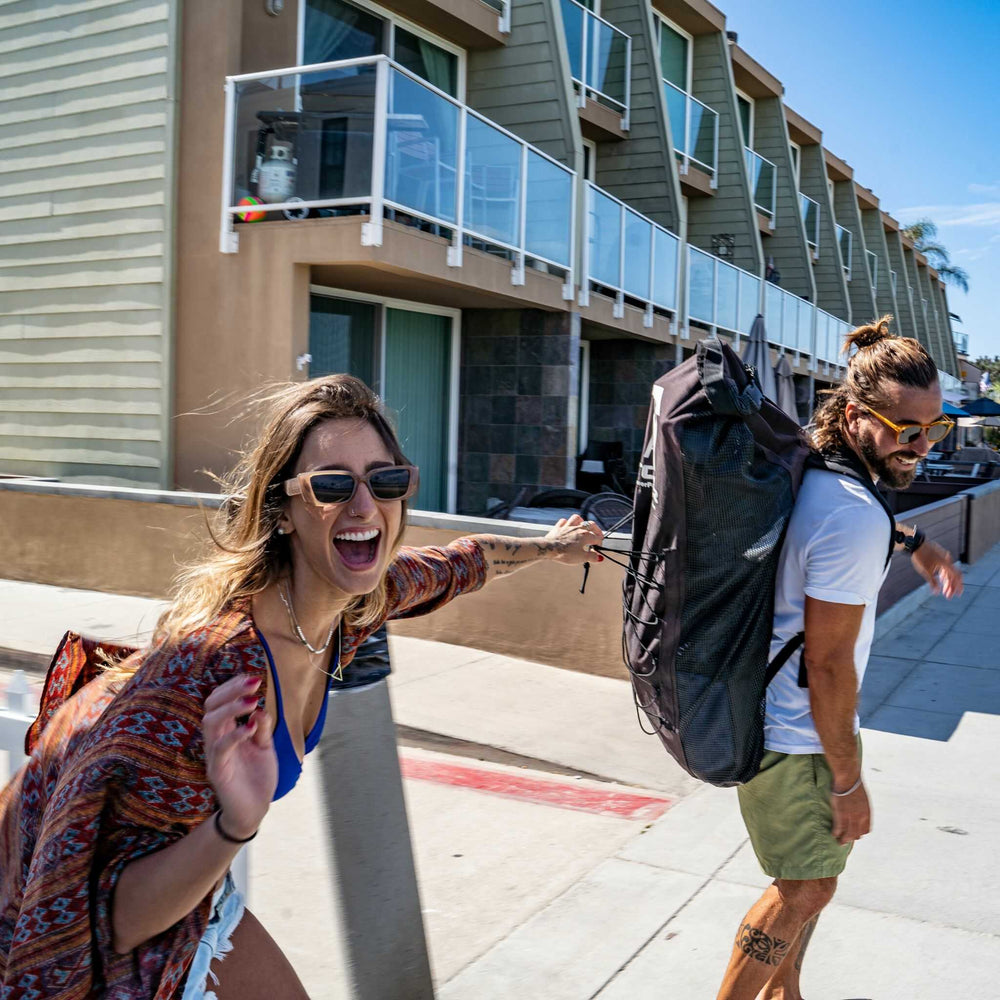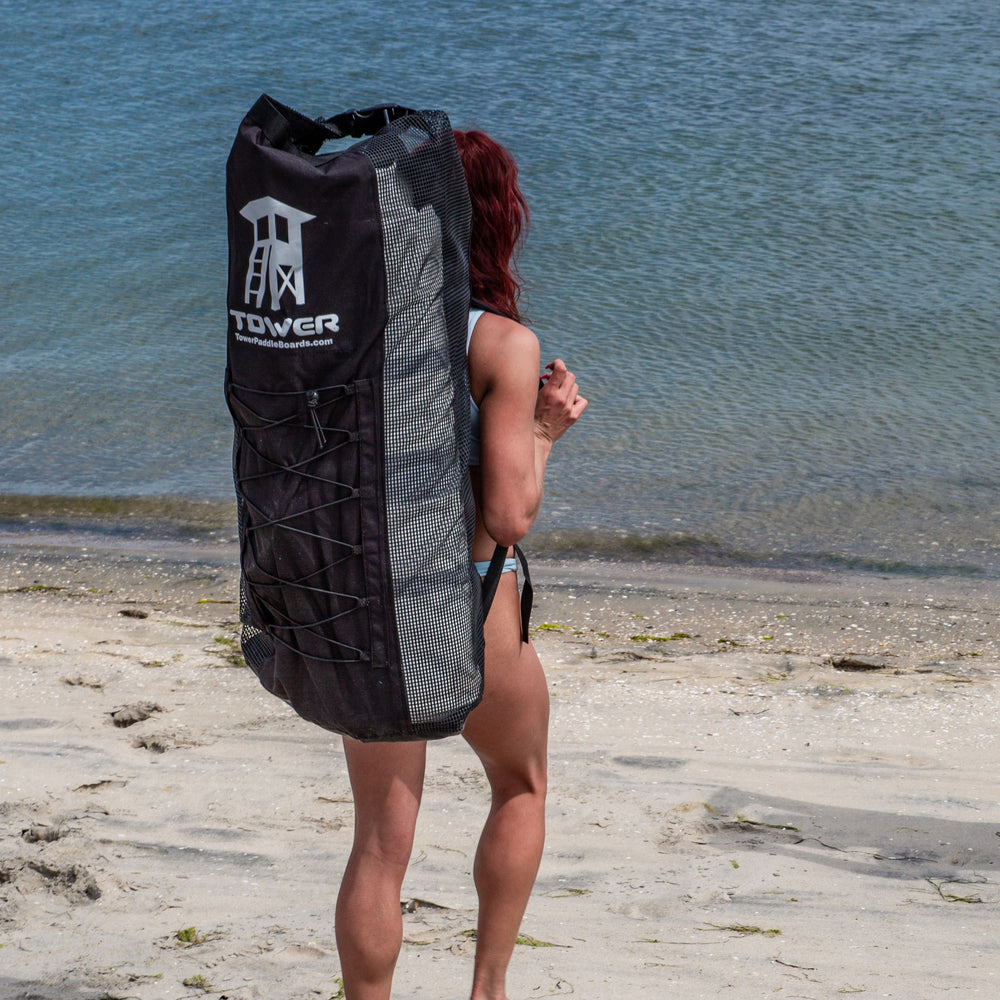 Backpack for Inflatable SUPs
DESCRIPTION
This inflatable paddle board backpack allows your to bring your iSUP wherever your adventures go. Our iSUP board bag fits all Tower inflatable SUPs except our 14' Xplorer. Bring your iSUP backpack as a carry-on on your next flight or strap it on your back for the next waterfall hike, this backpack allows you to paddle board anywhere. Great for suping on the go!
iSUP Backpack Features:
Breathable mesh material for optimal drying
Light weight and easy to carry
Can fit your iSUP, hand pump, and paddle
Bungee cords on the outside of bag to carry additional items
We know customer satisfaction
SUPERIOR CUSTOMER SERVICE
We stand behind our products
On orders over $100
Extended Product Information
Lightweight Tower Branded iSUP Backpack
This is an inflatable backpack for iSUPs bag sized to fit the Tower Adventurer 9'10", Adventurer 2 10'4" and the iRace 12'6" when deflated (it can also fit the 14' Xplorer, but it is very tight and not ideal). This paddle board bag is a huge solution for the everyday iSUP user who needs to transport his/her bag from one location to another. You can fit the board, paddle and pump all in one place. The top of the bag velcros shut and folds to snap together. There are backpack straps on the back for easy carrying and bungees on the front to carry any additional accessories like a beach towel. This iSUP backpack is just one of our many inflatable paddle board accessories that will make your paddle board adventures awesome.
For anyone that wants to travel with their inflatable paddle board, owning an inflatable backpack is imperative. This iSUP backpack allows you to easily take your iSUP on a plane to take on all of your extravagant adventures. One of the great advantages of inflatable stand up paddle boards over wooden paddle boards is that they can be rolled up for easy transport and storage. If you own an inflatable paddleboard, this inflatable backpack is a must have iSUP accessory.
Our customers love the inflatable backpack. Charlie, from Ontario, wrote about the iSUP backpack, "They hold everything inside, are super easy to grab and go with your board, and are really durable." If you ever plan on taking your inflatable paddle board on a hike to a river or lake or simply want an easy way to transport it in your car, the iSUP backpack is perfect for you.
Traveling with your iSUP
Traveling with your iSUP has never been easier due to our backpack for inflatable paddle boards. Before inflatable SUPs were invented it was very difficult to bring your paddle board on long distance journeys. It required strapping your wooden paddle board on the top of your car for a road trip. If you were flying on a plane to your destination it was basically impossible to bring your paddle board with you. Now, with our inflatable SUPs, taking your stand up paddle board anywhere is easy. Our iSUPs roll up to about the size of a large sleeping bag making them easy to store and transport. If you own one of our Adventure 1 or Adventure 2 boards they can even be brought on carry on on the plane so you don't have to o through the hassle of checking a bag.
Camping with your Inflatable Paddle Board
Due to the versatility and portability of an inflatable paddleboard, camping has never been more fun. Pack your iSUP in the car, bring whatever other camping gear you need and you are ready for an adventure packed camping trip. If you plan on hiking to a body of water to use your iSUP, this inflatble backpack for iSUPs is imperative. It makes carrying your iSUP on your hike so much easier. It fits like a normal backpack and is comfortable too.
The Reviews Are In!
Riped
The first time I put my sup in the bag and latched the top closed it ripped at the netting and nylon seam. I had no idea that latch could not be used as a handle. I called and service was quick, how ever I had deleted my e-mails and trashed or misplaced the receipt. I guess the proof of purchase and time purchased is on me. Be careful picking up the bag by the top latch.
iSUP Backpack
Hard to believe a bulky un-inflated board would fit in a pack but it does and nicely too. Best way to get to the beach!
Inflatable Backpack for iSUPs
Great bag, well constructed body and mesh sides. Backpack straps are heavy duty but comfortable to wear. Very pleased with the gear.
Backpack
Absolutely love the backpack. Had no issues storing my paddle board. It makes me feel like it is more secure and less likely to get damaged.
Back back for Inflatable SUPs
As usual, the quality construction of Tower products are second to none. Tower products are the best on the market. The back pack is well made, thick material and the straps are very well padded and comfortable. I think it is a great back pack and would give 4.5 out of 5 stars. I only have two minor suggestions to improve it. The first is that the pocket for accessories like a fin, leash, waist pack life jacket or repair kit is really small and on the inside of the bag. I can't fit the basic things I need in it when I go paddle. I would have prefered an exterior pocket that is larger to fit these items. The second is a handle on the top above the shoulder straps to be able to hang the bag in a wall in my garage. I can't really do it with the shoulder straps. I bought this iSUP because my storage space is limited and not being able to hang the bag makes it less valuable to me. That being sais, I'd still definitely recommend it.
Best customer service
I'm writing to say that Tower provided the most prompt and courteous service of any company I've dealt with. Although the product did not work for us I would not hesitate to order from them again.
Paddle-board Backpack
Works great! Makes carrying the board and gear so much easier.