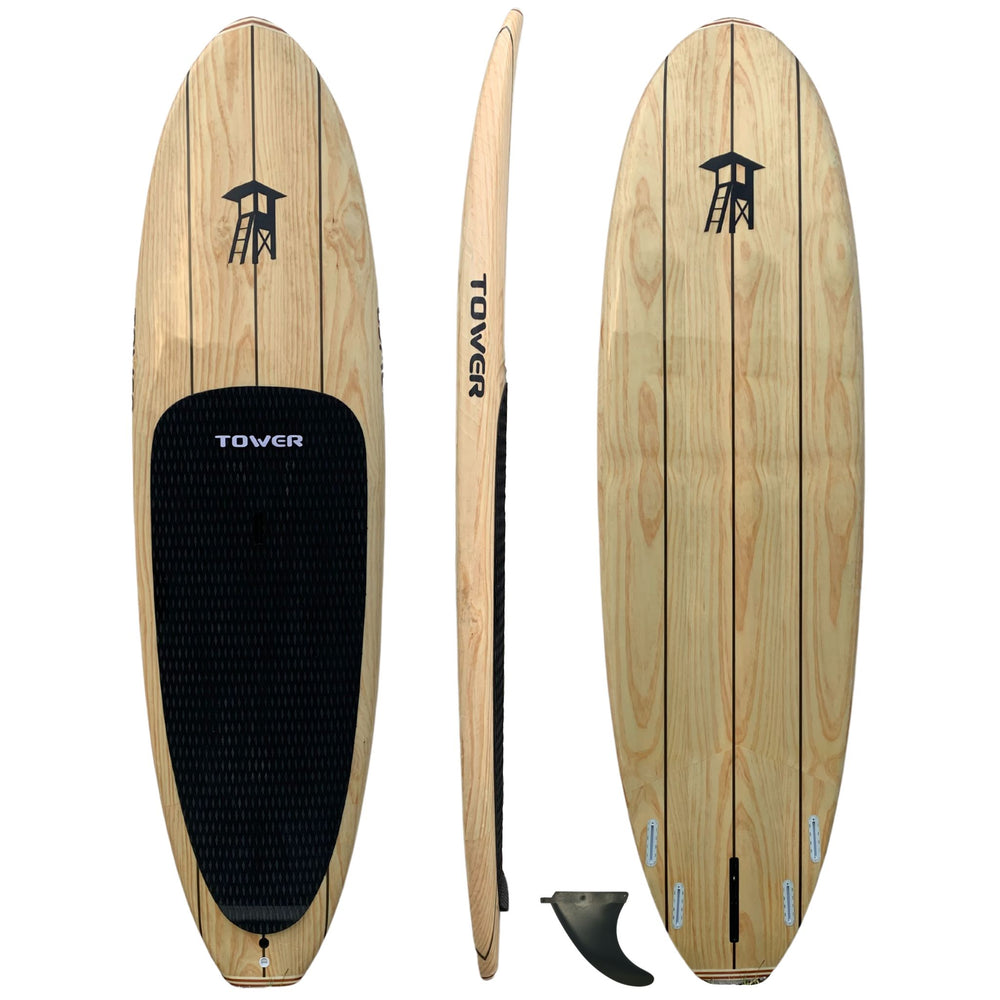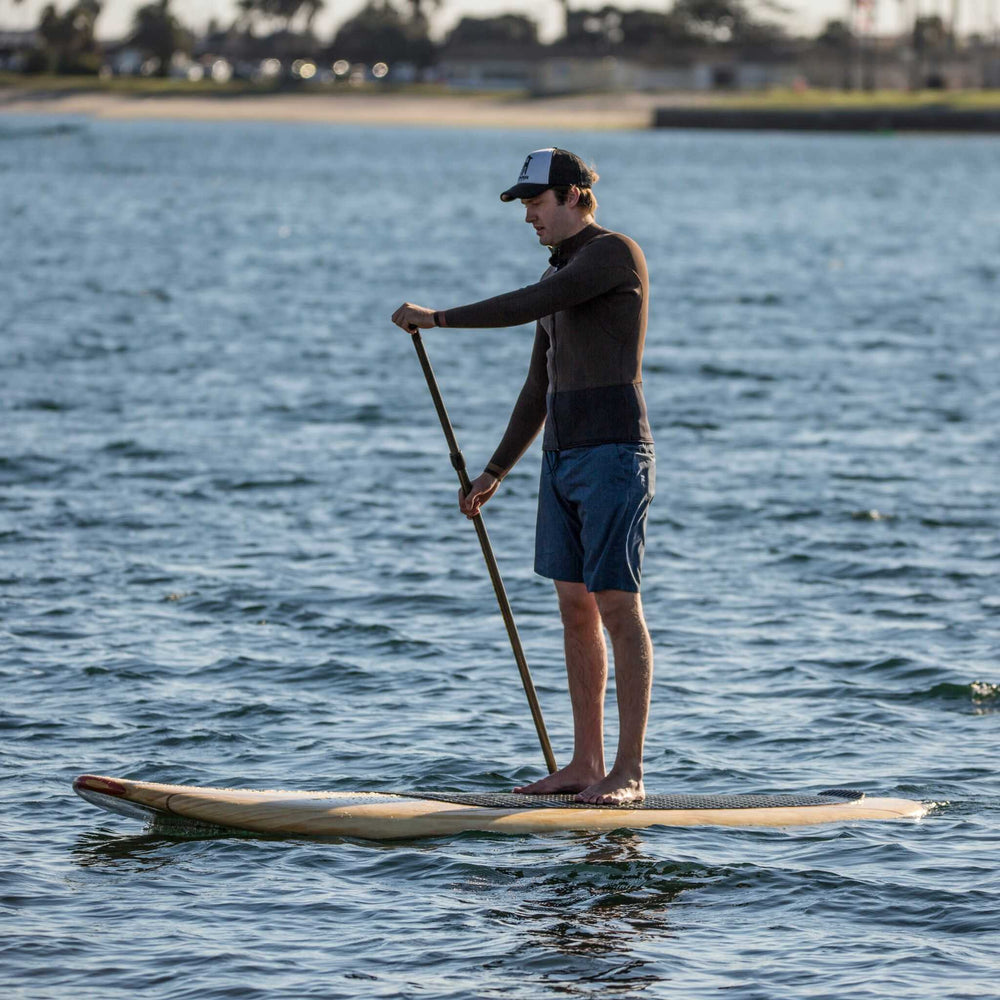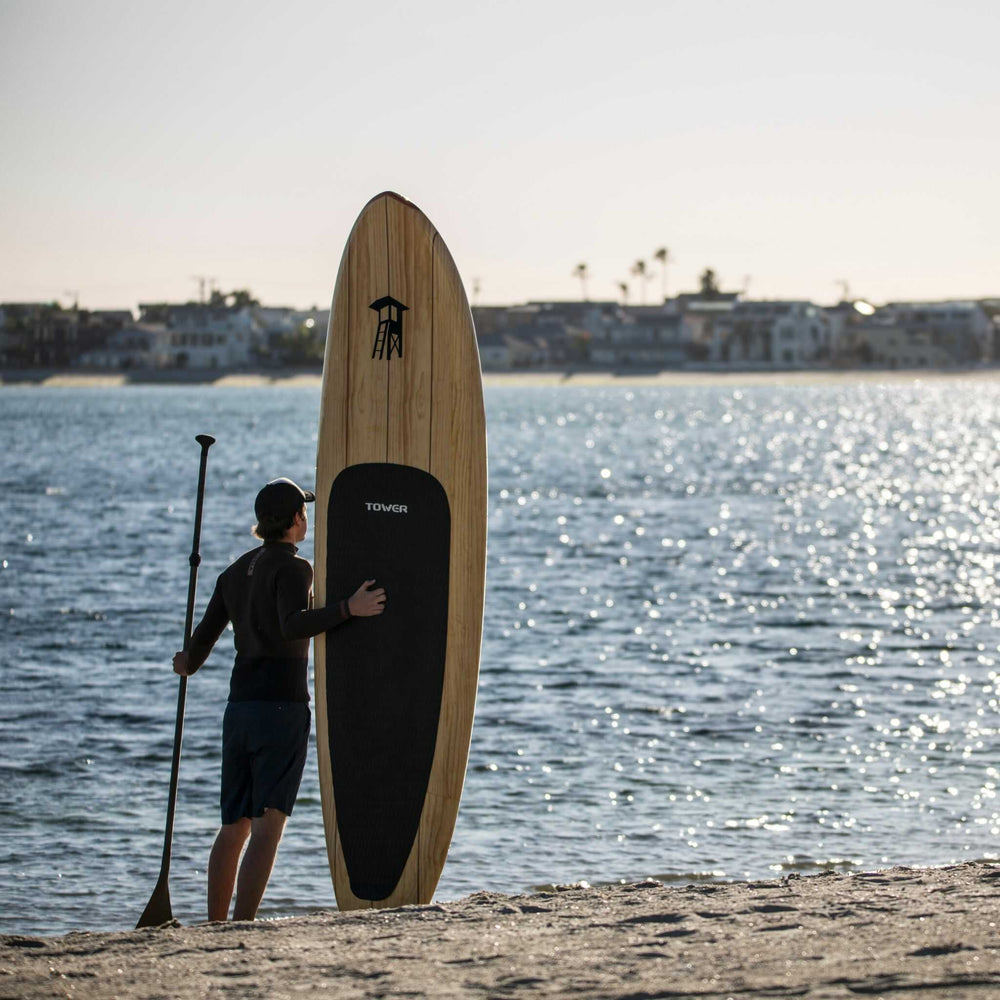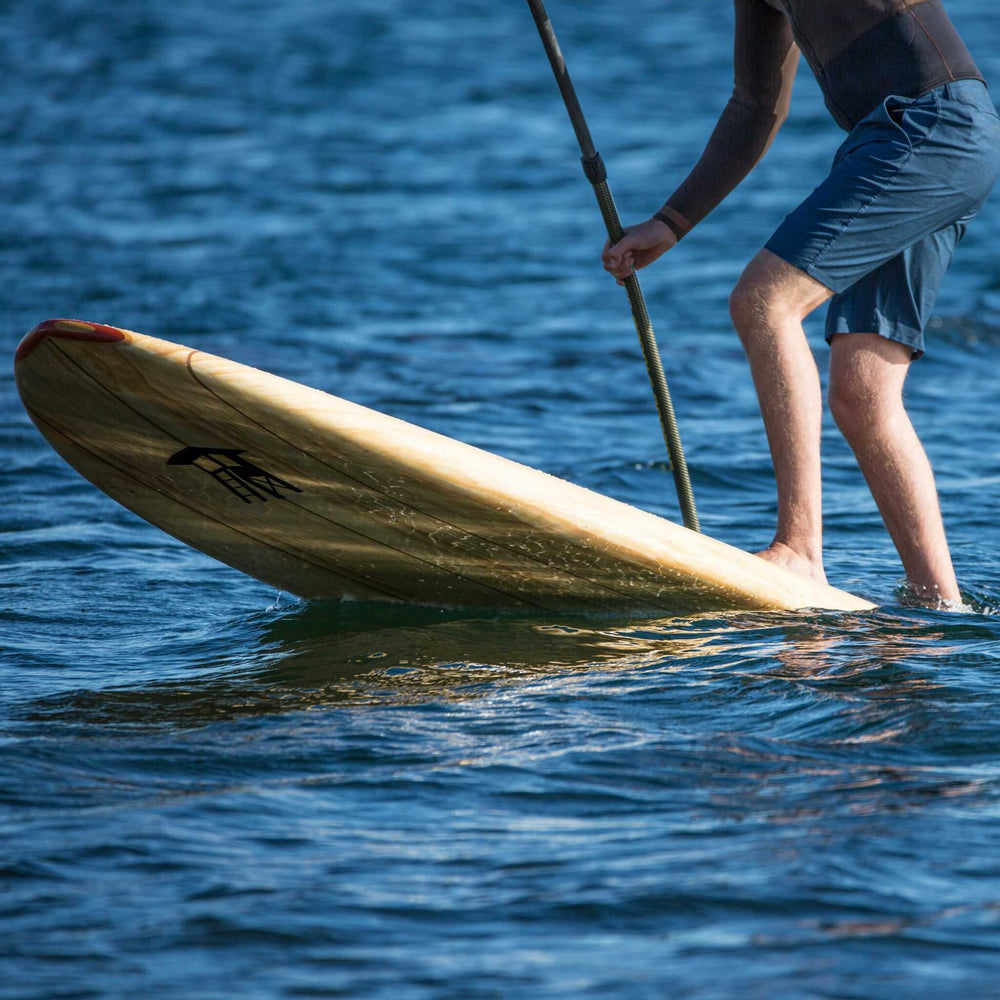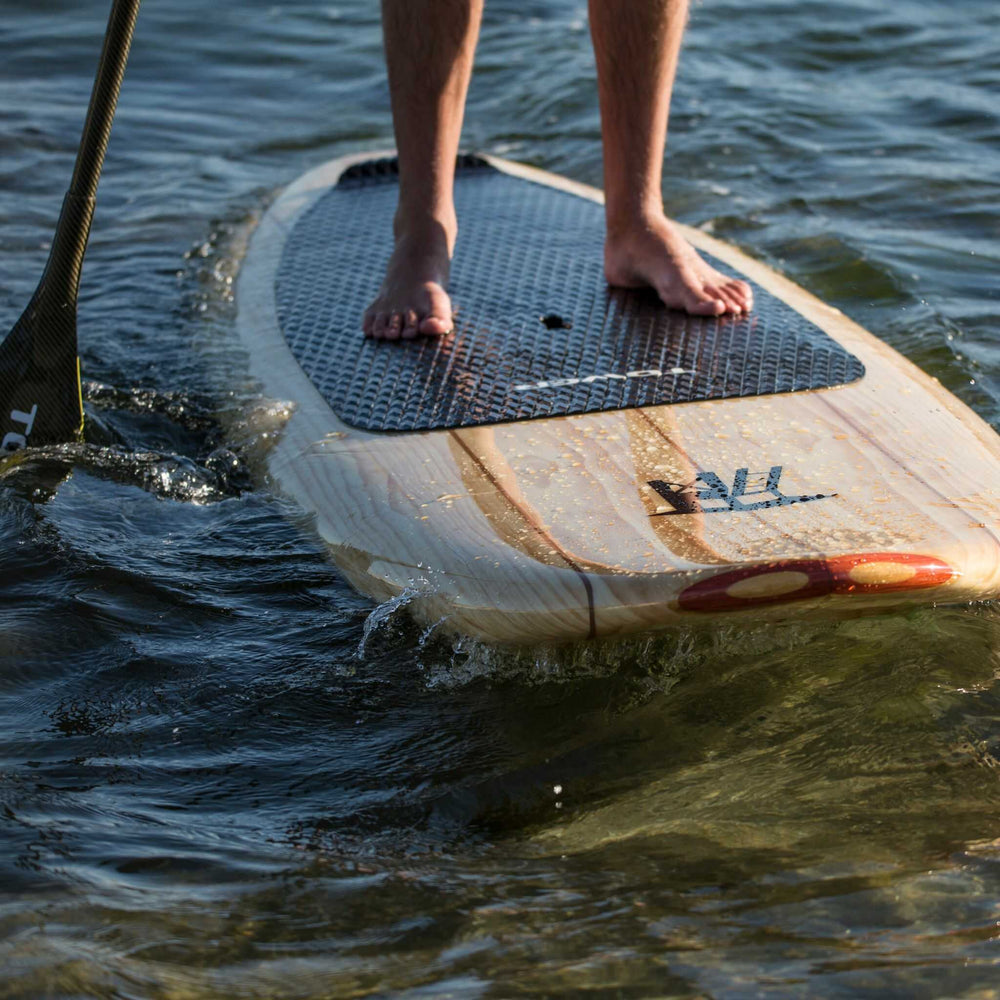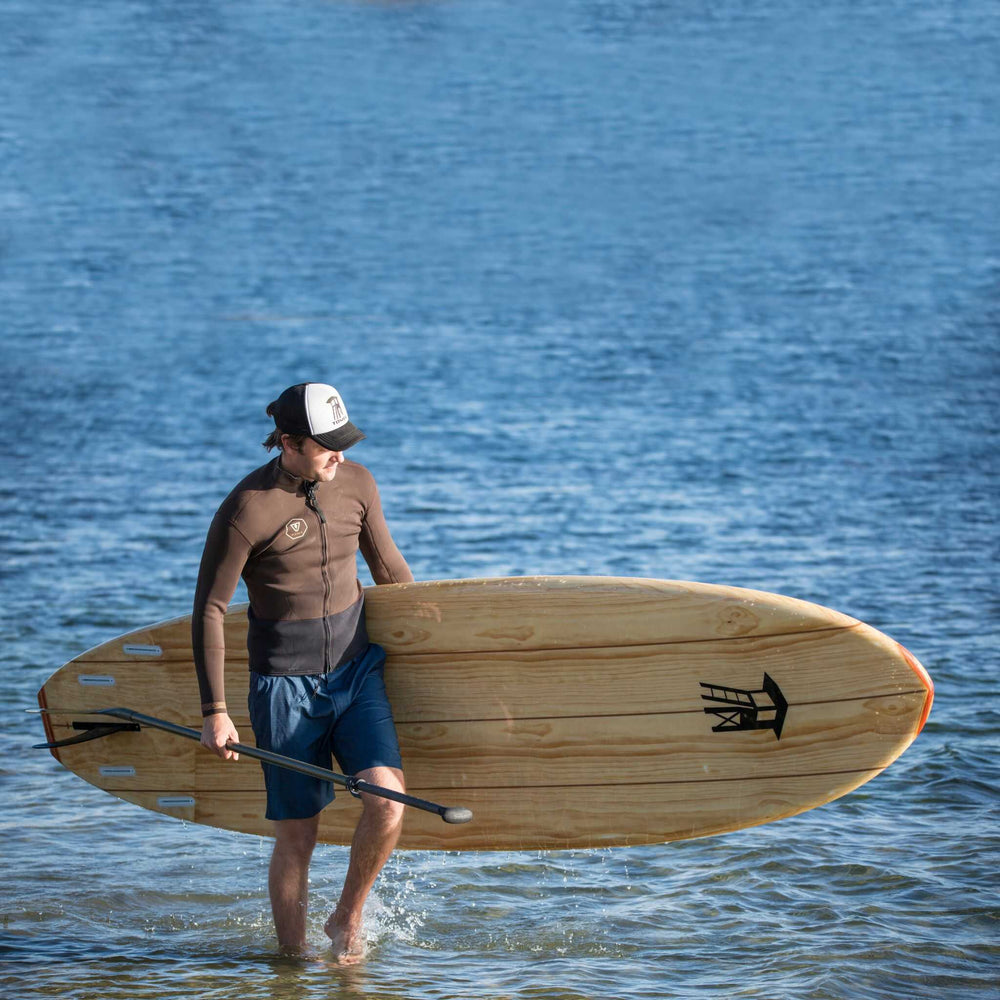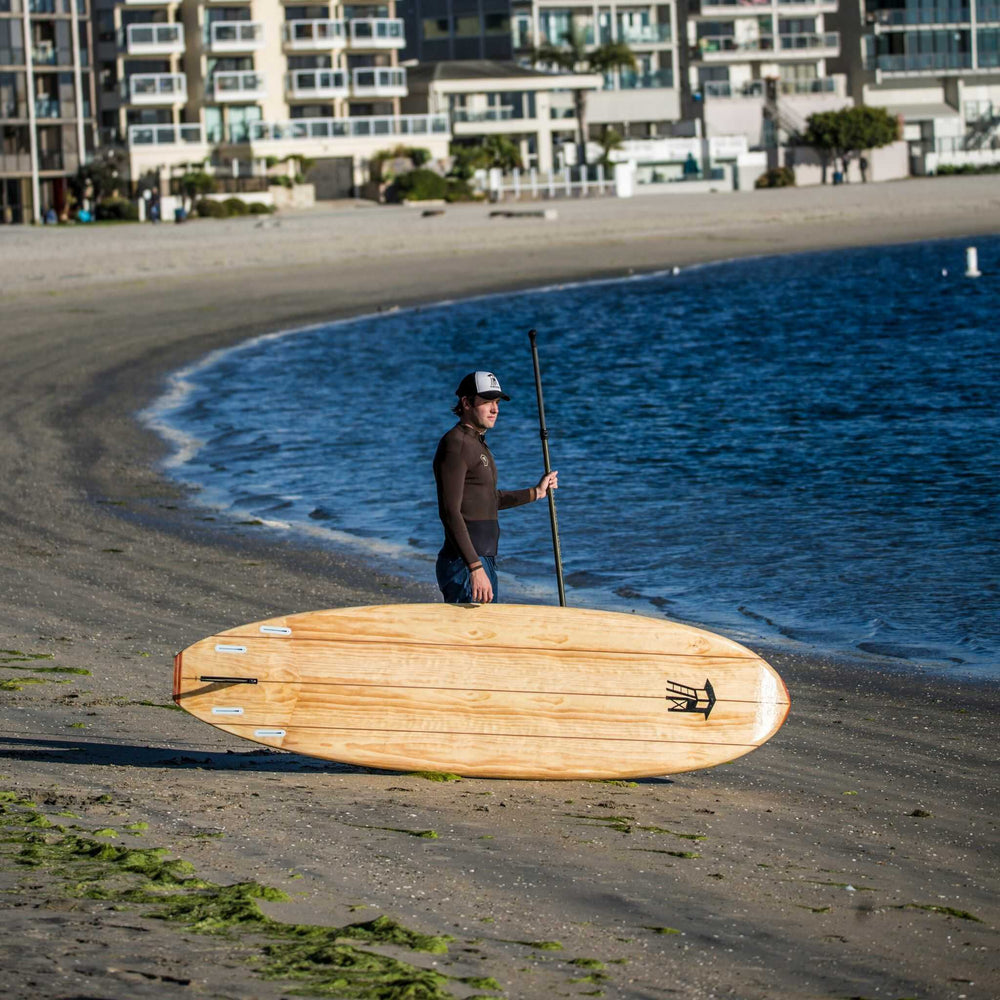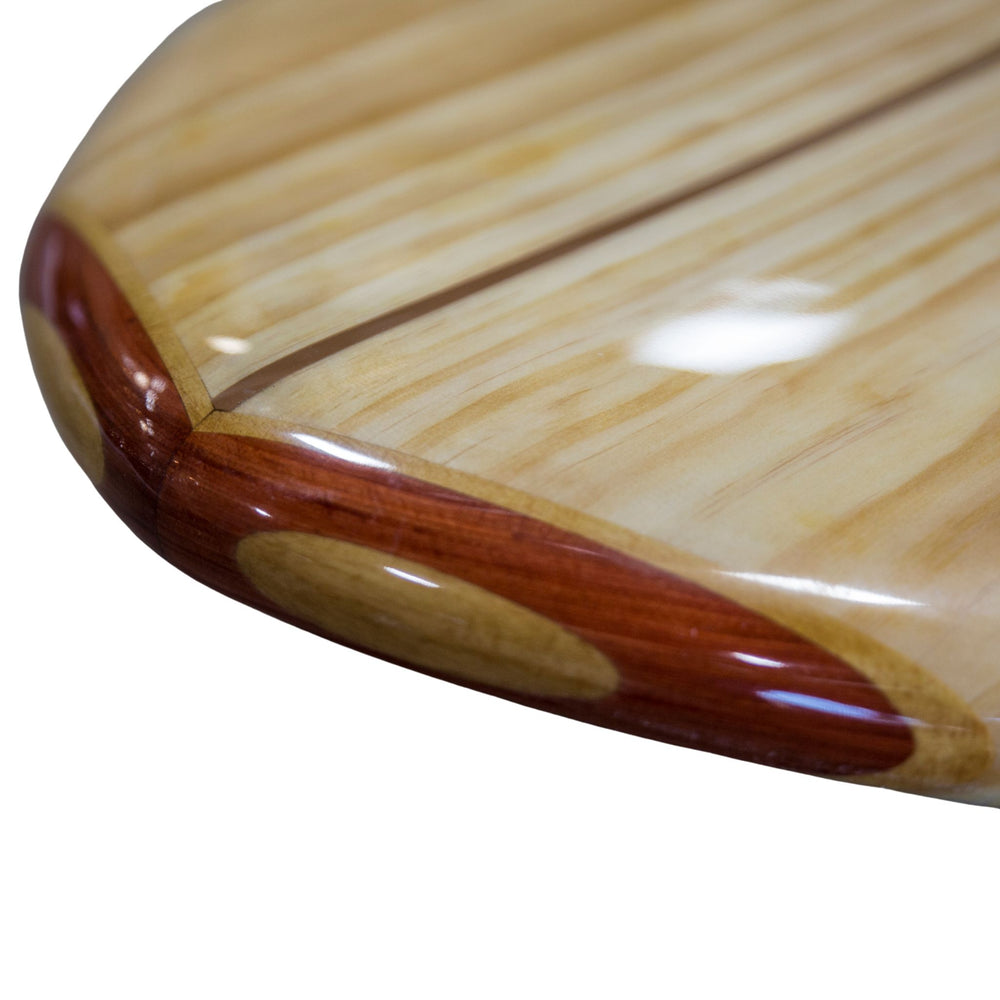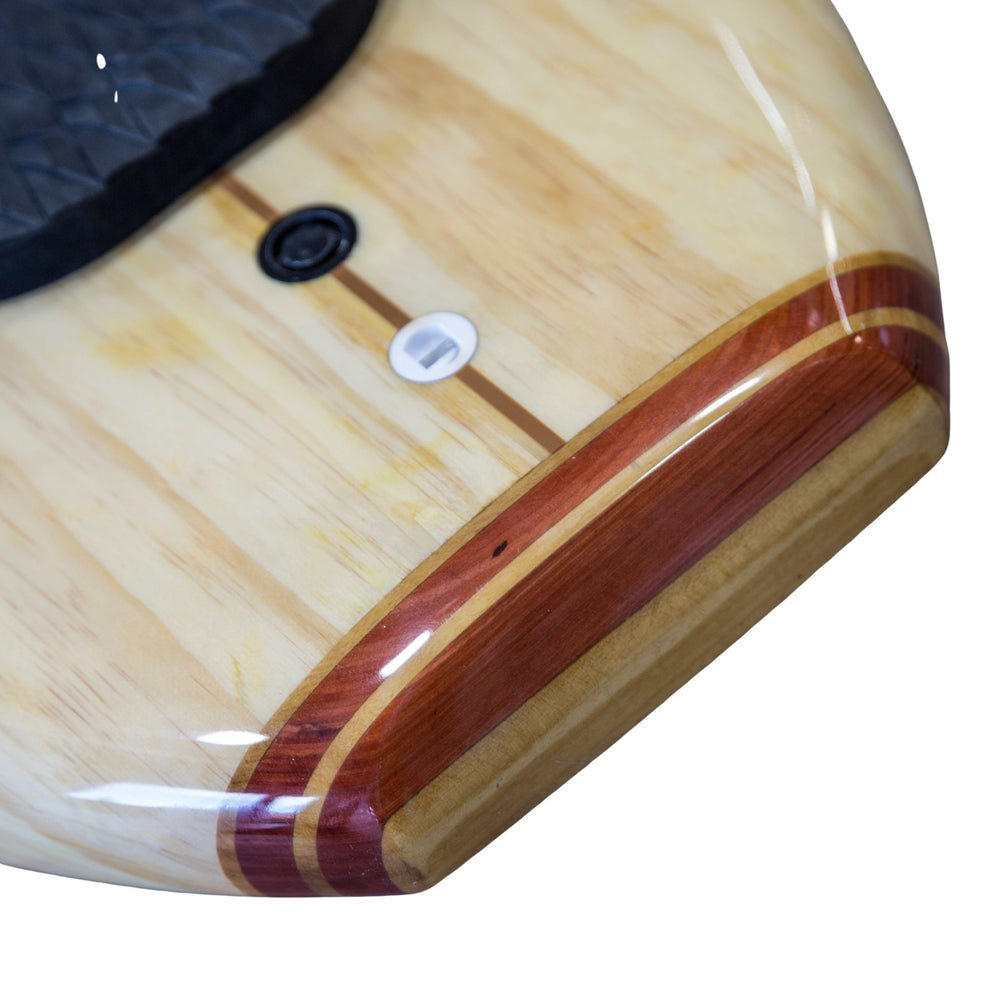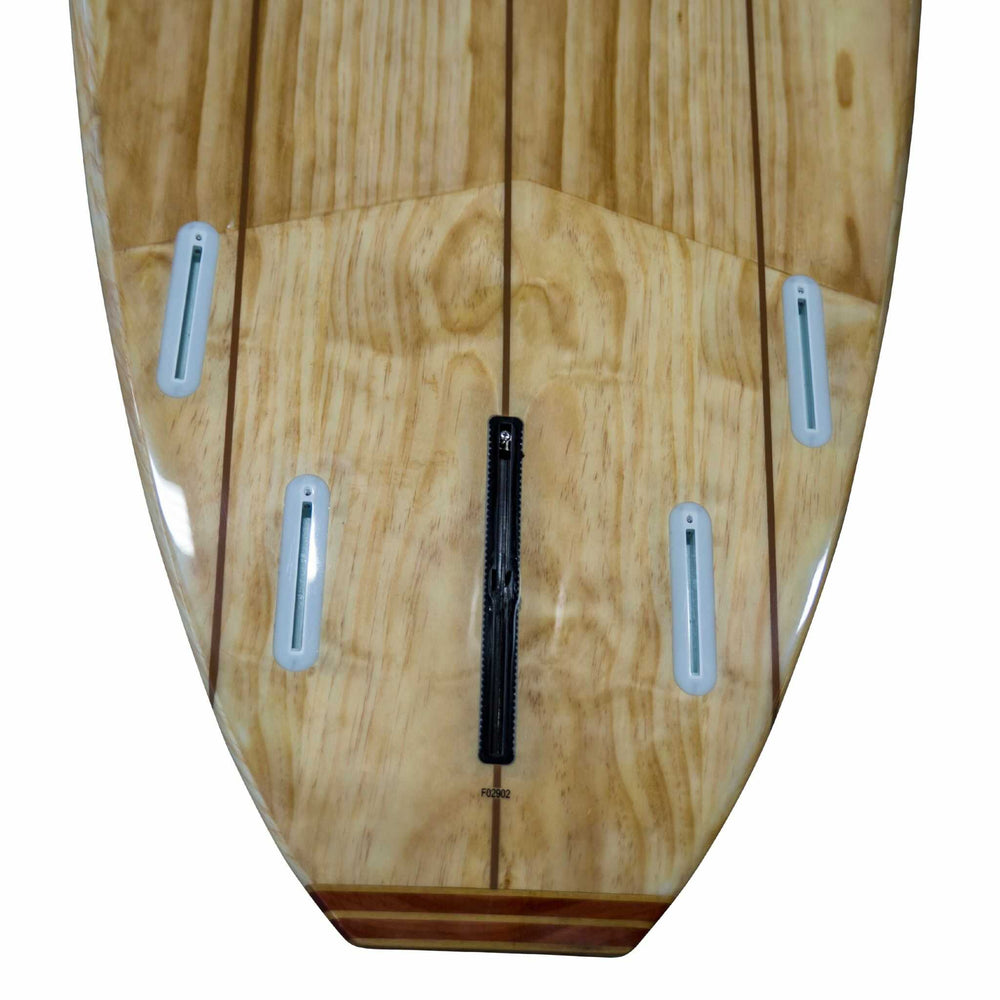 Wood Paddle Board | 9'10" Hard SUP
DESCRIPTION
A beginner-friendly flat-water wood paddle board, yet one that won't hold you back as you progress in the sport. Laminated with our sandwich-construction, this board is our lightest and most durable hard SUP yet! Surf friendly in 4-5 foot waves, but also works great for flatwater paddling. At a volume of 216 liters and a width of 32", this 9'10" board has more flotation and better stability than most traditional 11'+ cruisers on the market. It will effortlessly float a 200+ lb paddler, or even an adult paddler and a small child riding on the nose.
WHAT'S INCLUDED
One (1) 9'10" Wood Paddle Board

One (1) Black, Diamond-Grooved Deck Pad (Installed)

One (1) Center Fin (Fits Standard Longboard Fin Box)

Four (4) Side Bite Fins (Fits Futures Fin Boxes)
TECHNICAL SPECS
Weight: 25lbs
Dimensions: 910" x 31.75 x 5.5"
Volume: 216 Liters
Weight Capacity: 230 Lbs
Nose Rocker: 6.8 inches
Tail Rocker: 3.6 inches
Fin Configuration: 5 fin options for thruster or quad configuration
Onboard Accessories: Standard hand slide carrying handle, automatic air vent
Included External Accessories: A longboard SUP center fin, a Tower branded deck pad
Construction: A hand-shaped EPS core is molded with a bamboo veneer sandwiched between two layers of fiberglass. The mold heats and compresses the foam, wood, glass and resin to produce a lighter and stronger board.
We know customer satisfaction
SUPERIOR CUSTOMER SERVICE
We stand behind our products
On orders over $100
Extended Product Information
Video Introduction to Tower's 9'10" Wood Paddle Board
Light & Stable
Light and Stable
In a world of 35+ pound behemoth SUPs that barely fit in a garage, this 25 lb wood paddle board is a featherweight that transports easily and stores more like a surfboard than a SUP. It achieves this by going a little wider (the primary determinant of stability), a lot thicker, and counter-intuitively almost a couple feet shorter. Volume and flotation is added while weight is reduced by minimizing the overall surface area. It's outline shape is more like a great big short board, rather than a long board, so it enjoys performance benefits in the surf as well.
Ultimate Craftsmanship
This brand new construction that we've recently started producing has produced visually pleasing boards. It started with a 15 kg/m2 foam blank for our foam. We reinforced the handle and fin area with extra PVC to make sure those sensitive areas are as strong as every other part of the board. The foam is hand cut and wrapped in 6 ounce fiberglass that has a .3 mm bamboo veneer. Then on top of that there is 4 more ounces of fiberglass. It is then pressed into a mold to make sure each board is made with the same consistency. After that process the board is hand sanded and polished to produce the most beautiful finish. The very last step is to apply an EVA deck pad. This diamond deck pad is built to provide the ultimate traction for your paddle boarding adventures. 
Perhaps as classically beautiful as it is functional
The Tower Classic Wood 9'10" is a perfect meeting of form, function, and good looks. A classic wood paddle board, triple stringer surfboard look with ample rocker, a thin squash tail, and a molded wood finish make for a 60s throw-back Southern Californian look. If you are familiar with our inflatable paddleboards, then this beautiful classic look will make you want to switch over to our classic standup paddle boards.
Highest Quality Components
Unlike many wood paddle boards, where the traction pad is an afterthought, the sharp looking Tower branded traction pad was designed as an accessory to enhance the beauty of the board. A five Futures fin box configuration was added to allow for flexibility in intended use, and an automatic vent is built into the board.
The Tower Classic Wood 9'10" - a classic shape, now lighter and stronger!
The Reviews Are In!
Tower, keep making this board, especially the 9'10" size!
I bought this board used about 2 weeks ago. It took a while to find a used one, probably because people keep them. It's great! I learned on the 11'x34" Bodyglove inflatable, and although this one is 9'10" by 32", it's just as easy to balance on. It tracks much straighter, and I can do about 10-18 strokes per side depending on wind and current. The best thing about this board is that it fits inside my car, with the back seat and passenger seats down. I plan to take very good care of it, but please keep making this 9'10" board in case I ever need a new one!
9'10 classic SUP
love this board. Have surfed some of the best waves this summer on the shores of Long Island,NY. Even post hurricane Dorian waves. Turns easy and maneuvers I and down the face of the waves like a regular performance long board. Floats me extremely well. I weigh 170 lbs. As well as it rides it even looks better. I'm all about classic and you guys have captured it.
Excellence
Love the board. Will order another. Tracks well and is very responsive. Have yet to try in the ocean which is my next adventure...
LOVE my board
Received my board much faster than expected! Love the look and functionality of the board. I am not a very experienced boarder but this board is amazing!! I feel much more comfortable on this board than any other I have tried. Love the stability of the hard board over an inflatable. My experience with the Tower staff was also pleasant and helpful! My friend recommended Tower and I'm so glad I listened. My husband is buying one too!