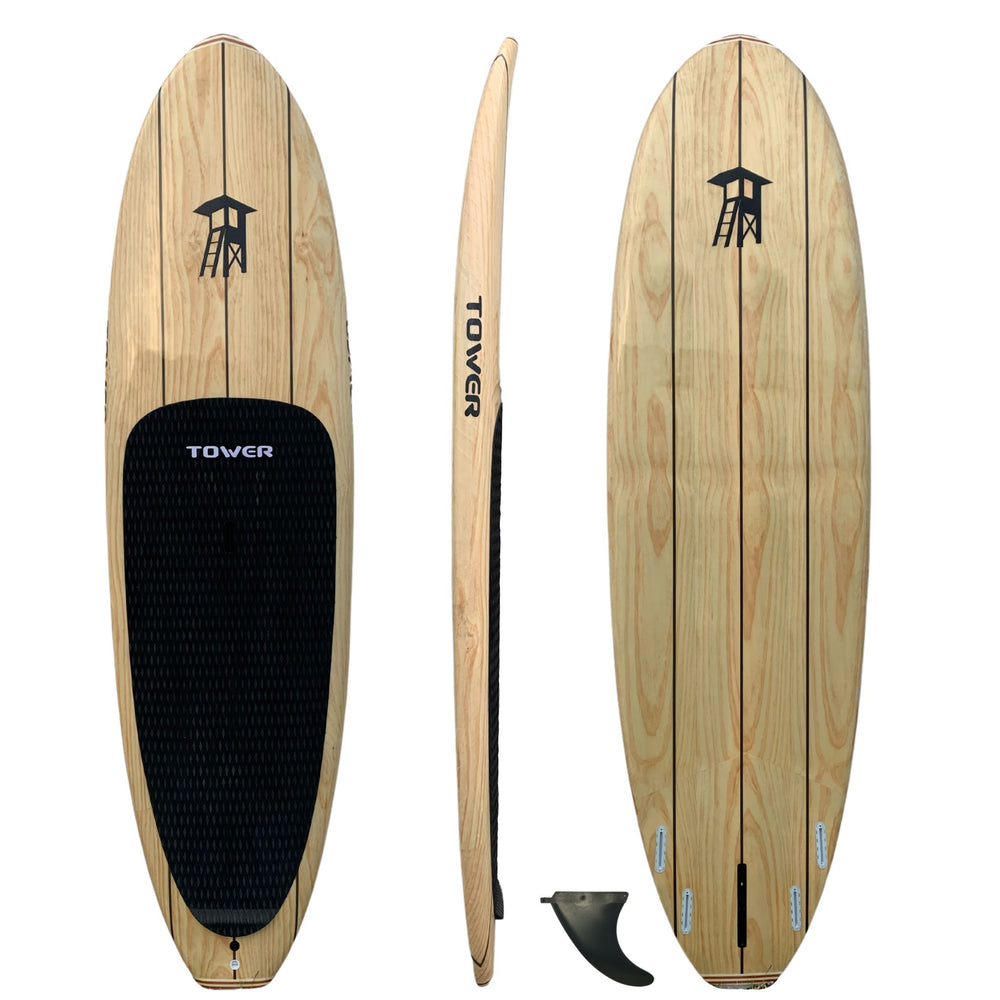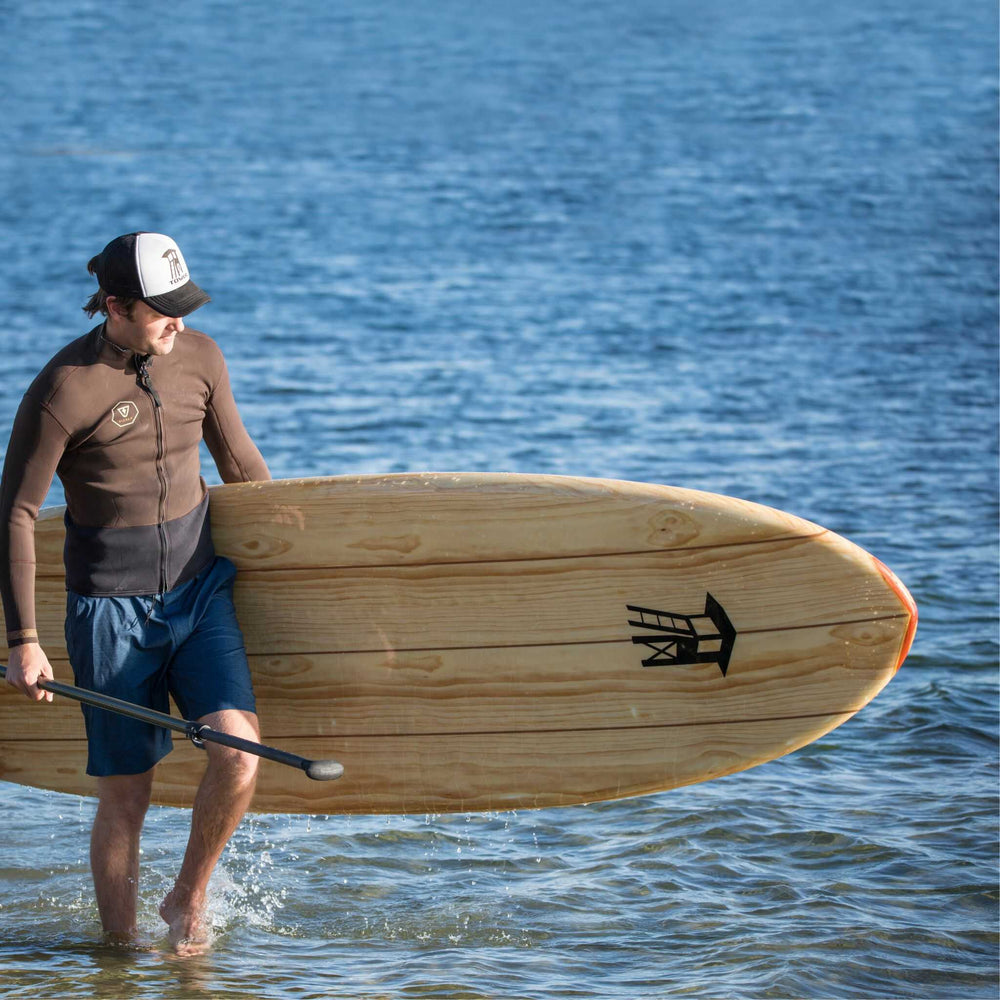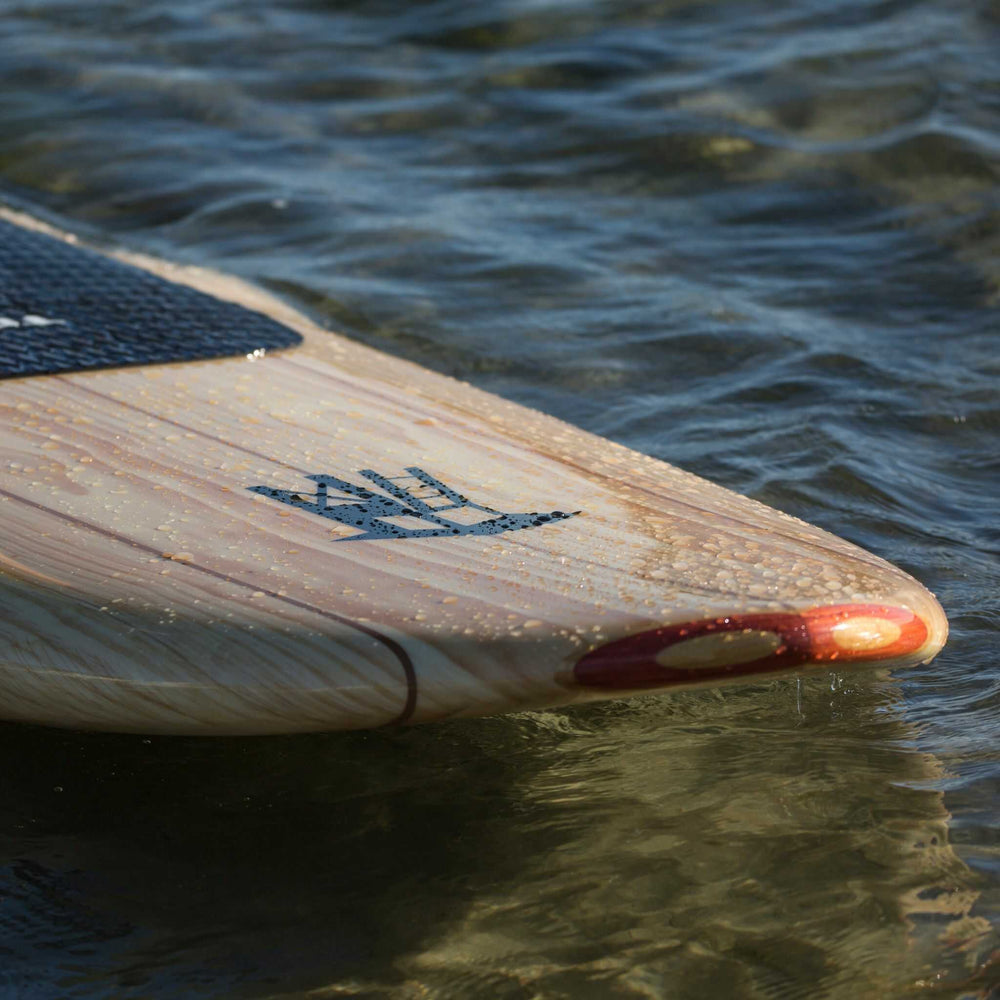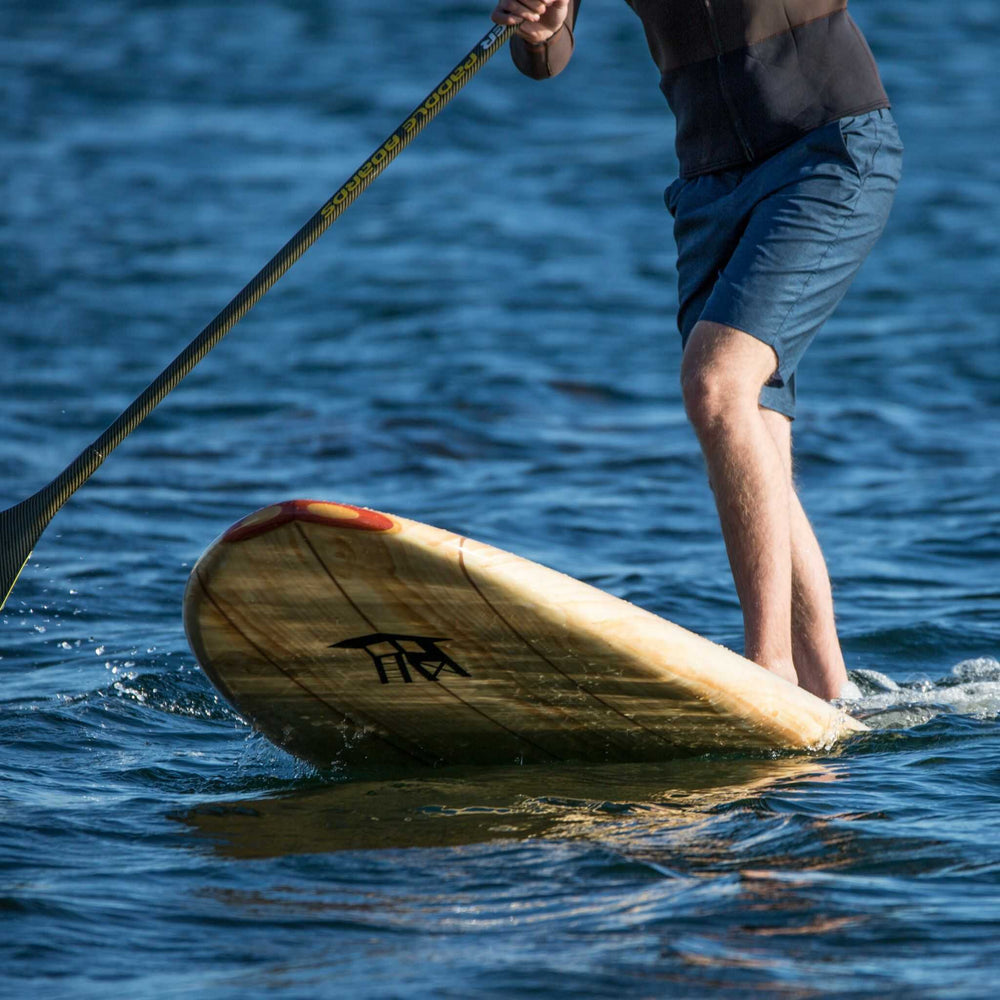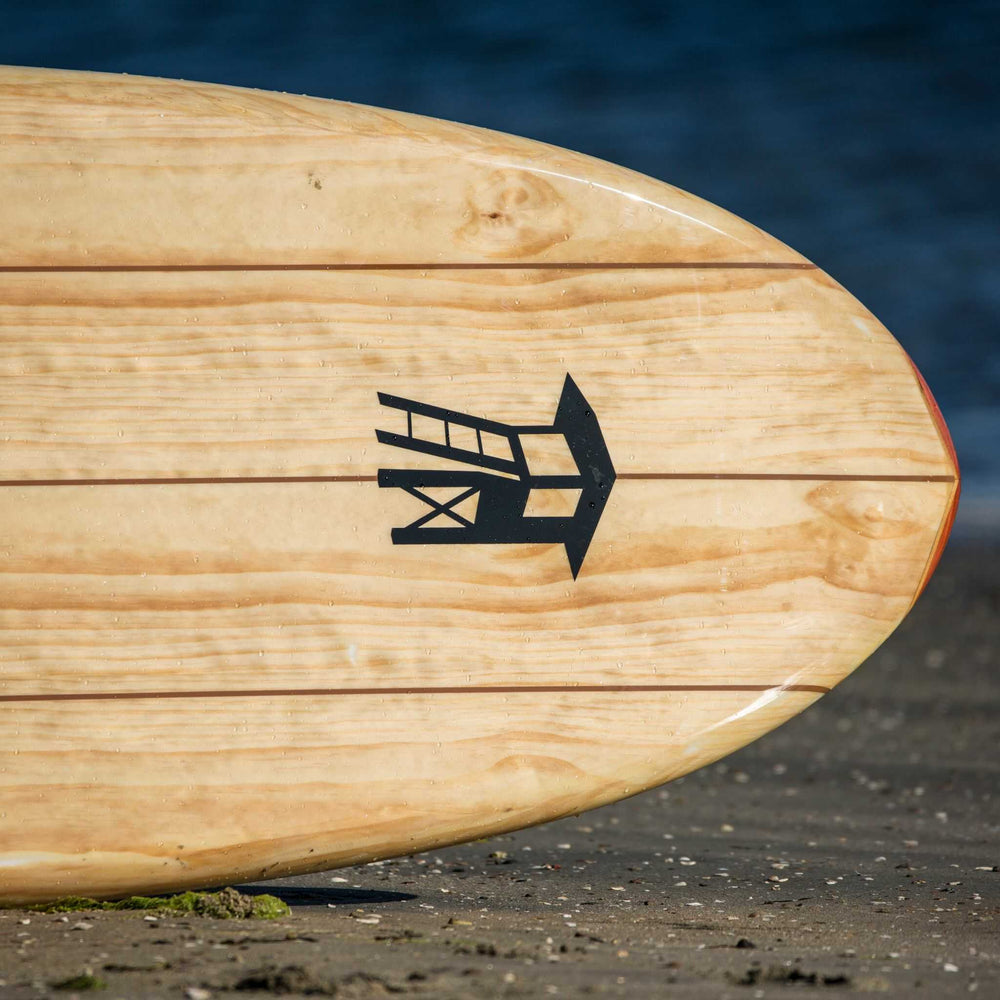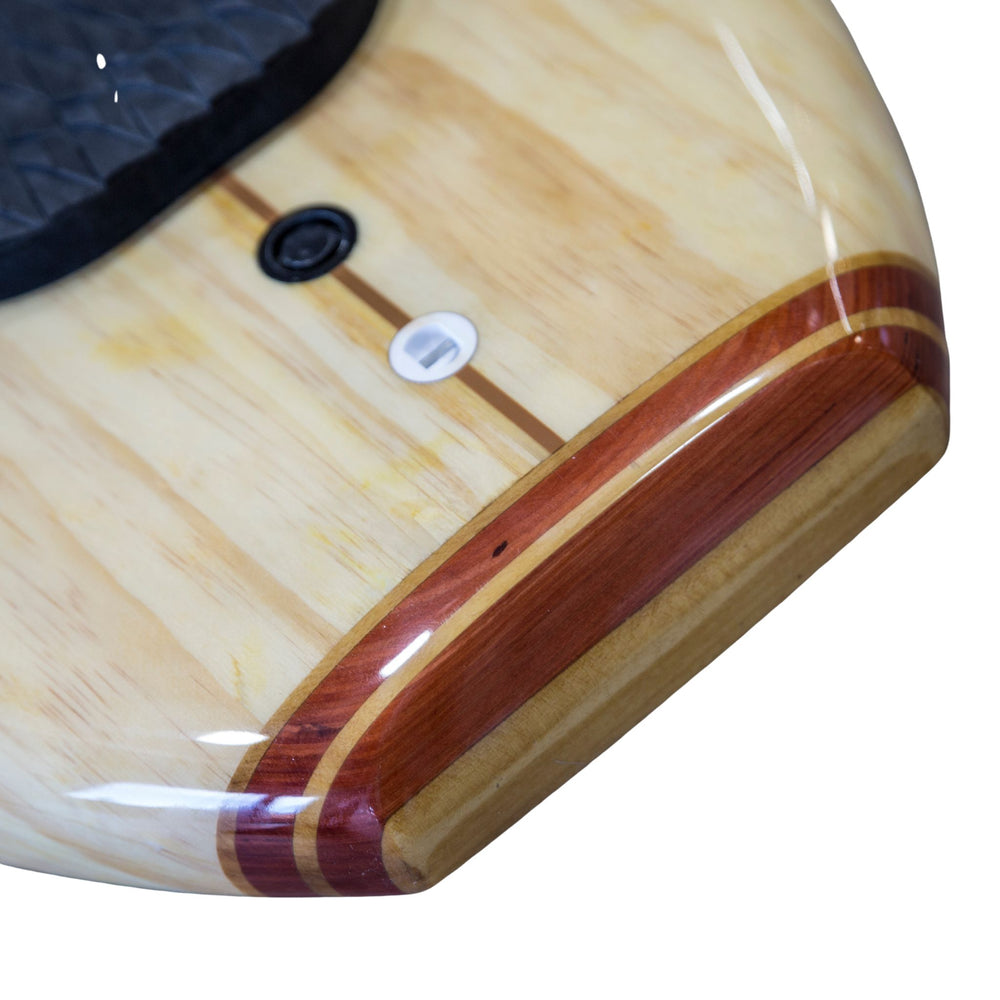 Wooden SUP Board | 11'5" Hard Board
DESCRIPTION
Hard boards are great if you're looking for a board that is not only fast but also a great choice for surfing. Our Classic Wood 11-foot-5 board offers a high-performance ride for surfers and paddlers as well as excellent flotation. It's our lightest and most durable hard board yet!
This board is best used in flat-water and small surf-friendly environments. The board will glide effortlessly with 350 pounds aboard: It's designed for bigger riders or even an adult with a dog or a kid riding on the nose.
The Tower Classic Wood 11-foot-5 SUP has one of the highest volumes of any sub-12-foot stand-up paddle board (which means better flotation and glide), yet it remains remarkably lightweight.
WHAT'S INCLUDED
One (1) 11'5" Wood Paddle Board

One (1) Black, Diamond-Grooved Deck Pad (Installed)

One (1) Center Fin (Fits Standard Longboard Fin Box)

Two (2) Side Bite Fins (Fits Futures Fin Boxes)
TECHNICAL SPECS
Weight: 30 lbs
Dimensions: 11'5" x 31" x 5.25"
Volume: 235 Liters
Nose Rocker: 6.2 inches
Tail Rocker: 2.6 inches
Fin Configuration: 2+1 fin options for thruster, 2+1, or longboard fin configuration
Onboard Accessories: Standard hand slide carrying handle and an automatic air vent
Included External Accessories: A single longboard center fin and a Tower branded deck pad
Construction: A hand-shaped EPS core is molded with a bamboo veneer sandwiched between two layers of fiberglass. The mold heats and compresses the foam, wood, glass and resin to produce a lighter and stronger board.
We know customer satisfaction
SUPERIOR CUSTOMER SERVICE
We stand behind our products
On orders over $100
Extended Product Information
Lightweight Boards for Heavy-Duty Use
While the Classic Wood SUP is a beefy board in terms of stability and flotation, it only weighs 32 pounds with pad and fins included, making it lighter than many other large paddle boards for sale. This wooden SUP has a volume of 235 liters and a width of 31 inches, and it will glide smoothly carrying up to 350 pounds: Throw a friend up front and enjoy the water together on your wooden stand-up paddle board!
Classic SUP Board With a Beautiful New Look
The Tower Classic Wood is a perfect blend of form and function. Our wooden paddle boards combine a triple stringer surfboard rocker, a thin squash tail, and a molded wood finish to create a 1960s throwback Southern California look that's sure to turn heads in the water. When it's stored inside, this paddle board looks like a trophy or an interior design piece. Made out of beautiful veneer wood, this wooden SUP glistens and easily fills up a room with its beauty.
Tower Paddle Boards has built a reputation for quality and value in the SUP community over the past decade, and our glossy emblem on the nose of this board signifies that it was made with the care that people have come to expect from the Tower brand. You'll be the envy of everyone you pass on the water when you buy this top-rated wooden SUP!
High-Quality Construction
The molded sandwich construction technique used in layering this board is responsible for the board's lightweight feel and superior durability. A hand-shaped EPS core is first layered with a strong lining of fiberglass, then veneer wood is added as the core, followed by another outer layer of fiberglass to enclose the board. The mold heats and compresses the foam, wood, fiberglass, and resin to produce lighter and stronger wooden paddle boards than any others on the market.
And at Tower, we care about the quality of every other element of our boards, too. While other brands treat the traction pad as an afterthought, the sharp-looking Tower-branded traction pad was designed as an accessory to enhance the beauty of your wooden stand-up paddle board. We also added a 2+1 Futures fin box configuration to allow for flexibility in intended use, and an automatic vent is built into the board, too.
The Reviews Are In!
Glides So Well
I live on a large inland lake, so mostly I will use this board on flat water, going long distances. I have had inflatables but I prefer this fiberglass board because it tracks so well in the water that I hardly have to switch sides to paddle. It is also very stable. The board is buoyant, but does not have much "above water" profile like the inflatables, so the wind does not catch the board so much. Also, this board just glides like silk when paddling with the wind. All in all I am very pleased with the wooden SUP 11'5" classic ... and it's absolutely beautiful too!
Classic SUP
This is really my first SUP. I have been surfing Calif. and Maui for the last 50 years and know surfboard design. I live now in the NW and wanted an "all around" board for myself and family members of all ages. This is really a fun board. My only complaint is the it is missing the "super glide" which I assume comes with pointed nose touring boards. It is a great value and a gorgeous looking board is really stable and fun to shot down the coast on.
Great Product
The 11.5 SUP hardboard is as beautiful and functional as promised.
I am a 225lb guy who was never able to stay up on other SUP's.
This SUP gives me a very stable board and still rides great on the water.