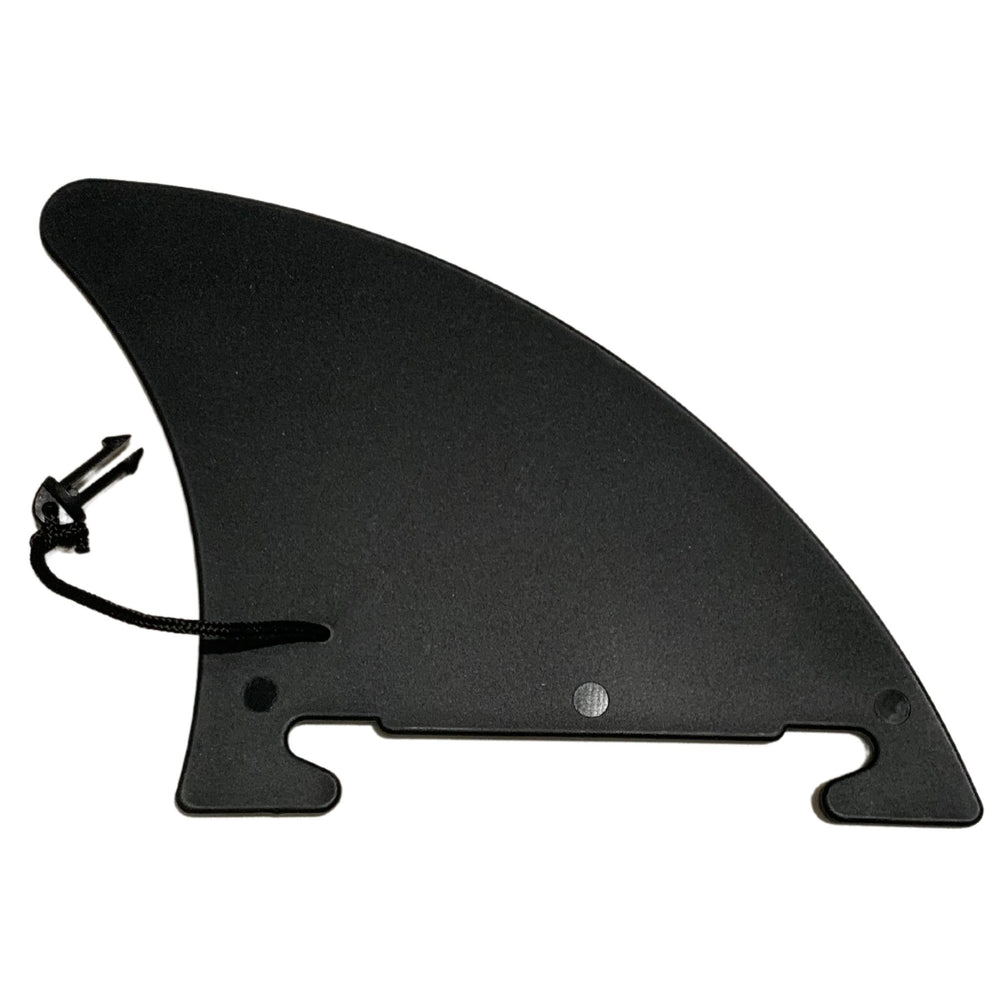 iSUP River Fin
DESCRIPTION
This 6" deep river fin is similar to our standard 'Hook + Pin' fin but draws less water so it is more friendly to shallow riding areas like rivers. This fin is designed for fin security in mind. Too often, poorly constructed inflatable paddle board fins will fall or scrape off and be lost in the water. Our specially designed hook is created to secure the fin in place with more strength, and comes with a securing pin attached to the fin with a string. You hook the fin into your board fin box, pull the fin back and then secure the fin to the board with the pin. This fin is compatible with all Tower inflatable paddle boards. This is a shorter fin than the 9" deep fin that is included with all original Tower iSUP packages.
WHAT'S INCLUDED
One (1) 6" Deep River Fin
One (1) Plastic Security Pin
One (1) String Tethering Pin to Fin Base
TECHNICAL SPECS
Depth - 6"
Base Width - 7"
We know customer satisfaction
SUPERIOR CUSTOMER SERVICE
We stand behind our products
On orders over $100
Extended Product Information
Why would you need an iSUP river fin?
This 6" center fin is compatible with all Tower inflatable stand up paddle boards. The shorter sup fin is great for use in rivers and shallow water. As some of our customers use their inflatable paddle boards in rivers and shallow ponds/lakes it is useful to have a shorter fin for these conditions. These sup river fins can fit in the center fin of any of our inflatable stand up paddle boards. Our standard paddle board fin comes included in every Tower inflatable SUP package that your purchase. This type of sup fin is a few inches longer so it can get more easily damaged in shallower water. However, if you are paddleboarding in shallow water we highly recommend this SUP river fin. It will allow you to navigate more easily without hitting the shallow rocks or sand that could potentially damage your SUP fin.
How complicated is fin installation?
These sup fins are extremely easy to use. You simply place the fin into its socket till so you can see through the hole. Then take the pin and wedge it through the hole securing the sup fin in place. To take the sup fin out, just pull the pin out and then take the sup fin out of the socket. By having a replaceable sup fin, our inflatable paddle boards are extremely easy to use and can be transported and stored anywhere. Unlike our classic stand up paddle boards, the iSUPs boards can be rolled up and stored nearly anywhere. Because of this virtually anyone can use them. You no longer have to have a large storage space or a big truck to haul the board to and from the water. The SUP fins even come off easier making the inflatable sup the most portable and versatile paddle board available.
Do you need the SUP fin to paddle board?
Having a river or standard sup fin in your inflatable paddle board is vital to the performance of the board. The sup fin is necessary because it helps you paddle in a straight direction. Although you can use the board without a sup center fin you will struggle to move in a straight direction. With every paddle on either side the board will move significantly in the direction of the paddle making it hard to go straight.
The Reviews Are In!
River Fin
I actually have not used my River Fin just yet, but I know it will be just fine. I do want to take this opportunity to say how much I LOVE my Adventure ll SUP. I've been able to go out on my Board several times since receiving it in September and the Board is just outstanding! I'm moving to Virginia where there are many rivers for me to explore so my new River Fin will come in very handy. The Tower Products are excellent!! I'm saving up for a second Board...thank you
Just what I needed
After mine was lost, I couldn't find a replacement fin for my inflatable paddle board because the company stopped making them. Somewhere in the depths of the internet I found a recommendation to this fin. With a little modification it worked perfectly. Tower paddle boards shipped it almost immediately and I got it right in time to bring it on a camping trip.
River ready
Went down the class 1 rapids 17 miles on the Chattahoochee River on my iSUP with this as the center rear fin, the board still tracked well (90%) of the long fin and kept me from face planting.
Enhanced replacement
Shipped on time exact fit for solstice baja inflation paddleboard with easy lock in pins.
Efficent and Friendly
I had a difficult time locating a replacement fin for my daughters paddle board. The manufacturer was out of stock but gave us contact information for Tower Paddle Boards who had the fin available. I emailed them directly and they had the fin in the mail the same day! Very happy with the product and the customer service!
Worked Perfectly
I had lost the fin to an older model iSUP and Tower Paddle Boards was the only place that had it. Luckily this fin fit perfectly, and it seems to be made of a lot better material than the original. In addition, this fin has a leash that can attach to the board so I can't lose it in the future.
New River Fin for Inflatable SUP
I can't get enough of this board. The new fin is just what I needed. Next year I'm buying a fishing license! This fin allows you to get in close to shore on lakes and tracks beautifully. I'm so pleased with my board. I pack it up in a suitcase and take it with me on vacation, Hawaii here I come. Saves me at least $20 a day in rental for 1 hour! THANKS TOWER and my little dog likes it to, if I don't knock her with the paddle, LOL
Adds versatility to the board
Bought this fin to use on my IRace board on a local river that gets shallow in places. This shorter fin did the trick and worked great allowing me to get into and through places the standard fin would hit bottom. It was easy to install which was nice. Good way to give you some additional options on using your ISUP and worth the money.
worked great
Once I dug to find the right part, I ordered it and it came quickly. w00t!
Skinny Water Fin
Picked up a couple for our iSUPs for low tide use. Perfect for inshore paddling on the Gulf of Mexico. Can't wait to use them on a river trip.