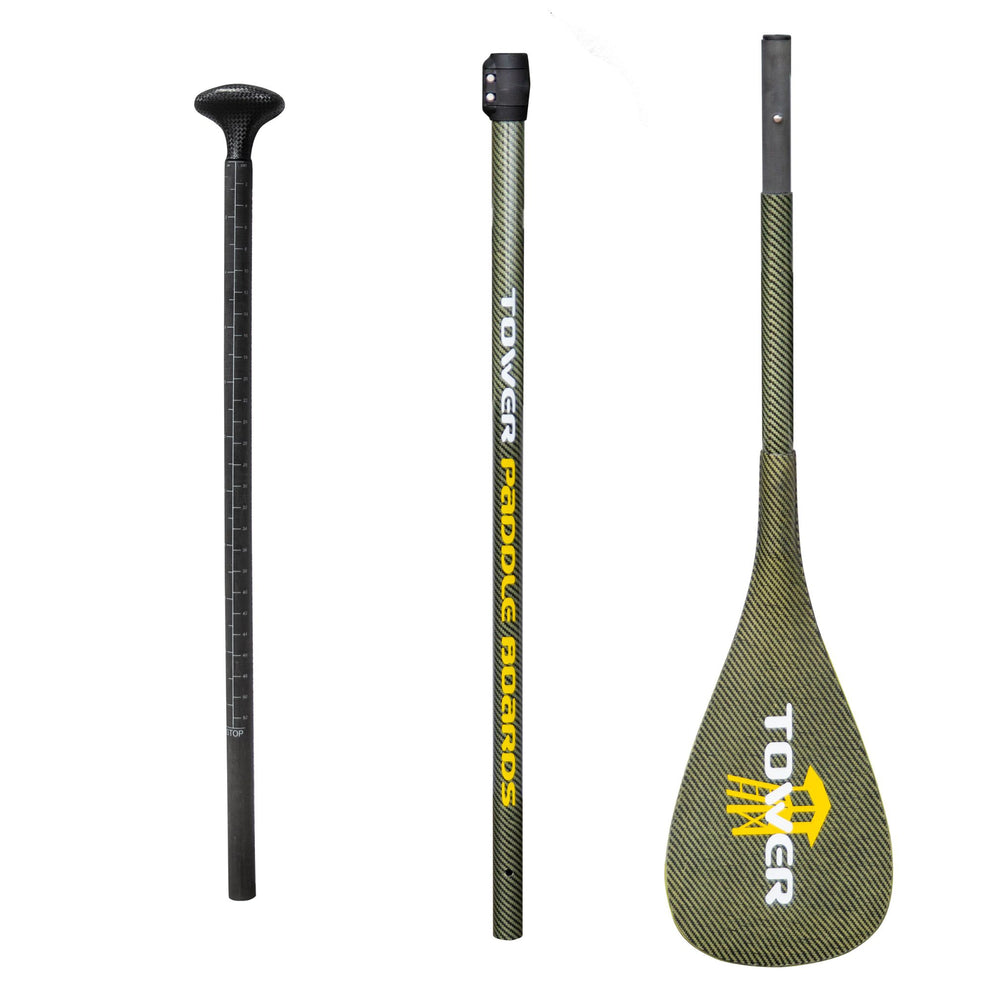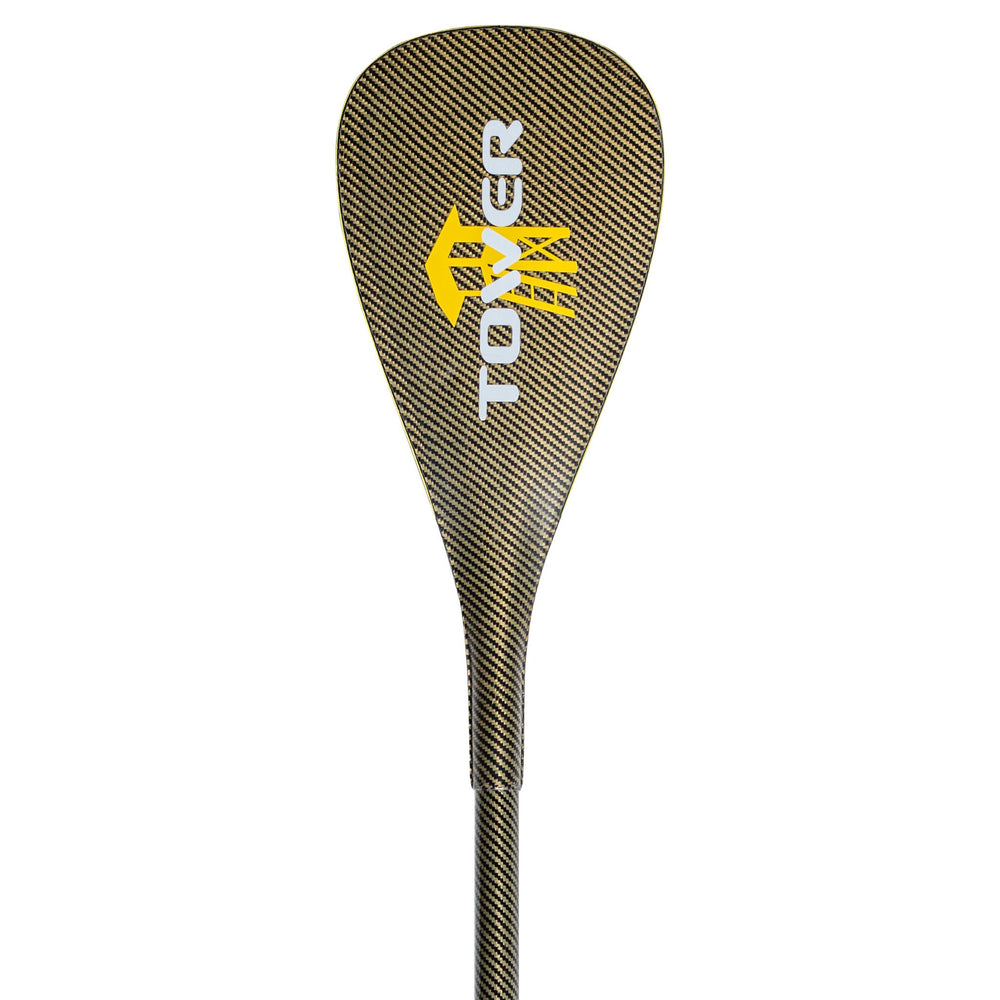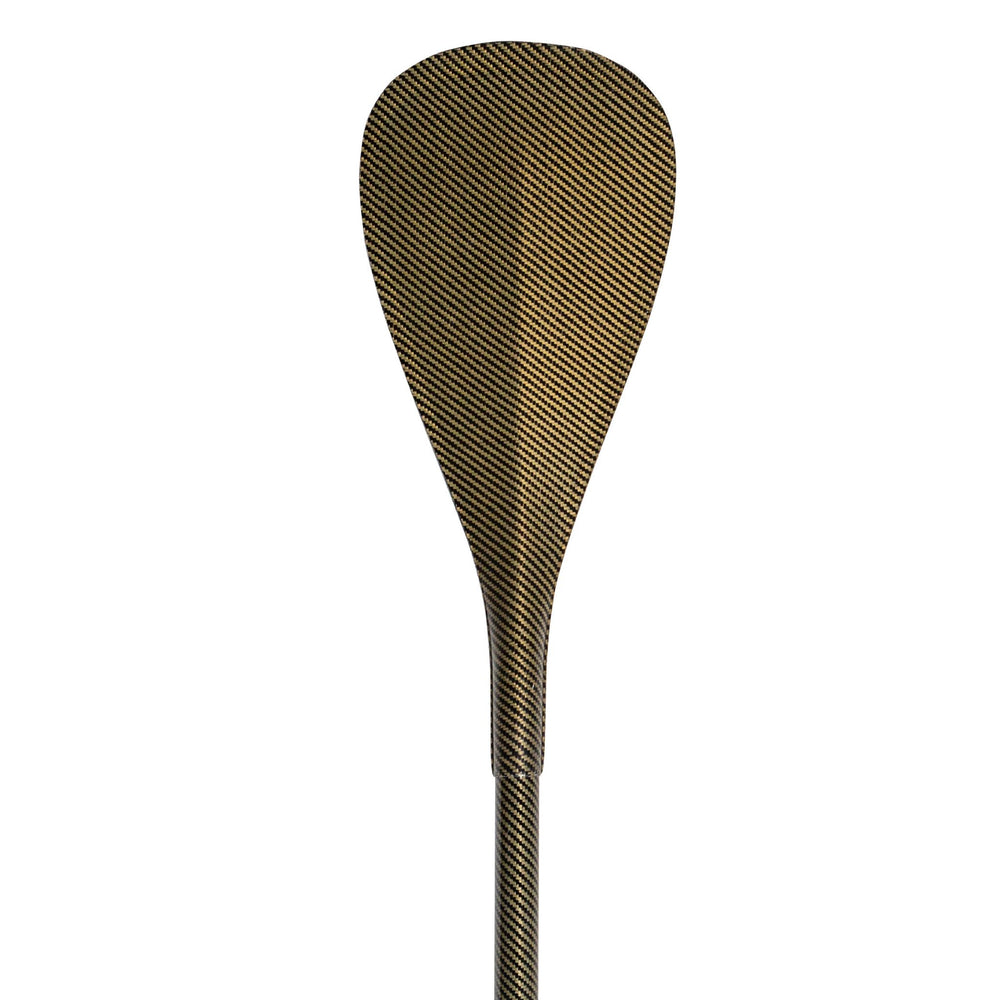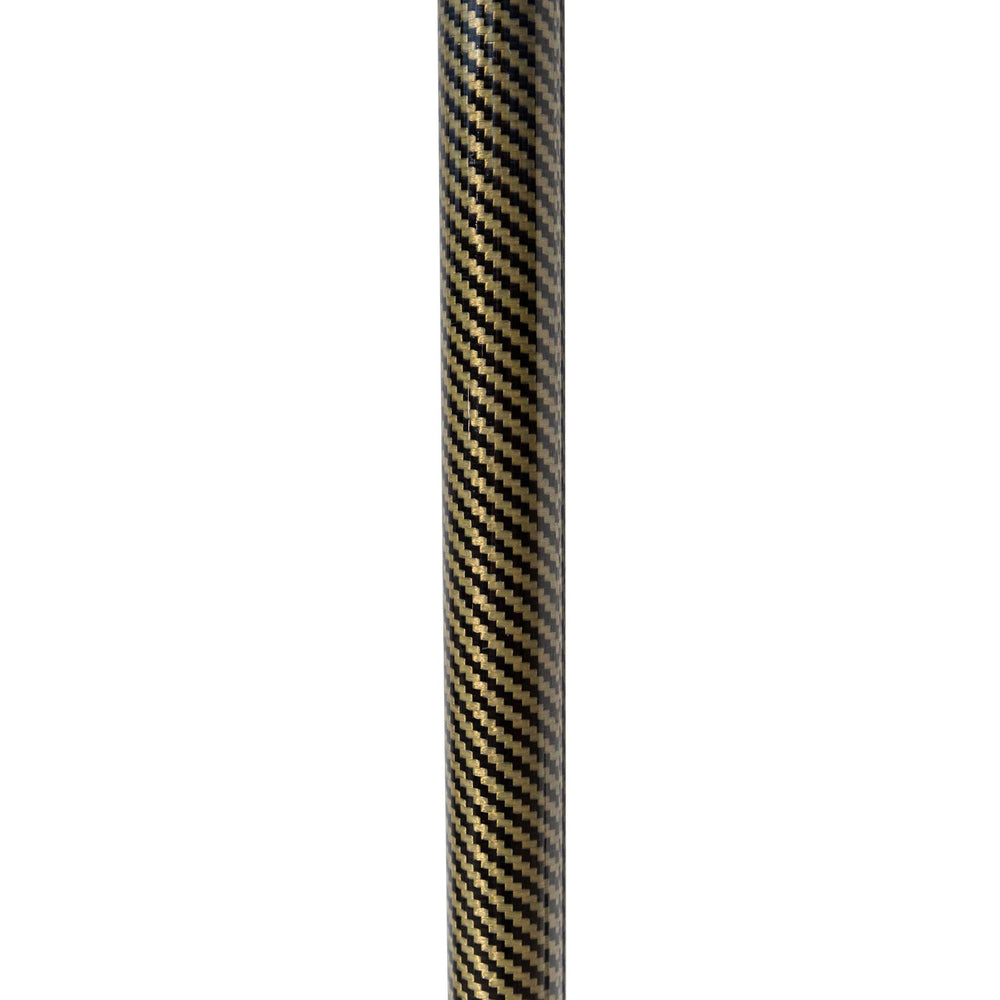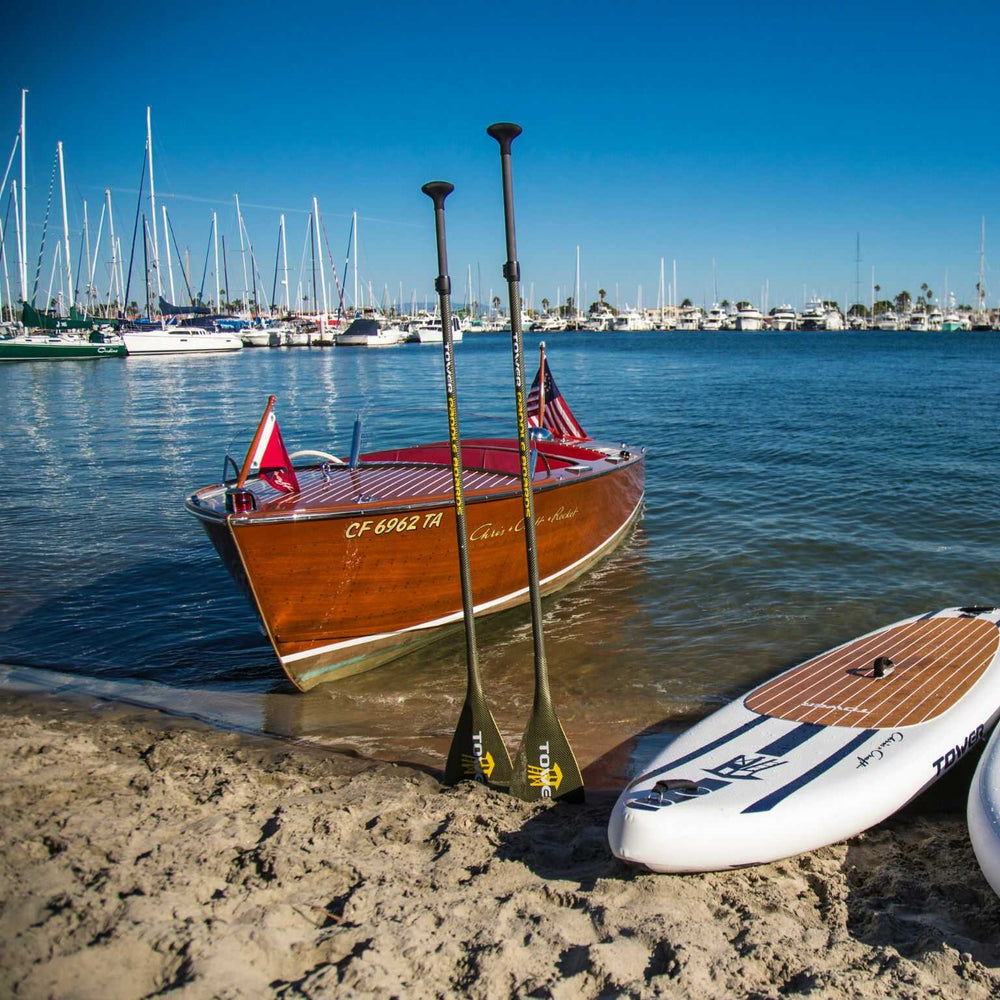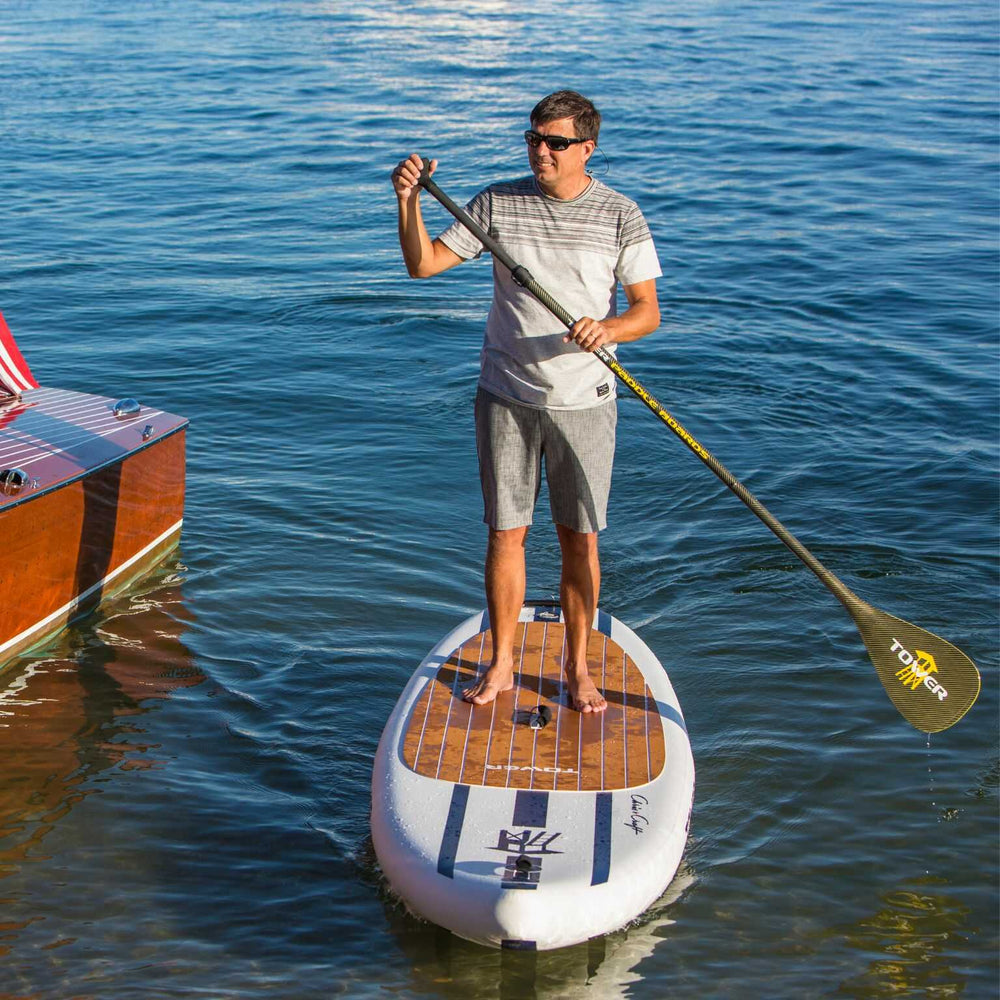 3-Piece Carbon Kevlar SUP Paddle
DESCRIPTION
This paddle board paddle provides the best value on one of the highest-end 3-piece travel paddles you can find. A head-turning paddle that encompasses the flexible, lightweight strength benefits of carbon fiber with the added durability of Kevlar.
3-piece, adjustable travel paddle
Packs down to under 35 inches
100% 3K prepreg carbon/Kevlar shaft
Yellow ABS edge built in to protect blade
Subtle dihedral blade to ensure smooth stroke
EVA wrapped handle for comfort & grip
TECHNICAL SPECS
Weight: 28 ounces
Paddle Length: Adjustable from 65" to 85"

Blade Dimensions: 20.5 cm wide by 42 cm deep
Blade Angle: 10 Degrees
We know customer satisfaction
SUPERIOR CUSTOMER SERVICE
We stand behind our products
On orders over $100
Extended Product Information
A Portable Solution
Tower's 3-piece carbon/Kevlar SUP travel paddle presents an tremendous blend of strength, flexibility, and durability in a beautiful stand up paddle. The green, black, and yellow look of the paddle is without a doubt a head turner. Every design element of the paddle has been considered and optimized. The result is one of the nicest paddles you can buy for SUP. Whether you are using an inflatable paddle board or a classic stand up paddle board, this paddle board paddle is perfect for you.With our direct to consumer business model, it's price is about half of what you'd pay at retail for a comparable paddle.
Packing up to under 35 inches, this paddle board paddle let's you take your best paddle on the go with you. No longer do you have to have one nice paddle for at home, and use a cheap aluminum paddle while on the road. This paddle board paddle can even fit into your inflatable backpack so you can take it on all your SUP adventures.
A Well Designed Blade
The 16" x 8.5" size of the blade is ideal for most paddlers. The back of the blade features a subtle dihedral to ensure you maintain a smooth stoke, even when you are really putting a lot of power into your stroke. To best protect the blade (a weak point on many carbon fiber paddles), we have integrated a yellow ABS edging around the edge of the blade. The blade overlap goes 6" up the shaft for a super strong joint. There is a matte finish on the blade, which looks a lot better over time with use versus glossy finish blades.
A Comfortable, Non-slip Handle
We use a EVA wrapped handle on all our high-end paddles for both comfort and a better grip. Being the part you touch most, having a great feeling handle is of critical importance, and we've made that a priority on this paddle. Once you feel of the difference in comfort of an EVA wrapped handle, you won't go back.
A Strong, Durable, and Highly Flexible Shaft
The shaft employs a woven blend of 100% 3K prepreg carbon fiber and Kevlar to make an extremely durable shaft that also enjoys great flex characteristics. While the added Kevlar adds a slight bit of extra weight over a pure carbon fiber paddle, the extra durability is well worth the trade-off in a SUP paddle. The length adjustment clasp on the shaft features two hinge points for added durability of the clasp. The inner shaft has numbered tick marks every 3 cm so you can quickly adjust the paddle to your desired height, and remember where you had it for next time. The finish of the shaft is glossy with a yellow and white Tower Paddle Boards logo.
A Word About Stand Up Paddle Toughness
SUP paddles are a lot longer than canoe or kayak paddles. Depending on where you frequently take your stand up paddle board, they also might be spending a considerable amount of time in the waves. Even outside of the SUP surfing zone, the sheer length of a SUP paddle means the amount of force they are subjected to is substantial. Toughness should be a major factor in your decision of which stand up paddle to rely on.
Where many SUP paddle brands just make a paddle with some carbon fiber thrown in it, often times they aren't doing this in a purposeful manner. Just because a paddle is labeled carbon fiber does not mean it is using carbon fiber in a logical manner. The result may be a paddle that snaps the second day you use it (which I have personal experience with), or it may be a paddle whose shaft strength or SUP blade strength can be severely compromised the first time you drop or nick the paddle (which happens frequently). There is actually a $25 SUP accessory product called a Paddle Guard that is a kind of rubber edge lining that is designed to fit around the perimeter of a carbon fiber SUP paddle to prevent damage to your paddle blade, and claims to not affect your performance. I've had SUP shop owners recommend this product to me. The natural question, of course, is, Why not just make paddles that are designed to self-protect? Surprisingly, many SUP paddle companies don't. We do. And we address our complete paddle board paddle design with the same holistic, logical approach.
NOTE: Be sure to rinse paddle with freshwater after each use. Metal parts of paddle will rust if not rinsed thoroughly.
The Reviews Are In!
Paddleboard
Paddleboard is great. The only thing I liked better about my old Paddleboard was the shape of the scoop but this one is good enough.
Does not float, sloppy tolerances, ZERO warranty, weak adjustment hardware
The paddle sank instantly when in contact with water. The hole drilled to attach the shaft to the blade is of poor tolerance so there is never a secure connection (and likely a place for water to ingress immediately). The kevlar and carbon weave is sloppy in places and has a lot of flex. The foam on the handle was starting to wear within a week of usage. Rust will happen in the spring loaded mechanism that is supposed to hold the paddle together. The part that secures the height adjustment is not nylon reinforced and cracked within days of usage.
Stellar paddle
Light, great catch, and cool looking as well!!
3 Piece Kevlar/Carbon paddle
Exceptional paddle that takes little room but is VERY well made and I have 100% confidence in - not only for the paddle board (it is great) but for any circumstance that might need a paddle. I'm carrying it on my small engineless sailboat so I can stand and paddle on one side and steer with the rudder - MUCH more practical and efficient than a canoe paddle! It works great.
Great paddle
Have been using the aluminum paddles provided with the inflatable packages for a few years and finally decided to invest in some better equipment.
This paddle is lighter, seems like it displaces more water and thus able to propel the board more/faster with each stroke. The handle is much more comfortable in the hand with the added padding. The latch used to adjust the paddle length I find easier to adjust than the almuninum paddles and stays secure throughout your session. All around good paddle and happy with the purchase.
Paddles
Very good experience on my recent purchase of two paddles.
Nice paddle, not cheap
The paddle is nice, good finish, fairly light and easily adjustable. It is not cheap and you can probably find a similar quality paddle at the same price somewhere else. But this is a nice paddle. Get this instead of the standard paddle, it is much a much nicer paddle.
SICK
Sweet paddle! It make the paddling much more enjoyable...
3-Piece
It's great for what it is. It breaks down to be easily transported, it's light, it's adjustable, it's comfortable in your hand. BUT it wiggles in the water. The paddle section wiggles. I asked if it was normal, and if two (as opposed to one)buttons would make it more stable. I didn't get an answer to that question. I'll only use it when I travel.