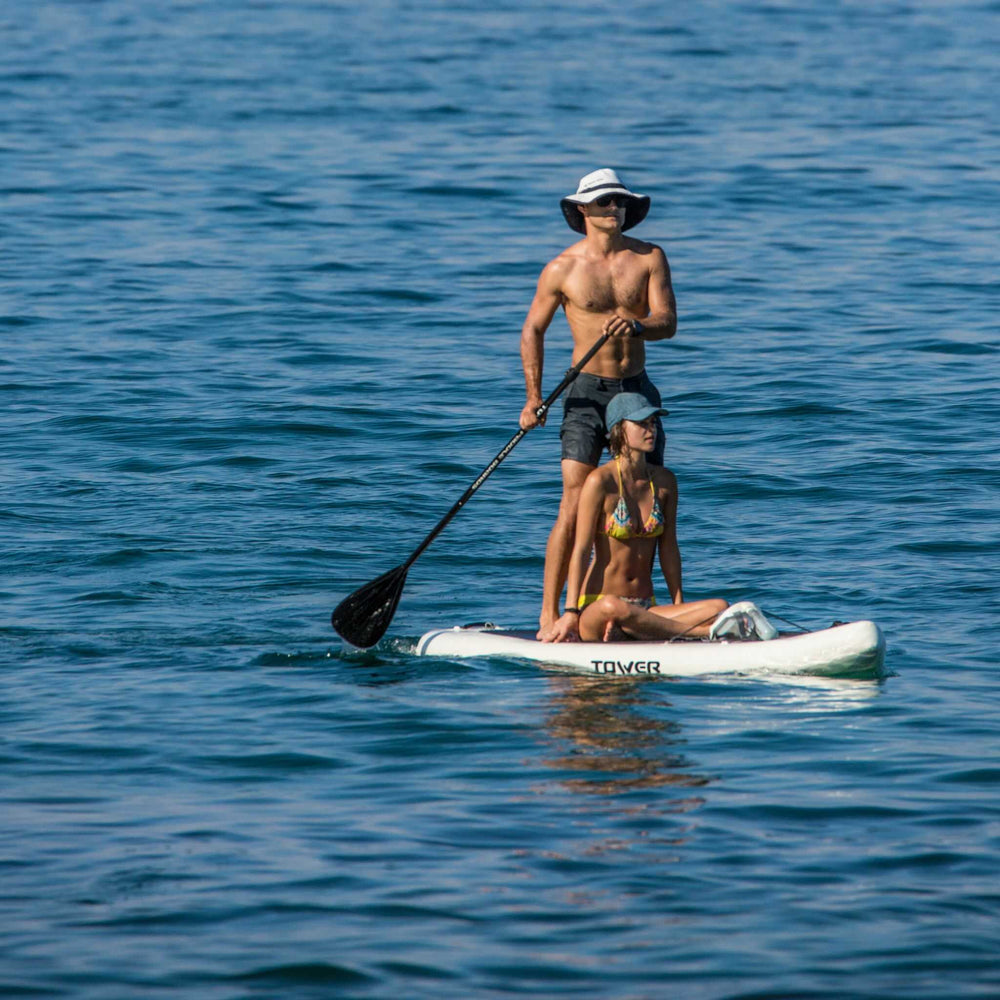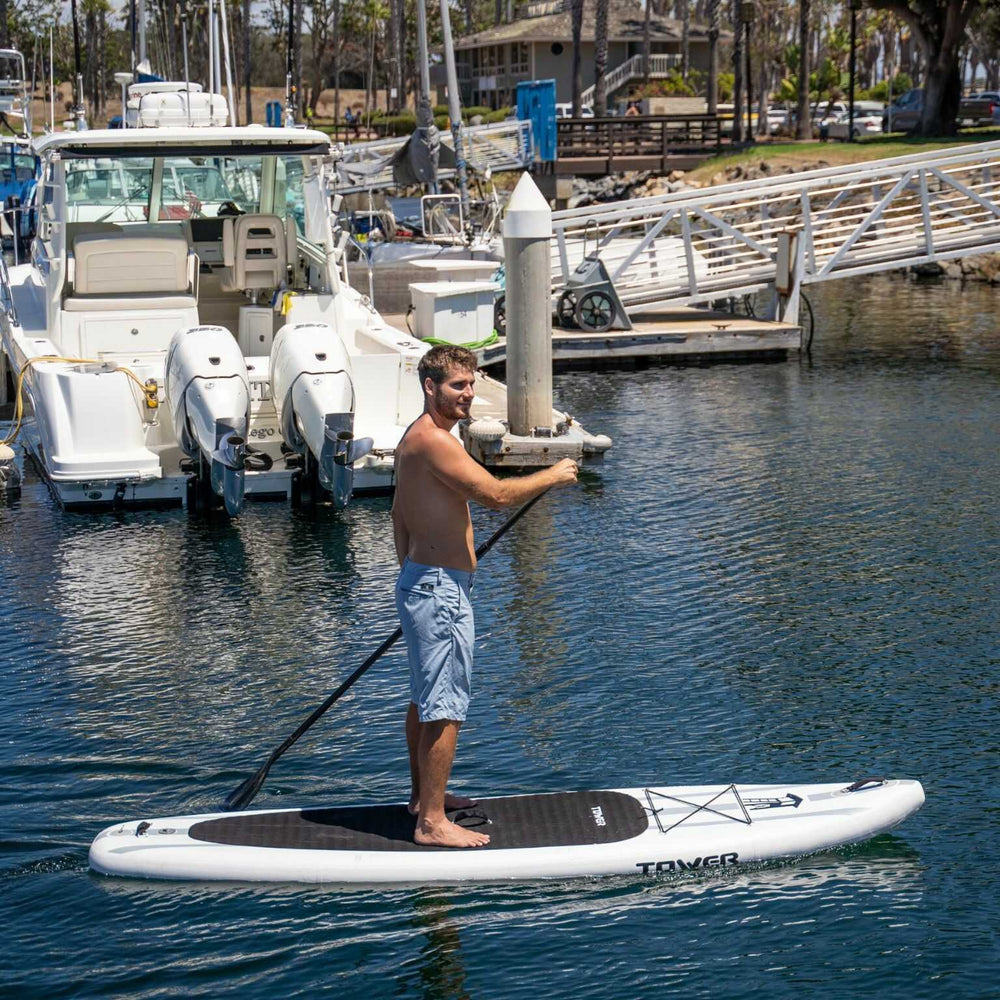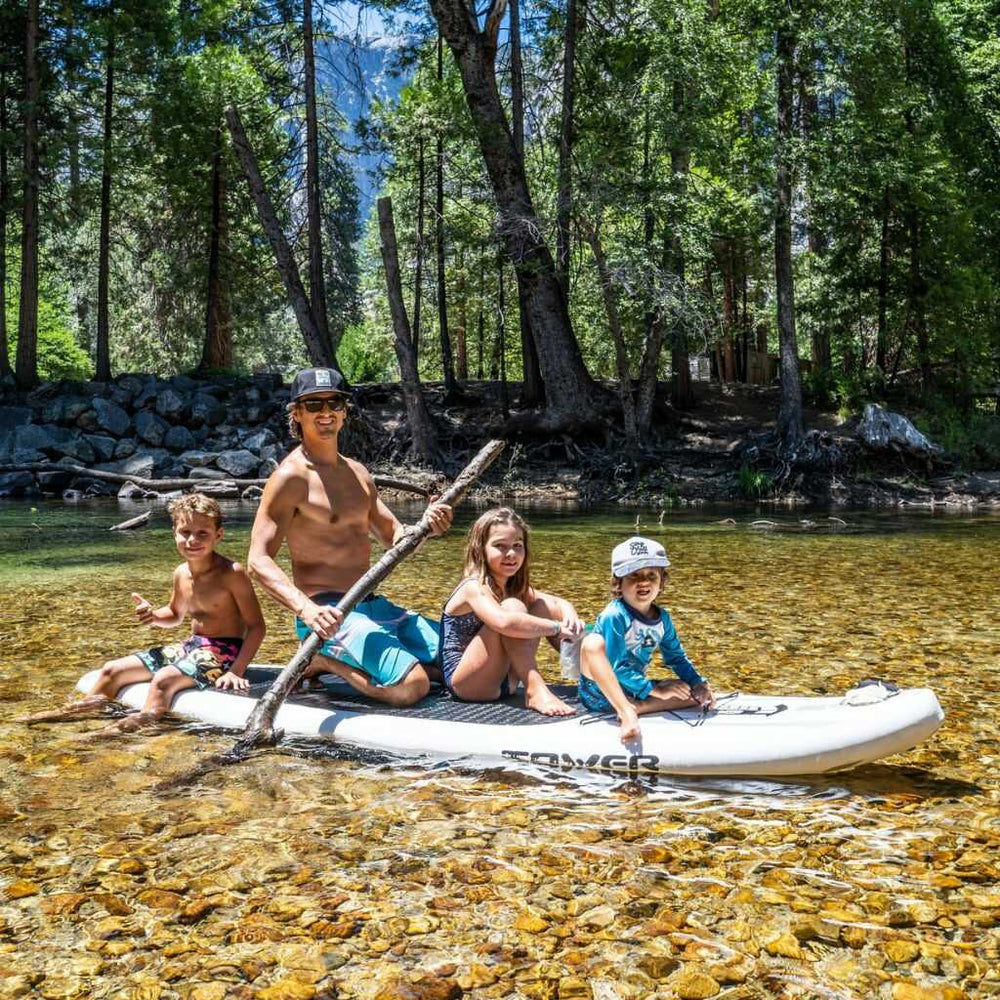 Used Adventurer 2 | 10'4" Board Only
DESCRIPTION
NOTE: Available only once or twice a year via our grab bag sales and they go quickly. Get on our email list to be notified of the periodic 'grab bag' sales of these used boards.
These are used Adventurer 2 boards, the sequel to one of the most popular inflatable paddle boards worldwide, the 9-foot-10 Adventurer. The Adventurer 2 is 6 inches longer so it can hold more weight, and it has a more streamlined nose to help increase gliding speed. The Adventurer 2 also adds an extra handle on the nose and tail for easy carrying as well as a cargo net up front for securing items onboard.

'Holds Air' Option Description
These paddle boards that have been tested and proven to hold air and function. They are almost new with only minor blemishes. They have likely only ridden 1-5 times. All boards have been thoroughly inspected and will have NO structural damage or defects that will affect board performance, only cosmetic flaws. In general, these are: demo boards, returned boards (both new and used), factory blemishes, or boards with other cosmetic flaws.
'Needs Repair" Option Description
These paddle boards are either damaged, dirtier, and/or severely blemished and will likely require at-home repair. With a proper repair, they should be able to hold air. All boards will come with a repair kit. If you are not comfortable repairing a board, this probably isn't a good option for you.
WHAT'S INCLUDED
One (1) Used Adventurer 2 10'4" Inflatable Paddle Board
One (1) Used 9" Hook & Pin Center Fin
One (1) iSUP Repair Kit
TECHNICAL SPECS
Weight: 25 lbs
Dimensions: 10'4" length by 32 width by 6 thickness
Volume: Unknown exactly, but probably 300 Liters plus
Weight Capacity: Up to 400 lbs
Nose Rocker: 4 inches
Tail Rocker: No tail rocker
Fin Configuration: 2+1 plastic fins, with large detachable center fin
Onboard Accessories: Carrying handle, rear surf leash d-ring
Included External Accessories: A detachable SUP center fin, a Tower branded deck pad. Repair kit comes with patches and valve wrench (glue is to be sourced locally)
Construction: Double layer, hand-glued 6" thick iSUP construction. High-pressure inflatable (Tested safe to 20 PSI, but only 10-12 PSI is necessary for optimal performance)
We know customer satisfaction
SUPERIOR CUSTOMER SERVICE
We stand behind our products
On orders over $100
Additional Content Header
The Reviews Are In!
Be Prepared to Do Some Work
I ordered two of the "Used-Needs Repair" 10'6" Adventurer 2 ISUPs. Both came with tire tracks and footprints and other evidence that the dopes who owned them before me treated them like garbage.
Still, one board required no repair at all, and held more than 12 lbs of pressure for several days. The other one was more of a problem. I inflated it and it lost pressure quickly. I used the soapy water spray method to find the leaks, and all of them were on the seams; either pinhole leaks where the seam was glued, or an area that was longer and seeped air pressure slowly and steadily.
Because they were seam issues, and there were half a dozen of them at least, I wasn't all that confident that using the patches would work due to the uneven surface between the board & the seam, so I purchased a tin of HH-66 vinyl cement from Amazon.
I applied several layers over each of the leaks, and along the seams where needed, letting them cure 24 hours before testing again. In all, it took about 4 days to find all the leaks and seal them up. But the ISUP is now holding pressure and I'm looking forward to getting it out on the water before it gets too cold.
In the end, it was totally worth it, getting 2 ISUP packages for $100 less than the price of one new.
Easy setup...great paddle boards!
I first used Tower paddle boards while visiting family near Seattle, WA this past summer. The transporting and setup of the boards was so easy. The boards are sturdy and well made. Family members have several Tower boards and highly recommend them. They let me know there was a Grab Bag sale which allowed me to purchase boards for a fraction of the cost. I purchased two Grab Bag boards, Adventurer 2 10'4" during the sale and couldn't be happier. The Grab Bag boards are either slightly used or returned but are all tested and in perfect working order and come with all the necessary parts, fin, paddle, pump. We are occasional paddle boarders and have limited time to use them in New Jersey based on weather but these boards are so easy to transport we can take them practically anywhere. Glad I decided to try them out!
Sweet Board
I bought the "heavily damaged" adventurer2 package and it was definitely money well spent. I was a little concerned about the "damage" but other reviews were quite positive about theirs so I purchased one. A note said it leaked around the valve and unscrewing it, removing an interior fiber from the seal, and pumping it up fixed the leak. It has some minor scuffs but that was expected. I took it out on Lake Michigan and it performed perfectly. It rode a little different than my hard board, but nothing that a little more time getting used to it won't fix. Overall, I'm very satisfied and excited to use this board.
Very Happy
We are very happy with order. The board is as described and was easily patched. I noticed part of my ordered had not been picked up by shipper and contacted Tower. They confirmed and immediately corrected the problem in my favor. I am very impressed with the integrity of the company.
Fast ship
Fast ship and easy order placement, nice product. Haven't used isup yet, but a company associated with Mark Cuban has to be first rate....
love the board
This is my second adventure 2 board, which I love, but be careful with sales! my first board was a kit with pump and paddle, and I assumed the "grab bag" sale board would be the same. It had only a board! By the time I got a paddle, I spent as much as a new board.
Love it
Waited a fair bit to get this board but the night I got it home I inflated it, then the next early morning tried it out in the ocean. I love it. Really easy to balance, stiff, easy to carry, quick to inflate, and glides well even in choppy water. Though it was bought used it looked brand new. The convenience of being able to roll it up and put it in the trunk of the car, then head straight to work - that can't be beat. I am a beginner and this is board is perfect for me.
Adventurer 2 isup
Very impressed with the quality. Order was received quickly. Outstanding quality and value!
Boy can tower board take it
Face it not too many iSUPs can take being run over. Yeah the iSUP came with tire tracks on it. One pin hole was marked by Tower so a quick patch on that one. A simple inflation and we found a 2nd pin hole and a couple of deep scuffs (not leaking but worth watching anyway). So a little glue and two patches later we have an Adventure 2 iSUP ready to go (holding pressure for over a week). Great family project and a good learning experience on dry land in a warm garage. If you have a little time to invest, you can really get a deal.
Great Product
the adventurer 2 is fitting all my needs. im a 280lb man and it performs like advertised. The staff is one of the best I have ever encountered. All companies should practice the way of doing business. Thanks Tower!