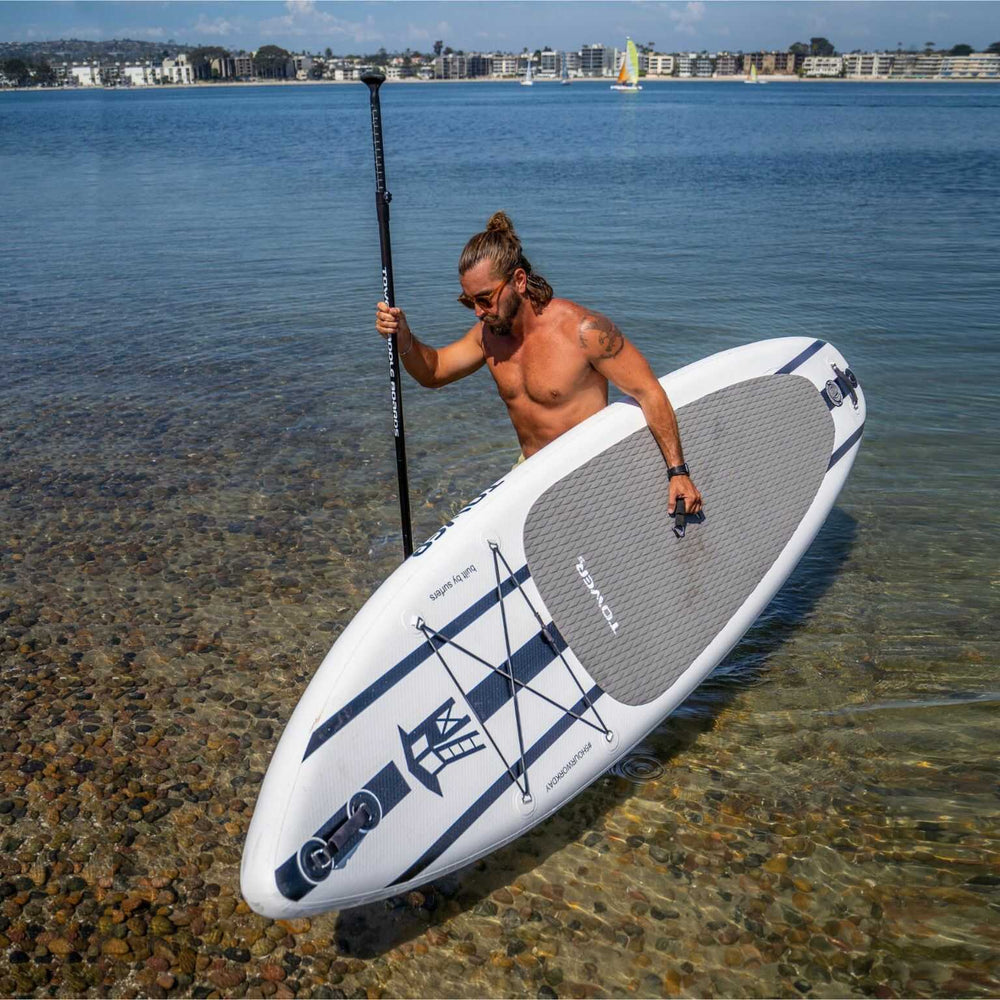 Used All Around | 10'4" Board Only
DESCRIPTION
NOTE: Available only once or twice a year via our grab bag sales and they go quickly. Get on our email list to be notified of the periodic 'grab bag' sales of these used boards.
These are used All Around iSUPs. Enjoy the water with the economical All Around iSUP package from Tower's Starter Series. Produced with fusion construction and classic Tower styling this package sells direct to consumer only at Tower's industry leading value price. At 10'4" in length by 32" in width, the All Around is the time tested and proven layout of our popular Adventurer 2.
'Holds Air' Option Description
These paddle boards that have been tested and proven to hold air and function. They are almost new with only minor blemishes. They have likely only ridden 1-5 times. All boards have been thoroughly inspected and will have NO structural damage or defects that will affect board performance, only cosmetic flaws. In general, these are: demo boards, returned boards (both new and used), factory blemishes, or boards with other cosmetic flaws.
'Needs Repair" Option Description
These paddle boards are either damaged, dirtier, and/or severely blemished and will likely require at-home repair. With a proper repair, they should be able to hold air. All boards will come with a repair kit. If you are not comfortable repairing a board, this probably isn't a good option for you.
WHAT'S INCLUDED
One (1) Used All Around 10'4" S-Class Inflatable Paddle Board
One (1) Used 9" Hook & Pin Center Fin
One (1) iSUP Repair Kit
TECHNICAL SPECS
Weight: 20 lbs
Dimensions: 10'4" length by 32 width by 6 thickness
Volume: 350+ liters plus
Weight Capacity: Up to 275 lbs
Nose Rocker: 4 inches
Tail Rocker: No tail rocker
Fin Configuration: 2+1 plastic fins, with large detachable center fin
Onboard Accessories: Carrying handle, rear surf leash d-ring
Included External Accessories: A detachable SUP center fin, a Tower branded deck pad. Repair kit comes with patches and valve wrench (glue is to be sourced locally)
Construction: Fusion 6" thick construction. High-pressure inflatable (Tested safe to 20 PSI, but only 10-12 PSI is necessary for optimal performance)
Placeholder
SUPERIOR CUSTOMER SERVICE
Placeholder
Placeholder