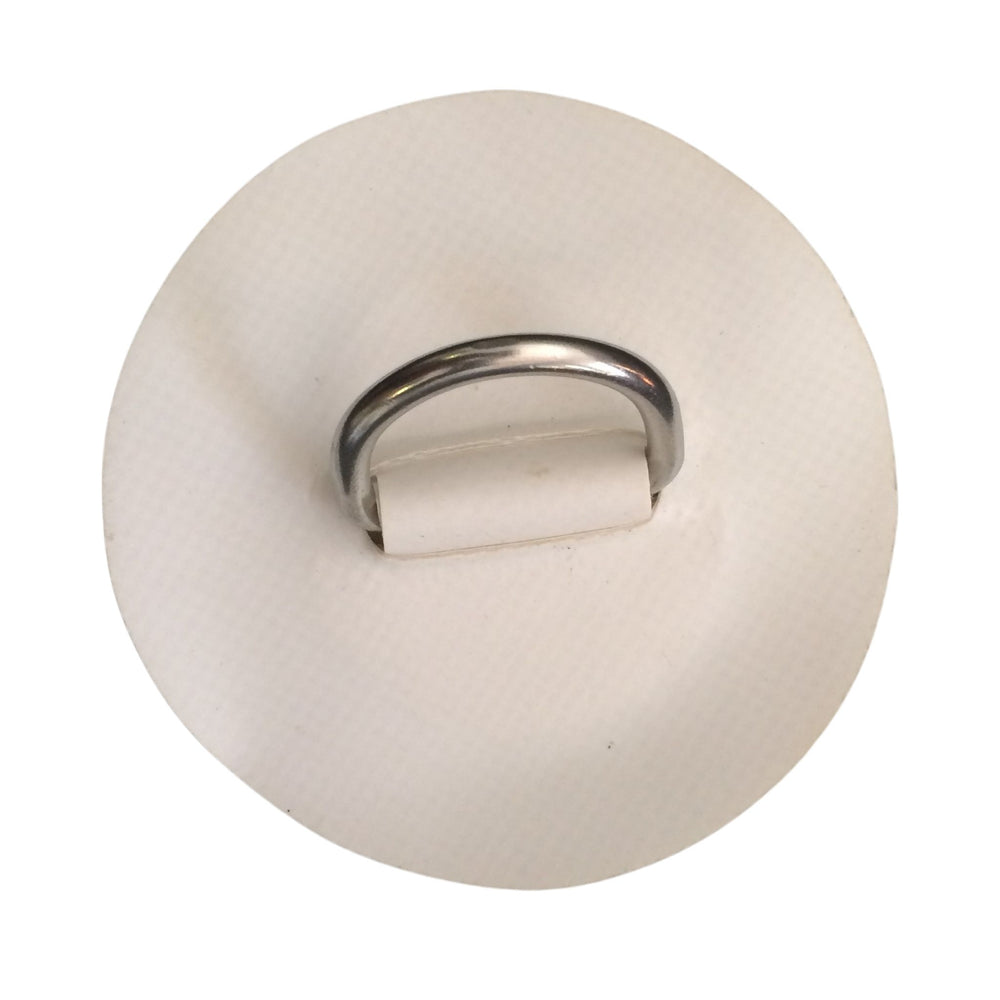 iSUP D-Rings
DESCRIPTION
3.5" D-ring attachment for Tower inflatable stand up paddle boards.
WHAT'S INCLUDED
One (1) D-Ring mounted on a white 3.5" PVC patch
NOTE: No glue is included. Any PVC adhesive glue found at a local hardware store will work.
We know customer satisfaction
SUPERIOR CUSTOMER SERVICE
We stand behind our products
On orders over $100
Extended Product Information
Customize your Inflatable Paddle Board
Looking for fun new ways to customize your inflatable sup with accessories? Look no further than our d-ring attachment. With a d-ring added on, you can drag your paddle board behind your boat while out on the sea. Easily tie together multiple boards. Anchor your board to a dock, or attach a sandbag to a d ring located on the bottom of board to anchor in the water while not in use. Tow a separate paddleboard behind you with all your fishing and camping gear. The possibilities are endless.
D-rings can be attached to any spot on our inflatable paddle boards. Since our iSup's outer layer is made completely out of PVC material, any PVC adhesive glue will help adhere the ring anywhere on the board, even on the boards bottom side.
How to add a bungee net to your inflatable paddle board
Our older model boards such as the Adventurer 9'10, Kawasaki 10'4, iRace, and the Xplorer all do not come with a bungee net on board, but do not worry, adding one yourself is very easy! First you will need 4 d-rings. We then recommend measuring out a square (a bit more like a trapezoid actually) and marking the spots where you want your bungee cord. We recommend putting two as wide as possible, while still remaining a flat surface, right above the eva foam deck pad, and another two 7 inches further up the board, again making sure its on the flatter surface of the board. Gluing the d-rings on this flatter surface will be easier than gluing them on the side of the board where it starts to curl.
We unfortunately do not sell bungee straps, so you will have to buy supply your own. They can easily be found at local DIY and home improvement stores for very cheap. You will need at least 3 feet of bungee to make the netting. Take the opposite ends and feed one through either side of the d rings located closer to the foam deck pad. Then feed the bungee diagonally through the further d-rings, and connect the two in the middle of the top d rings by tying a firm knot. Make sure your bungee is firm, but stretchy enough to fit any gear within. Cut off any extra bungee around the tied knot if there is excess.
D-ring installation instructions
This process is typically easier when board is inflated to 10+ PSI to give a nice, tight flat surface to work with.
Prep the area by cleaning the surface with rubbing alcohol.
Apply a PVC adhesive glue to the outer perimeter of the d-ring, about 1/5" from the outer edge (so the glue does not ooze out the side).
Put the d-ring in the desired location and apply continuous pressure, a spoon works well. For best results use a book or a heavy object and leave it applying pressure to the d ring overnight.
Wait 24 hours before use.
Instructional Video on Installing D-Rings on your iSUP
The Reviews Are In!
Reliable Tower
We bought 2 inflatable boards from Tower in 2017. Today, they still are the best part of our summers. We have turned many people on to the sport. Friends have bought other boards & we can tell the difference in quality immediately. Thinner, lighter, less durable material & for not much savings. Own 4 boards now so we can entertain. I'm just a customer on the East coast that will continue to rave about Tower.
Well built & made to last.
- Long Island Matt
D-rings for paddle board accessories
I purchased d-rings so that I could add a bungee for my life vest on the yachtsman style inflatable paddle board. I watched several videos including the Tower Paddle Board video on how to apply them. It took a couple of trys to get the edges to glue down (may be that I didn't use enough glue, or the summer heat may have dried the glue too quickly) but I am optimistic they will work well!
D-Rings attachment are a Royal PITA!
I repeatedly watched the instructional video and followed the directions step by step. I had also contacted Tower multiple times for help and absolutely cannot get these D-rings to adhere properly. Despite multiple efforts with different recommended adhesives I cannot get the outer portion of the rings to stay flat and in contact with the board. Thus I have no reason to believe they would properly adhere during the 24 hour waiting period. I don't understand what Tower is doing differently because obviously they get them attached. This has been a Royal PITA, waste of money and time acquiring the various components, which each had to come from different sources. I'd highly recommend you either purchase D-rings pre-attached or get Tower to do it themselves (if ordering a board that does not have D-Ring and bungee setup already). Also was frustrating to clean the adhesive stain from the board surface from where I attempted to attach the D-rings.
Otherwise, I'm still a huge fan of Tower Paddle-Boards. Their iSUPs and customer service have been top notch.
Meh.
The D-Ring is stacked so high and there isn't enough material surrounding it to keep it glued to the board. Pretty frustrating to try to install these as it's impossible to get them to lay flat and get rid of the air underneath.
Put a ring on it
Look its a functional d-ring like ever other d-ring I've encountered...except ones on saddles those are way different. It does a nice job. I ordered 4 and they came with 3 tubes of glue which was nice I thought I had to go buy my own. The one improvement, which I would pay extra for, is have an option for ones that sandwich the back with another layer of the vinyl so we work with 2 flat surfaces. That would make them easier to install on flat surfaces, where as the design works great for curved surfaces. Anyways, great price, very well made d-rings.
iSUP D-rings
These are very nice, well constructed and super handy. After applying on my board they look very clean and are strong. I could lift the whole board, about 22lbs. by one ring. I do have a couple of caveats however. These are very stiff and do not glue well to curved surfaces as its difficult to keep all edges down on board. The other is the adhesive dries very quickly. I found that waiting two minutes the glue had already dried and was not tacky at all, and in less than a minute it was ready to be applied. Just something to be aware of.
Need new way to secure the fin on ISUP
The D-ring itself is great but the reason I bought it is not. We have to come up with a new system for when the iSUP comes unattached from the board and we lose it. We are going to somehow try to attach the D-ring near the fin and somehow clip the fin into the D-ring so when it becomes unattached from board, we don't lose it and have to buy another one. We bought the fin screws and they work but hard to get threaded, require tools, and take too much time. We have spent too much money on new fins, fin screws and D-rings. I hope we this is going to be the answer to losing fins.
D rings
Great rings. Terrible glue. First glue tubes arrived all dried out. Requested a replacement than came quickly, but not enough to complete job well. Awesome customer service, but sub par product was surprising for otherwise great company
D- ring
Great attachment for SUP to anchor to shore.
D rings work great
I bought 8 rings (4 for each of my tower inflatable SUPS) to hold my waterproof cooler. I followed the instructions and didn't use them til 24 hrs after application and the are sturdy and hold my cooler without worry. At the local marine shop, very similar d rings were 10 times the price. I got a great deal and as usual, am very happy with my tower product