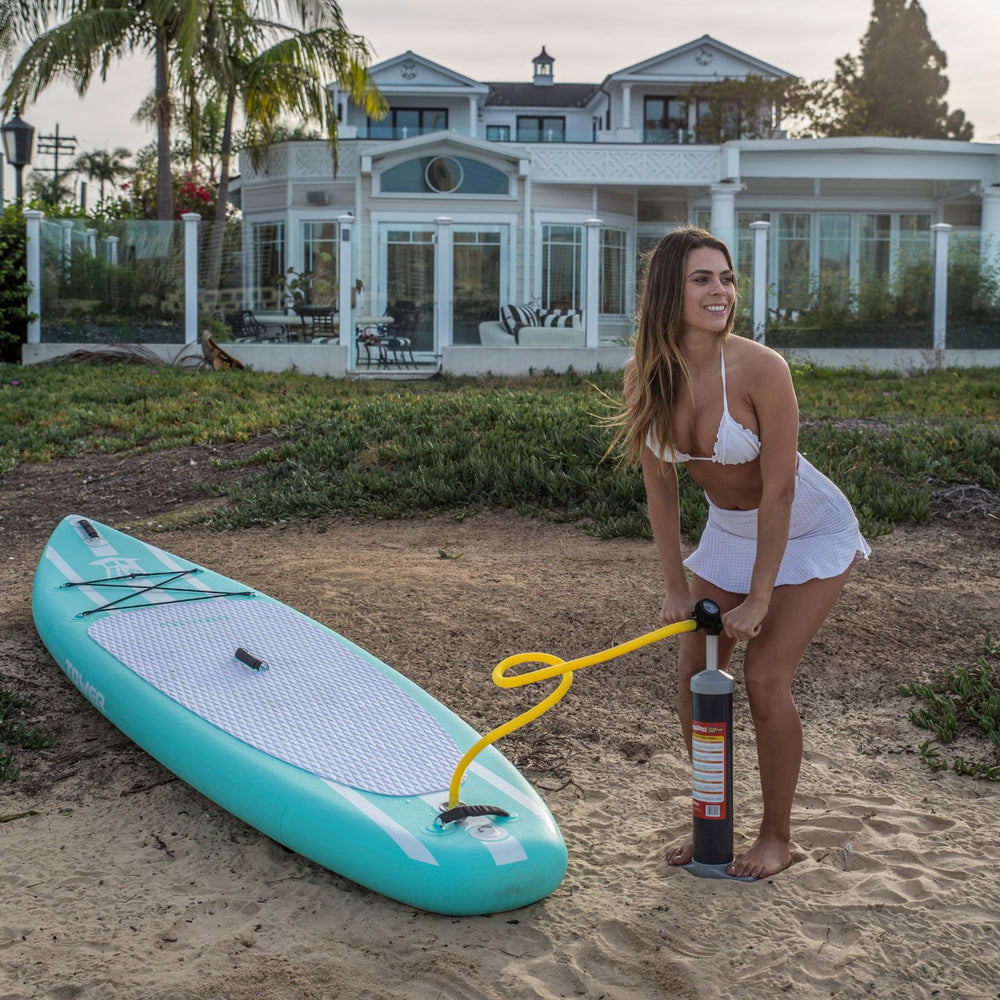 Gauge for iSUP Hand Pump
DESCRIPTION
Inflatable paddle board pump replacement gauge for the Tower iSUP hand pump. This is an inline gauge so you connect one end to the pump and one end the yellow hose. Note that to register high PSI accurately, this gauge won't register at very low levels. Yu really have to get your board above about 5-7 PSI before the gauge starts registering, so don't quit early thinking the gauge isn't working.
We know customer satisfaction
SUPERIOR CUSTOMER SERVICE
We stand behind our products
On orders over $100
Extended Product Information
Hand Operated Inflatable Paddle Board Pump
Our air pump for inflatables comes included with every iSUP board purchase. This inflatable paddle board pump very easy to use and will get your iSUP inflated in a matter of minutes. Our standard inflatable paddleboard takes about 5-10 minutes to fully inflate. We recommend inflating the board to 10-15psi so that the board is sturdy enough to hold your for your paddleboarding journey. This gauge will give you an accurate estimate of how much to inflate the board. Don't worry about over inflating the paddle board. It is nearly impossible to over inflate an iSUP with a hand pump. However, make sure that you do not use a compressor when inflating your stand up paddle board. A compressor is very powerful and it can burst the seams on your iSUP. If you use a compressor, the warranty on the board is voided. One other options for an inflatable paddle board pump is our electric paddle board pump.
Electric Pump Option
Our electric paddle board pump makes inflating your paddle board effortless. Because our inflatable hand pump is a bit of a workout before the actual workout, we created a electric pump to make inflating your paddle board easier. To inflate with the ePump, you simply plug one end into the cigarette lighter in your car and the nozzle of the hose into your iSUP. Set the pressure dial to what you want and press start. It's that simple. It will even automatically turn off when it reaches the target PSI. One downside to the electric pump is that it does make a bit of noise while inflating.
iSUP Hand Pump Video Instructions
The Reviews Are In!
Great replacement
Worked great. Forgot how much you have to pump before it registers.
This is a replacement or backup
The hand pump has one. I ordered this not knowing that, now I have a spare.
Adventurer
Great product and even better customer service
replacement gauge
I was clumsy and dropped the gauge to my hand pump into the lake, never to be seen again. Thankfully it only took one quick call and I'm back in business. No need to buy an entire new pump. The part arrived within days. Great customer service.
Well done
Very well made. Easy to inflate and great customer service.
Tower iSUP Hand Pump - Works like a charm!
After a year of use, my Tower hand pump (that came in the SUP kit) started leaking air and wouldn't blow up my board. We called Tower, they suggested their $5 replacement gauge - and it worked like a charm! I easily screwed off the old gauge (no tools needed), put the new one on, and the hand pump works like new.
Works but still broken
The replacement gauge came with a broken piece of plastic inside the gauge. But the needle does move and it works just not sure how long it will continue to work.
iSUP pump gauge
My gauge was not longer working. I went to the Tower website to find a new one. I could not so I emailed and received a prompt reply of where to order and the price. It was sent out promptly and is not installed on my pump. It works perfectly, no more guessing as to how much air is in my board.
Gauge and tube
I recently purchased a new inflatable board and after about 5 times of pumping it up the tube blew apart at the connection right below the gauge. I didn't really need the gauge but they sent me a new gauge and not one but two new pump tubes. The customer service I have received has been amazing!
great customer service
I give 3 stars for the iSUP gauge because I've only had my pump for a year and the gauge stripped the piece it screws into without me ever having done anything. My friend has the same setup and the same thing happened. HOWEVER, the customer service at Tower is IMPECCABLE and they sent me a new gauge and assembly free of charge within two days! I LOVE my
Tower SUP and the team at this company is awesome.