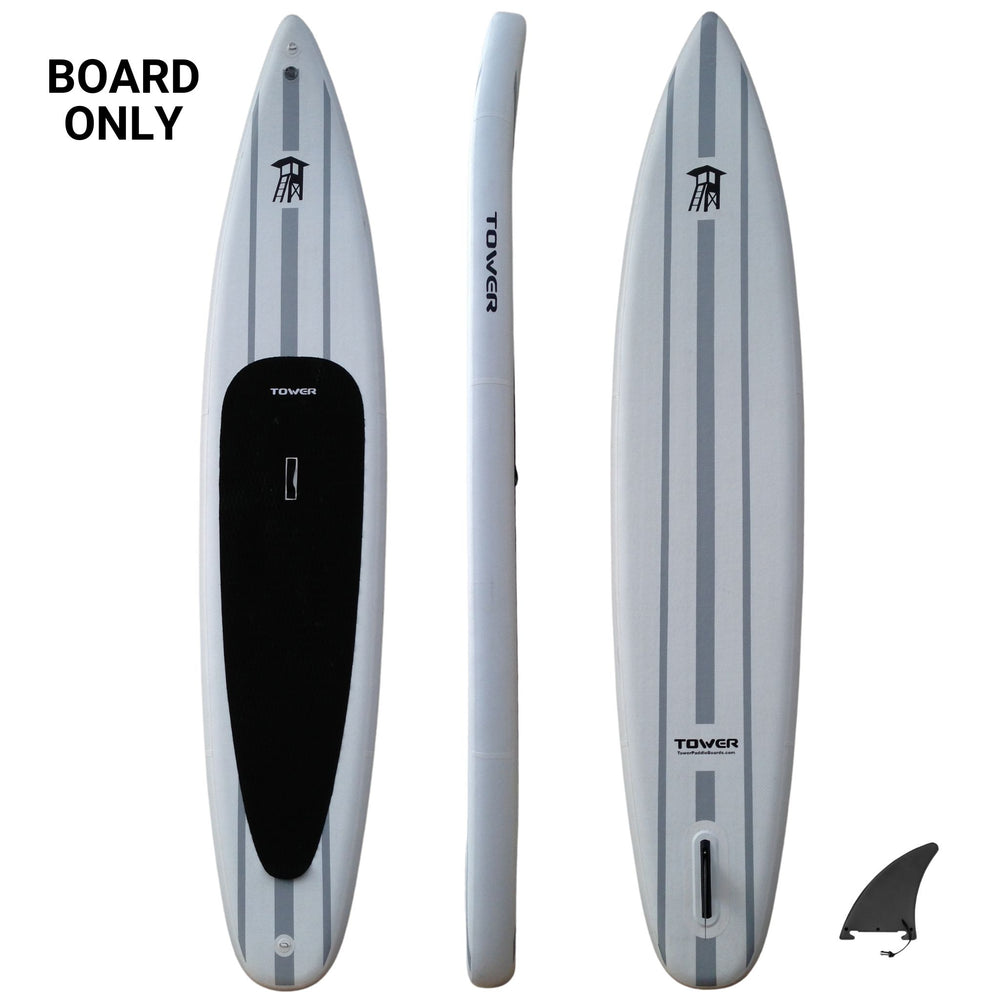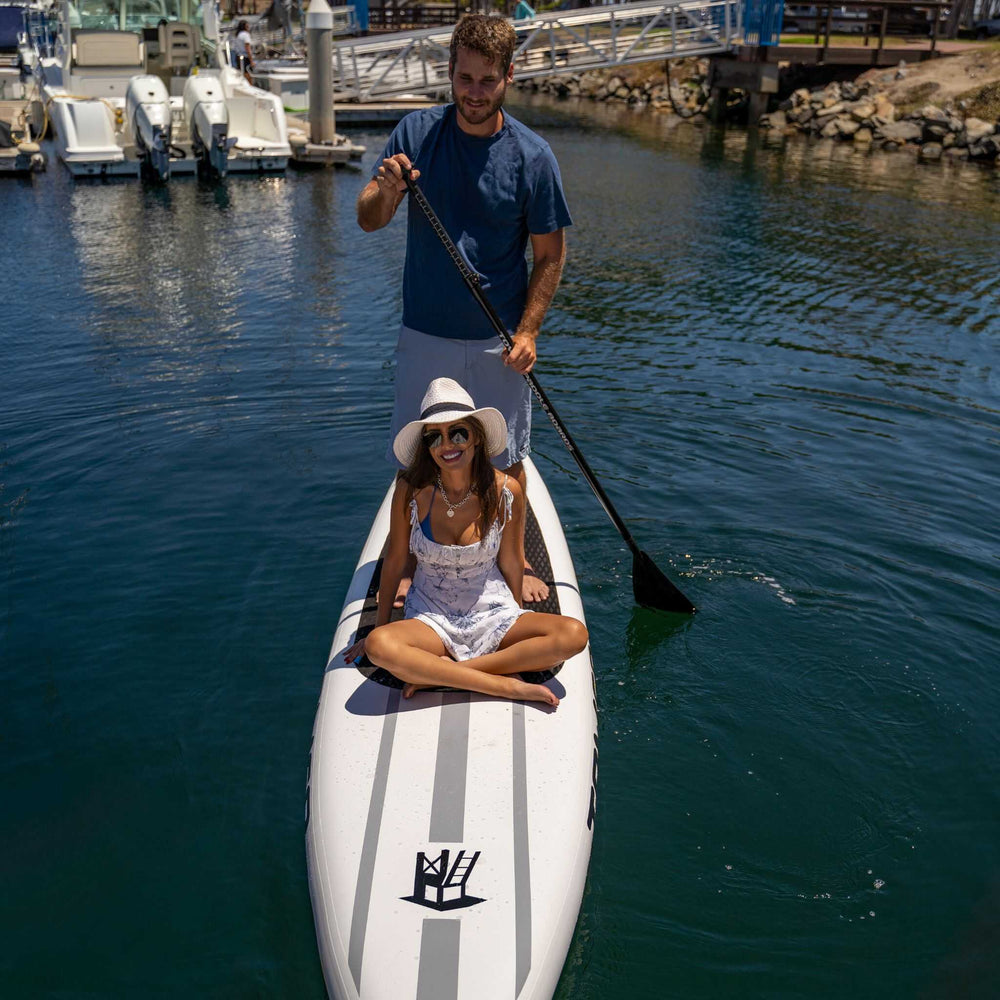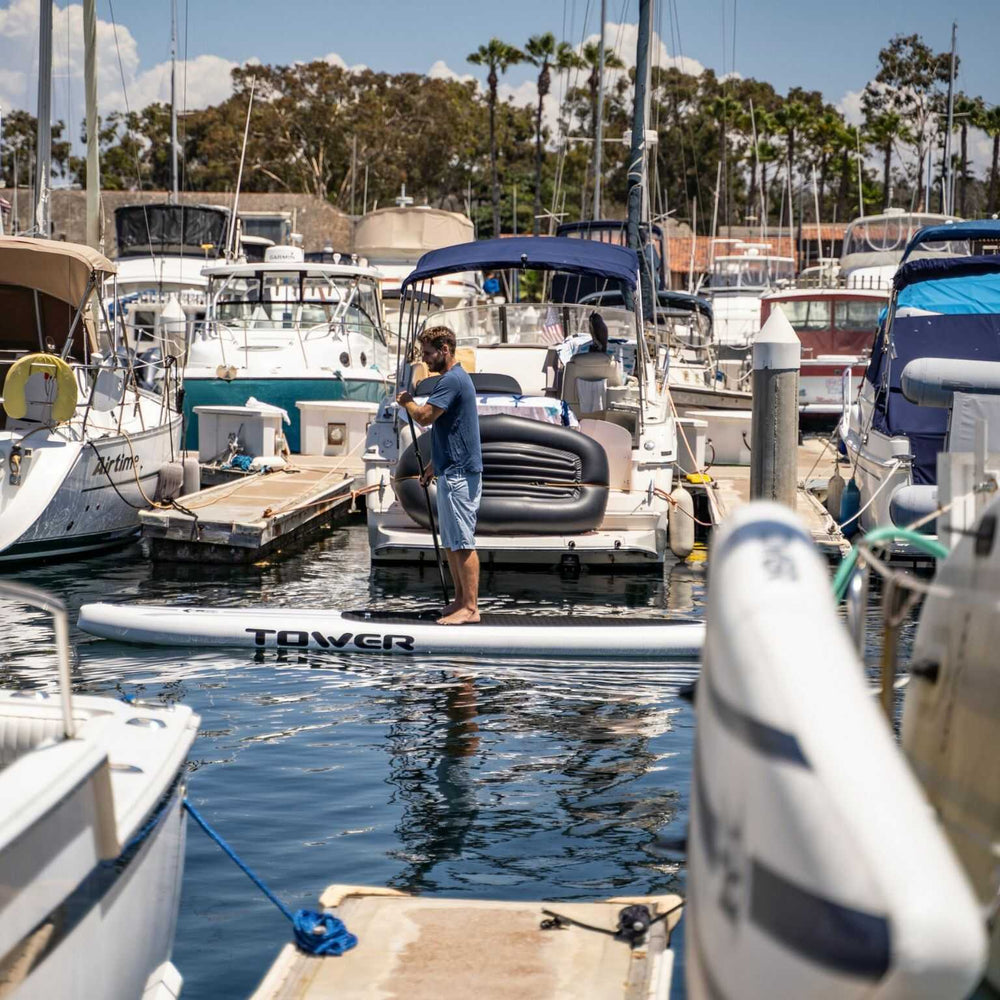 Xplorer | 14' iSUP (Board Only)
DESCRIPTION
This is a board only and does not include a pump or paddle.
The Xplorer is an exceptional touring board suitable for tandem riding, steady gliding, and onboard activities. With a length of 14 feet and a thickness of 8 inches, this board was created with extra length and volume in mind. It's ideal for various activities such as fishing, cruising, or yoga, providing the perfect length and carrying capacity for any onboard iSUP activity. With the ability to support weights of 500+lbs, this board is exceptionally durable and reliable.
For $50 more, we also offer a full package with pump and paddle. Buy the full package.
WHAT'S INCLUDED
Board Only Includes
One (1) Xplorer 14' Inflatable Paddle Board
One (1) 9" Hook & Pin Center Fin
One (1) iSUP Repair Kit
One (1) Five Hour Workday Book
For $50 more, we also offer a full package with pump and paddle. Buy the full package.
The Most Trusted Brand in SUP, Tower

3-Year 'Hassle-Free' Warranty
Premium Customer Service - Call, email, or walk in
Founder Owned & Operated Small Business Since 2010
TECHNICAL SPECS
Weight: 33 lbs
Dimensions: 14 length by 32 width by 8 thickness
Volume: Unknown exactly, but probably 600 Liters plus
Weight Capacity: Up to 800 lbs
Nose Rocker: 4 inches
Tail Rocker: No tail rocker
Fin Configuration: Standard longboard fix box, with large detachable center fin
Onboard Accessories: Carrying handle, front towing d-ring, rear surf leash d-ring
Construction: Double layer, hand-glued 8" thick construction. High-pressure inflatable (Tested safe to 20 PSI, but only 10-12 PSI is necessary for optimal performance)
Against defects in workmanship & materials
SUPERIOR CUSTOMER SERVICE
We stand behind our products
On orders over $100
TOWER X-Class
ELITE Series Paddle Boards
A massive increase in iSUP rigidity equals a massive increase in performance, significantly more speed, and more hardboard like paddling characteristics all around. At 8" thick, our X-Class boards represent a huge leap over all other iSUPs on the market, even today, and we've been selling 8" thick iSUPs since 2012. Our Elite Series iSUPs enjoy the convenience and portability of an inflatable with the stability and speed of a hard board. This performance leap is how Tower disrupted the entire SUP industry back in 2011 when we invented the world's first 6" iSUPs. The SUP industry went from less than 1% inflatables to over 90% today as every brand copied our innovation.
Want to know a secret? Tower's 8" thick iSUPs are even better. The performance is unmatched, and with the added volume, it also means the Elite Series is ideally suited for XL size riders or tandem paddle boarding. As with everything Tower these are built to last. They've been proven in the market for over a decade and come with an industry leading 3 year warranty from a brand you can trust.

UNRIVALED RIGIDITY
By going to 8" thick this board has 240% better rigidity than most iSUPs on the market (which are 6"), and an 800% advantage over 4" thick iSUPs.
IDEAL FOR XL RIDERS & TANDEM
For bigger riders looking for more floatation & stability, you're going to love this board. Just check out our reviews and hear from the customers on this one.
DOUBLE LAYERED CONSTRUCTION
The Elite Series uses a double layered, hand glued construction that competitors are unwilling to do since it requires more time and expense to produce. No corners cut here. 3 year warranty.
PRESTIGIOUS AWARDS
Tower iSUPs have received accolades all over the internet for well over a decade. The luxury magazine Robb Report titled one of our iSUPs as the #1 SUP worldwide.
Double Layer, Hand Glued Quality
Industry leading 8" thickness | 800% more rigid
The most rigid inflatable paddle boards on the market, and it's not even close. Double layer, hand glued is the gold standard technique in SUP production and a proven technology with over 10 years of market presence. These boards last the longest in the industry, by far. Labor intensive and not inexpensive, if you want the best, this is what you get. These have a deck thickness of 2.2mm, versus 1.4mm in fusion construction, and 0.7mm in single layer. A few pounds heavier, but that gets you loads of added rigidity and durability.

Inflatable Paddle Board FAQ
How do I inflate an inflatable SUP board?
iSUP packages come with a high-pressure hand pump with a special H3 valve and a PSI gauge. It takes about 5-7 minutes to fully inflate your iSUP to the 10-12 PSI we recommend. They are safe to inflate up to about 20 PSI as a safety precaution so you don't overinflate, but 10-12 PSI is all that's necessary. Optionally, you can buy an electric pump where you set the desired inflation PSI level, hit start and it does the rest.
What PSI do I inflate my inflatable SUP to?
We recommend 10-12 PSI for optimal performance. Our iSUPs are safe to inflate up to about 20 PSI as a safety precaution so you don't overinflate, but 10-12 PSI is all that's necessary on Tower boards as they are by design made with quality construction that is very rigid even at lower PSI inflation levels.
How do I install the center fin on my iSUP?
It's very easy and secure. All current Tower iSUPs use what's called a hook & pin center fin, where you hook the front base of the fin over a catch in the fin box, slide it back as far as you can by tapping the fin with your hand which will align the rear fin base catch over the hole in the fin box which you simply insert the tethered pin fin thru. Just reverse the steps for fin removal.
Can I use an electric pump with my iSUP?
Yes, you can use a special high-pressure electric pump suitable for inflatable paddle boards. It will have the required H3 valve. You simply set the desired PSI, hit start, and it will auto-inflate the board. Note, most "inflatable" product pumps won't cut it as they are not specialized high-pressure pumps, so you will need to buy a pump specifically for high-pressure inflatable SUPs. Additionally, while many people will try to use an air compressor jimmy rigged with an H3 valve, it is extremely easy to overinflate your iSUP this way and blow apart the seams. You board will be ruined. Obviously, use of any compressors voids your warranty.
How do I deflate an inflatable SUP?
When you open the valve cap on the rear deck of your iSUP, you will see a yellow valve stem button. You deflate your iSUP by depressing that valve stem button and twisting it clockwise to lock it in the down position. This valve stem acts as a toggle between a one-way valve when it's in the up position and a two-way valve when it's in the down position. Use the valve stem up position when inflating your board so you can inflate and then remove the pump without the air rushing out. Use the valve stem down position when deflating your board. Air will rush out vigorously, and you roll the board from the other end to push air out as you roll it up for storage.
How durable is my inflatable SUP?
Inflatable paddle boards are made of military grade PVC similar to what you find on commercial river rafts. You can run them up on the rocks just fine without damaging them. In fact, one of the key benefits of inflatable SUPs over hardboards is that iSUPs are nearly indestructible. We don't recommend you do this, but we've run over Tower iSUPS with a car while they are inflated and they don't miss a beat. They are also extremely durable when deflated and rolled up so you don't really need a protective bag at all.
How long does my inflatable SUP hold air?
We keep our fleet of inflatable SUP boards for our demos inflated for months at a time and they never really seem to lose air. Even though most people think of inflating and deflating their inflatable SUP every time they go out, what a lot of people end up doing is just keeping it inflated. The beauty of these boards is really that they are nearly indestructible (when compared to an EPS/Epoxy boards that are prone to getting nicked up). The ability to deflate them, roll them up, and transport them in a tight space is often times only an occasional thing and sometimes an afterthought on these inflatable boards.
What accessories do you recommend?
Our most popular accessory is an electric pump as not everyone enjoys the pre-workout that inflating your paddle board represents. Once people get into the paddle boarding regularly, a carbon fiber paddle is a nice upgrade over the 3-piece fiberglass travel paddles that are included in our iSUP packages. iSUP backpacks are always a handy accessory if you travel a lot. And lastly, if you paddle in shallow water like rivers frequently, a 6" deep river fin is a nice alternative to have over the standard 9" SUP fin.